Chromatin remodeling enzyme Brg1 is required for mouse lens fiber cell terminal differentiation and its denucleation
Epigenetics & Chromatin
2010
3:21
Received: 7 July 2010
Accepted: 30 November 2010
Published: 30 November 2010
Abstract
Background
Brahma-related gene 1 (Brg1, also known as Smarca4 and Snf2β) encodes an adenosine-5'-triphosphate (ATP)-dependent catalytical subunit of the (switch/sucrose nonfermentable) (SWI/SNF) chromatin remodeling complexes. SWI/SNF complexes are recruited to chromatin through multiple mechanisms, including specific DNA-binding factors (for example, heat shock transcription factor 4 (Hsf4) and paired box gene 6 (Pax6)), chromatin structural proteins (for example, high-mobility group A1 (HMGA1)) and/or acetylated core histones. Previous studies have shown that a single amino acid substitution (K798R) in the Brg1 ATPase domain acts via a dominant-negative (dn) mechanism. Genetic studies have demonstrated that Brg1 is an essential gene for early (that is, prior implantation) mouse embryonic development. Brg1 also controls neural stem cell maintenance, terminal differentiation of multiple cell lineages and organs including the T-cells, glial cells and limbs.
Results
To examine the roles of Brg1 in mouse lens development, a dnBrg1 transgenic construct was expressed using the lens-specific αA-crystallin promoter in postmitotic lens fiber cells. Morphological studies revealed abnormal lens fiber cell differentiation in transgenic lenses resulting in cataract. Electron microscopic studies showed abnormal lens suture formation and incomplete karyolysis (that is, denucleation) of lens fiber cells. To identify genes regulated by Brg1, RNA expression profiling was performed in embryonic day 15.5 (E15.5) wild-type and dnBrg1 transgenic lenses. In addition, comparisons between differentially expressed genes in dnBrg1 transgenic, Pax6 heterozygous and Hsf4 homozygous lenses identified multiple genes coregulated by Brg1, Hsf4 and Pax6. DNase IIβ, a key enzyme required for lens fiber cell denucleation, was found to be downregulated in each of the Pax6, Brg1 and Hsf4 model systems. Lens-specific deletion of Brg1 using conditional gene targeting demonstrated that Brg1 was required for lens fiber cell differentiation, for expression of DNase IIβ, for lens fiber cell denucleation and indirectly for retinal development.
Conclusions
These studies demonstrate a cell-autonomous role for Brg1 in lens fiber cell terminal differentiation and identified DNase IIβ as a potential direct target of SWI/SNF complexes. Brg1 is directly or indirectly involved in processes that degrade lens fiber cell chromatin. The presence of nuclei and other organelles generates scattered light incompatible with the optical requirements for the lens.
Keywords
Lens FiberLens EpitheliumSurface EctodermLens Fiber CellLens Development
Background
Eukaryotic DNA is organized as chromatin in the nucleus. Chromatin is a copolymer of DNA, histone and nonhistone proteins and small noncoding RNA. During embryonic development, specific regions of the genome alter their chromatin organization [1]. Gene expression is regulated at the level of the chromatin structure of individual genes and/or loci in the context of the three-dimensional organization of chromatin inside the cell nucleus. Local chromatin structure affects multiple stages of transcription, including the accessibility of sequence-specific DNA-binding transcription factors to promoters, enhancers and other genomic regulatory regions. Two major modifications of local chromatin structure (that is, chromatin remodeling) include posttranslational modifications of histones and adenosine-5'-triphosphate (ATP)-dependent alteration of nucleosomes [2].
ATP-dependent chromatin remodeling refers to dynamic processes in which multiprotein switch/sucrose nonfermentable (SWI/SNF), ISWI (Imitation Switch) and nucleosome remodeling and deacetylase (NuRD) complexes use nucleosomes as substrates and change positions of individual histone octamers and/or change the topology of DNA that is wrapped around the individual nucleosome particles [3]. Mammalian SWI/SNF complexes, SWI/SNF-A and SWI/SNF-B/polybromo-associated Brg1-associated factor (PBAF), are composed of a catalytical and several additional regulatory subunits, Brg1-associated factors (BAFs). Brg1 (Smarca4/Snf2β) and Brahma (Brm; Smarca2/Snf2α) are structurally similar chromatin remodeling ATP-dependent helicases that play distinct roles during embryonic development [4]. Brahma-related gene 1 (Brg1, also known as Smarca4 and Snf2β) is essential for early mammalian development as mutated embryos die during the preimplanation phase [5]. In contrast, loss of function of Brm leads to increased cellular proliferation in adult mouse tissues [6]. To study Brg1 function during organogenesis, conditional gene targeting of Brg1 was performed in T-cells [7], embryonic ectoderm/keratinocytes [8], hematopoietic/endothelial cells [9] and neural stem cells [10]. These studies found a wide range of cell autonomous defects, including the control of T-cell proliferation and survival [7], terminal differentiation of keratinocytes [8], differentiation and apoptosis of primitive erythrocytes [9] and neural stem maintenance and gliogenesis [10]. Mammalian SWI/SNF complexes participate in DNA double-strand break repair as they bind to the phosphorylated H2A histone family, member X (H2AX), histone variant, and promote its phosphorylation [11]. Recent studies have also established specific roles of Brg1 in DNA replication [12]. Additional insights into the role of Brg1 in muscle [13, 14], mammary epithelium [15], smooth muscle [16, 17] and myeloid [18] differentiation have been generated through the studies of a specific point mutation (K798R) in the ATP-binding domain of Brg1 that act via a dominant-negative (dn) mechanism [19]. In the eye, studies using zebrafish showed that Brg1 plays specific roles in lens and retinal development [20–22]. Eye differentiation defects found in zebrafish mutation young (yng) were linked to the presence of an Y390X mutation in the Brg1/Smarca4 gene on chromosome 3 [20, 21]. Nevertheless, the existence of two Brg1-homologous genes, located on chromosomes 3 and 6 of the duplicated zebrafish genome, requires additional experimentation to clarify the roles of Brg1 enzymes in vertebrate eye development.
Central to understanding chromatin remodeling in embryonic development is to identify those genes that are regulated by specific chromatin remodeling systems and to elucidate the molecular mechanisms that recruit the remodelers to specific regions of chromatin. The molecular mechanisms of chromatin remodeling mediated by SWI/SNF complexes were probed using a combination of biochemical and genetic experiments. These experiments mostly examined the function of Brg1 as this enzyme alone can remodel nucleosomes [23, 24]. Genes regulated by SWI/SNF complexes in vertebrate systems were identified using candidate gene approaches [15, 25, 26] and RNA expression profiling [14, 22, 27]. The SWI/SNF complexes are recruited to DNA by at least four different mechanisms. Several lineage-specific DNA-binding transcription factors, including cAMP response element-binding factor (CREB), Hsf4, microphthalmia-associated transcription factor (Mitf), Pax6 and T-box transcription factor 2 (Tbx2), were shown to associate with Brg1 using various in vitro protein interaction and whole cell extract coimmunoprecipitation assays [28–30]. Other transcription factors associate with Brg1-associated factor (BAF) subunits, that is, BAF60c interacts with retinoic acid receptor (RAR) and retinoid X receptor (RXR) heterodimers [31]. Brg1 contains a 110-amino-acid-long bromodomain that recognizes acetylated lysines in core histones [32]. Brg1 also interacts with chromosomal architectural proteins such as high mobility group A1 (HMGA1) [33]. Thus, CREB transcription factor, Hsf4 and Pax6 (see above) can potentially regulate lens development via recruitment of Brg1-containing SWI/SNF complexes [34, 35].
Embryonic lens development is an excellent system to study both individual cell lineage formation and terminal differentiation. Lens lineage originates from the preplacodal region that is established around the anterior neural plate of the vertebrate embryo [36, 37]. The lens placode, a thickened surface ectoderm, is the first morphologically distinct structure composed of lens progenitor cells. Invagination of the lens placode generates the lens vesicle, a polarized structure composed of lens precursor cells. The posterior cells of the lens vesicle exit the cell cycle and undergo terminal differentiation to generate primary lens fibers. The primary lens fibers are highly elongated cells filling the bulk of space of the original lens vesicle. The anterior cells of the lens vesicle subsequently differentiate into the anterior lens epithelium [38]. The lens grows through the entire lifespan as a result of epithelial cell division and migration toward the lens equator. When the epithelial cells reach the equator, they undergo terminal differentiation as secondary lens fibers. The hallmark of lens fiber cell differentiation is the expression of lens-preferred genes, the crystallins [34], and synchronized degradation of all subcellular organelles [39]. Lens fiber cell denucleation (karyolysis) is a final stage of this process that destroys the lens chromatin and/or epigenome. Aside from the active role of the acid DNase IIβ in this process, very little is known about molecular pathways that regulate lens fiber cell denucleation [39].
To investigate the role of Brg1 in lens fiber cell differentiation, we expressed a dn mutant of Brg1 using the lens-specific αA-crystallin promoter in postmitotic lens fibers. We examined lens growth and differentiation, focusing on the potential defects in the lens fiber cell denucleation process. Next, we identified differentially expressed genes in this system and compared these genes with genes regulated by Hsf4 and Pax6, two lineage-specific DNA-binding transcription factors shown to associate with SWI/SNF complexes through the Brg1 subunits [29, 30]. The role of Brg1 during embryonic lens development was examined by conditional Brg1 gene inactivation in mouse embryos.
Discussion
Using a combination of two complementary genetic approaches, the present studies demonstrate that Brg1 is required for mouse lens fiber cell differentiation. Lens-specific expression of the dnBrg1 perturbed lens fiber cell differentiation process at multiple levels and resulted in cataract formation. In these abnormal lens fibers, nuclei were not degraded, suggesting that Brg1 participates in normal lens fiber cell karyolysis. The advantage of this system is that function of Brg1 was disrupted only in postmitotic lens fiber cells; however, this system is unlikely to produce complete inactivation of Brg1 biological activity [52]. To address this problem, conditional inactivation of Brg1 using a MLR39 Cre line, active only in differentiating lens fibers, would be required [54]. In parallel, conditional inactivation of Brg1 in the surface ectoderm resulted in a range of lens and/or eye developmental abnormalities, including the retention of nuclei in lens fiber cells. Incomplete deletion of floxed Brg1 alleles by Le-cre followed by clonal selection of viable cells and/or prolonged stability of Brg1 proteins in lens cells precludes any definitive conclusions about the potential role of Brg1 in lens lineage formation and lens placode invagination. In the majority of mutants, lens vesicles were formed and differentiation of primary lens fibers was compromised. Absence of lens in the mutated eye was accompanied by an aberrant infolding of the retina. Similar defects were found in Pax6 embryos conditionally inactivated in the surface ectoderm [47]. Collectively, the present studies reveal an essential, novel role of Brg1 in lens fiber differentiation and denucleation. In addition, secondary defects in retinal formation suggest that Brg1 can play cell nonautonomous roles in retinal development that originate from aberrant lens morphogenesis as described elsewhere [47, 52, 55–58].
Although the use of two loss-of-function approaches to study the Brg1 function in lens development generated comparable results at the morphological and cellular levels, molecular studies using RNA expression profiling identified only a small number of commonly regulated genes (Figure 14). There are at least three factors that could contribute to these findings. First, loss of function of Brg1 from day E9.0, that is, prior to the morphological formation of lens pit and/or vesicle, should impair lens development more severely compared to the transgenic dnBrg1 system with later onset expression (from day ~ E11.5) in postmitotic lens fibers. Second, we could not isolate mutated lenses from comparable, that is, E15.5-day-old, embryos because of their structural fragility. Instead, we had to dissect eyeballs including mutated lenses and other affected tissues, and this tissue heterogeneity was reflected in the eyeball transcriptome. Third, the variability of the Brg1 cKO phenotypes (Table 1 and Figure 12) makes it difficult to microdissect lenses, even under ideal conditions, with abnormalities comparable to the dnBrg1 transgenic lenses.
Previous studies of Brg1 function in other cells and tissues established Brg1 as a specific regulator of cell proliferation, differentiation and survival [7–9, 11, 12]. The present studies in lens suggest that Brg1 plays a major role in lens fiber cell differentiation. Though Brg1 is highly expressed in the surface ectoderm that gives rise to the lens placode (Figures 1A and 1B), Brg1's role in the formation of lens lineage remains to be determined through detailed analysis of early stage (days E9-E10) embryos. Expression of Brg1 is reduced in differentiating primary and secondary lens fibers. Brg1's role in lens fiber cell differentiation is supported by ectopic expression of the dnBrg1 transgene in lens and by conditional inactivation of Brg1 in the presumptive lens ectoderm. Three transgenic mouse lines were established and generated similar lens-specific differentiation defects. Although the lens-specific knockout resulted in variable eye defects, in the majority of embryos, we detected rudimentary lens formation. This variability could originate from incomplete deletion of both Brg1 alleles, compensation via Brm/Smarca2 and/or via other mechanisms such as prolonged stability of the Brg1 proteins. Upregulation of Brm/Smarca2 was indeed found in the dnBrg1-transgenic model. A large number of transgenic lens studies utilizing the αA-crystallin promoter induced cell cycle reentry and/or apoptosis in the lens fiber cell compartment [41, 42, 59–62]. In the present study, no evidence for apoptosis (data not shown) and cell cycle reentry (see Additional file 2) in postmitotic dnBrg1 transgenic lens fibers was found.
Earlier studies identified αA- and αB-crystallins (among ~ 80 other genes) upregulated in the human adrenal carcinoma cell line SW-13, deficient in both Brg1 and Brm expression, in which Brg1 was reintroduced [27, 33]. Here we show reduced expression and accumulation of αA-crystallin in dnBrg1-transgenic and Brg1-cKO lenses that is consistent with our earlier findings that abundant quantities of Brg1 are present within a 16-kb region of lens-specific chromatin of the mouse Cryaa locus [30]. On the basis of the data shown here and in our earlier studies [30], we conclude that αA-crystallin gene and/or locus is regulated directly by at least three DNA-binding transcription factors, Pax6, c-Maf and CREB, and by chromatin remodeling enzyme Brg1. We propose that Brg1, and, by inference, SWI/SNF complexes, are recruited to the Cryaa locus by Pax6 and possibly by other mechanisms, including the recognition of acetylated lysine residues by Brg1 bromodomain.
To identify genes downstream of Brg1 in lens, we performed RNA expression profiling studies in day E15.5 dnBrg1 transgenic lenses followed by comparative analyses of differentially expressed genes in Pax6 heterozygous and Hsf4 homozygous lenses. We reasoned that if lens lineage-specific DNA-binding transcription factors Pax6 and Hsf4 serve in vivo as recruiters of SWI/SNF complexes to specific regions of chromatin, we could find commonly regulated genes in these three model systems. Among those 6,828 transcripts regulated in dnBrg1 transgenic lenses, 715 (~ 10.5%) transcripts were also regulated in Pax6 +/- and Hsf4 -/- mutated lenses. Within the 559 differentially expressed genes in Pax6 +/- lenses, 178 (~ 32%) transcripts were shared between these two systems. Similarly, within the 1,428 differentially expressed genes in Hsf4 -/- mutated lenses, 559 (~ 39%) transcripts were commonly deregulated. Finally, 22 genes, including lens-preferred acid DNase IIβ endonuclease, were found to be dysregulated in all three mutated lenses. These results suggest that Brg1, Hsf4 and Pax6 exert their function through commonly regulated genes. In addition, the use of the DAVID and GSEA analysis tools for interpretation of genomewide expression profiles identified several functionally related groups of genes suggesting the presence of specific Brg1-dependent coregulated biological processes. Additional molecular studies using chromatin immunoprecipitation (ChIP) sequencing (ChIP-seq) and related methods are required to demonstrate co-localization of Brg1, Hsf4 and Pax6 proteins in lens chromatin at their target genes.
The most obvious defects in dnBrg1 transgenic lens fiber cell differentiation included the failure of lens fiber cells to degrade their nuclei, abnormal curvature and cell-to-cell contacts of lens fiber cells, and suture formations. All of these processes likely contributed to lens opacities found in postnatal transgenic lenses. The most interesting aspect of abnormal lens fibers was retention of their nuclei. These findings add a novel role for Brg1 to control denucleation and/or karyolysis as an important process of terminal differentiation. Downregulation of Dnase2b transcripts in dnBrg1 transgenic lenses as well as in conditionally deleted
Brg1
lens can explain, at least partially, this phenotype. In wild-type lenses, DNase IIβ reaches its peak activity at day E17.5 [
63
], and this is followed by the establishment of an OFZ. In both the dnBrg1-transgenic and mutated Brg1 lenses, formation of an OFZ was not found (Figures
4
and
13
). Initial analysis of the
Dnase2b
promoter and its surrounding regions identified multiple putative Pax6- and Hsf4-binding sites (Figure
15A
), suggesting that these two transcription factors regulate lens-preferred expression of this enzyme via recruitment of SWI/SNF complexes. In addition to DNase IIβ, the present studies suggest a large number of differentially expressed genes that belong to GO Biological Process categories: DNA repair, establishment and/or maintenance of chromatin architecture, response to DNA damage stimulus and chromatin modification (see Additional file
11
). Given the recent link between ubiquitin metabolism and lens fiber cell denucleation [
64
], we also identified differentially expressed genes that belong to the GO categories ubiquitin cycle, proteasome and ubiquitin-mediated proteolysis. These genes are excellent candidates for mechanistic studies of lens fiber cell denucleation. Finally, it is also possible that SWI/SNF complexes containing Brg1 participate in the process of lens fiber denucleation independently through controlling local chromatin structure in those regions that exhibit initial DNA damage. This is supported by our recent study that revealed formation of DNA double-stranded breaks repair through visualization of phosphorylated H2AX in the lens fiber cell compartment [
41
]. Both models of Brg1's role (and by inference the role of SWI/SNF complexes) in lens fiber cell denucleation (Figure
15
) are not mutually exclusive. Ongoing experiments are aimed to test these hypotheses.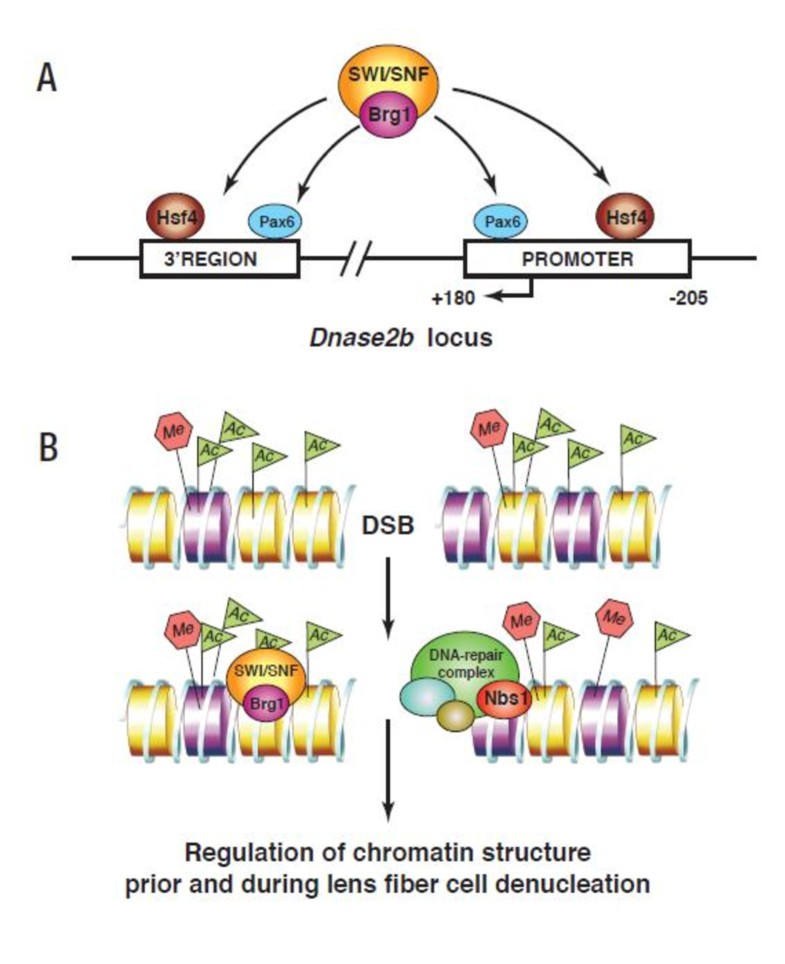 Conclusions
Our results demonstrate that lens fiber cell terminal differentiation, including their denucleation (karyolysis), requires the ATP-dependent chromatin remodeling enzyme Brg1. Our data suggest that Brg1, together with two lens lineage transcription factors, Pax6 and Hsf4, is required for the transcriptional regulation of DNase IIβ, the key enzyme for lens fiber cell denucleation. In addition, the present data are consistent with our earlier findings suggesting that Brg1 regulates directly the expression of the αA-crystallin gene, the key structural protein of the mammalian lens. These results provide new molecular insights into the process of lens fiber terminal differentiation and open new research avenues to probe chromatin structure prior to and during lens fiber cell denucleation.
A list of abbreviations used
ATP :

adenosine-5'-triphosphate
BAF :

Brg1 Associated Factor
Brg1 :

Brahma-Related Gene 1
CREB :

cAMP Response Element Binding Factor
DAVID :

Database for Annotation, Visualization and Integrated Discovery
dn :

Dominant-negative
GO :

Gene Ontology
GSEA :

Gene Set Enrichment Analysis
HMGA 1:

High Mobility Group A 1
Hsf4 :

Heat Shock Transcription Factor 4
INL :

Inner Nuclear Layer
ISWI :

Imitation Switch
KEGG :

Kyoto Encyclopedia of Genes and Genomes
MIP :

Main Intrinsic Polypeptide
Mitf :

Microphthalmia-associated Transcription Factor
NES :

Normalized Enrichment Score
NuRD :

Nucleosome Remodeling and Deacetylase
OFZ :

Organelle Free Zone
Pax6 :

Paired Box Gene 6
RAR :

Retinoic Acid Receptor
RXR :

Retinoid X Receptor
SEM:

scanning electron microscopy
SWI/SNF :

Switch/Sucrose Nonfermentable
Tbx2 :

T-box Transcription Factor 2
TEM:

transmission electron microscopy.
Declarations
Acknowledgements
We thank Dr Wei Liu for critical comments on the manuscript. We thank Dr Said Sif for providing the Brg1 (K798R)-containing plasmid. Margit Schimmel provided excellent technical help for transmission electron microscopy. Core facilities were the AECOM Genomics and Transgenic Mouse Facility and the New York University Genome Technology Core. Data in this paper are from a thesis to be submitted in partial fulfillment of the requirements for the Degree of Doctor of Philosophy in the Graduate Division of Medical Sciences, Albert Einstein College of Medicine, Yeshiva University. Grant support was provided by NIH grants R01 EY012200 and EY014237 (AC). AC is a recipient of the Irma T. Hirschl Career Scientist Award.
Authors' Affiliations
(1)
Department of Genetics, Albert Einstein College of Medicine, Bronx, USA
(2)
Department of Ophthalmology and Visual Sciences, Albert Einstein College of Medicine, Bronx, USA
(3)
Institute of Human Anatomy and Embryology, University of Regensburg, Regensburg, Germany
(4)
Department of Human Molecular Genetics and Biochemistry, Sackler School of Medicine Tel-Aviv University, Ramat Aviv, Israel
(5)
Institut de Génétique et de Biologie Moléculaire et Céllulaire, Université de Strasbourg, Illkirch, France
(6)
Department of Biochemistry and Molecular Biology, Yamaguchi University School of Medicine, Ube, Japan
(7)
Department of Pathology, NYU Cancer Institute and NYU Center for Health Informatics and Bioinformatics, New York University Langone Medical Center, New York, USA
Copyright
© He et al; licensee BioMed Central Ltd. 2010
This article is published under license to BioMed Central Ltd. This is an Open Access article distributed under the terms of the Creative Commons Attribution License (http://creativecommons.org/licenses/by/2.0), which permits unrestricted use, distribution, and reproduction in any medium, provided the original work is properly cited.