Establishment of regulatory elements during erythro-megakaryopoiesis identifies hematopoietic lineage-commitment points
Epigenetics & Chromatin
2018
11:22
Received: 14 April 2018
Accepted: 21 May 2018
Published: 28 May 2018
Abstract
Background
Enhancers and promoters are cis-acting regulatory elements associated with lineage-specific gene expression. Previous studies showed that different categories of active regulatory elements are in regions of open chromatin, and each category is associated with a specific subset of post-translationally marked histones. These regulatory elements are systematically activated and repressed to promote commitment of hematopoietic stem cells along separate differentiation paths, including the closely related erythrocyte (ERY) and megakaryocyte (MK) lineages. However, the order in which these decisions are made remains unclear.
Results
To characterize the order of cell fate decisions during hematopoiesis, we collected primary cells from mouse bone marrow and isolated 10 hematopoietic populations to generate transcriptomes and genome-wide maps of chromatin accessibility and histone H3 acetylated at lysine 27 binding (H3K27ac). Principle component analysis of transcriptional and open chromatin profiles demonstrated that cells of the megakaryocyte lineage group closely with multipotent progenitor populations, whereas erythroid cells form a separate group distinct from other populations. Using H3K27ac and open chromatin profiles, we showed that 89% of immature MK (iMK)-specific active regulatory regions are present in the most primitive hematopoietic cells, 46% of which contain active enhancer marks. These candidate active enhancers are enriched for transcription factor binding site motifs for megakaryopoiesis-essential proteins, including ERG and ETS1. In comparison, only 64% of ERY-specific active regulatory regions are present in the most primitive hematopoietic cells, 20% of which containing active enhancer marks. These regions were not enriched for any transcription factor consensus sequences. Incorporation of genome-wide DNA methylation identified significant levels of de novo methylation in iMK, but not ERY.
Conclusions
Our results demonstrate that megakaryopoietic profiles are established early in hematopoiesis and are present in the majority of the hematopoietic progenitor population. However, megakaryopoiesis does not constitute a "default" differentiation pathway, as extensive de novo DNA methylation accompanies megakaryopoietic commitment. In contrast, erythropoietic profiles are not established until a later stage of hematopoiesis, and require more dramatic changes to the transcriptional and epigenetic programs. These data provide important insights into lineage commitment and can contribute to ongoing studies related to diseases associated with differentiation defects.
Keywords
Hematopoiesis
Megakaryopoiesis
Erythropoiesis
ATAC-Seq
RNA-Seq
ChIP-Seq
Lineage commitment
Epigenetics
Background
Hematopoiesis is the process by which proliferating hematopoietic stem cells (HSC) undergo continued transcriptional and epigenetic changes associated with lineage-restriction and cell-specific function, giving rise to all of the cell types in the hematopoietic system. Classical models of hematopoiesis describe a series of progressively restricted cell fate decisions in which HSC give rise to multipotent progenitors (MPP), which in turn give rise to common myeloid progenitors (CMP) and common lymphoid progenitors (CLP). In myelopoiesis, CMP differentiate into granulocyte–macrophage progenitors (GMP), from which mature granulocytes and monocytes are generated, and megakaryocytic erythroid progenitors (MEP), which have classically been described as the common erythrocyte and megakaryocyte progenitor [1–4].
Erythro-megakaryopoiesis describes the subset of cell fate decisions associated with the production of erythroblasts (ERY; erythropoiesis) and megakaryocytes (MK; megakaryopoiesis). The process of erythroid and megakaryocyte commitment is accompanied by the substitution of GATA1 for GATA2 at key chromatin regulatory sites to increase expression of linage-specific transcription factors including FLI1 and ETS in the MK lineage, and KLF1 and GATA1 in the ERY lineage [
5
–
8
]. Traditional hierarchical models predict that ERY and MK lineages are derived from a homogeneous population of bipotential MEP (Fig.
1
a) [
9
]. However, there is mounting evidence that the MK program is established prior to the emergence of erythroid cells. Several studies have noted transcriptional and immunophenotypic similarities between HSC and MK populations [
10
–
13
]. Single-cell transcriptional studies of human MEP demonstrated that traditionally defined MEP included erythroid- and megakaryocyte-committed cells mixed with a small compartment of bipotential intermediates [
14
]. These studies have led to revised models where many MK are derived from a multipotent stem cell, while others can be generated from CMP and MEP intermediates [
15
]. While MK appears to have multiple origins, in these revised models the erythroid lineage appears to remain a single branch downstream of the CMP and formed through the MEP.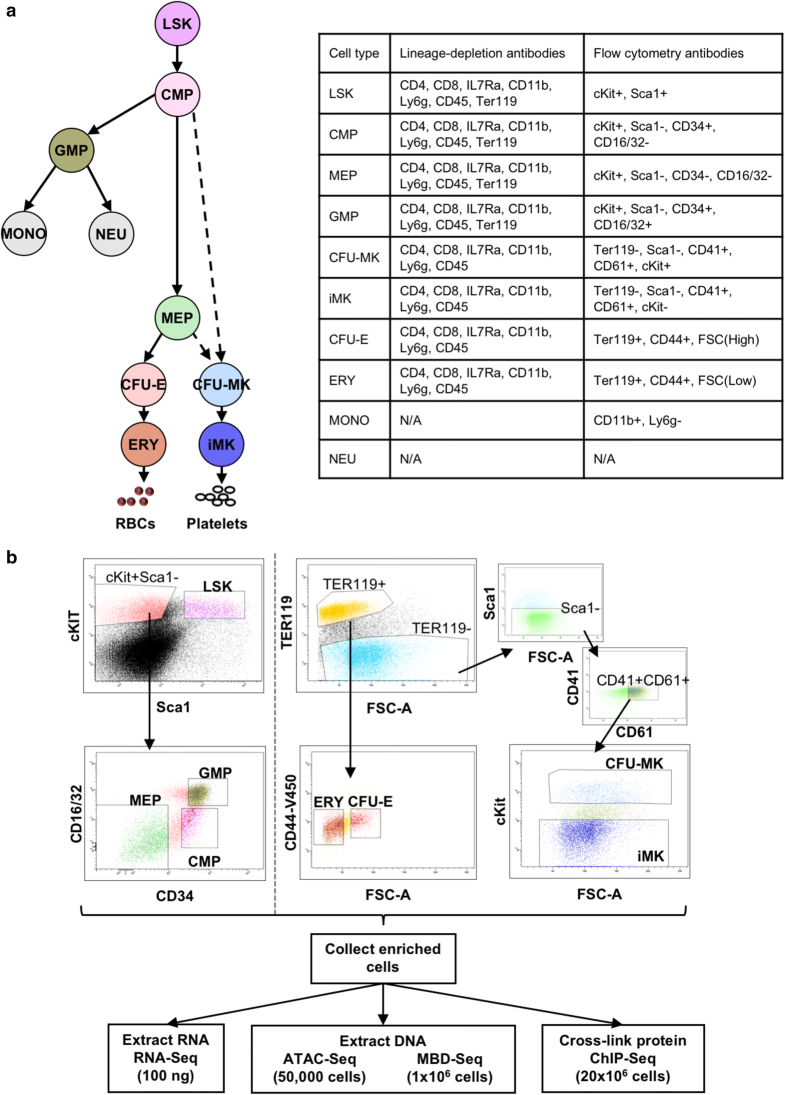 Determining when lineage specification occurs is important for understanding mechanisms behind diseases with maturation defects. These diseases include anemias, thrombocytopenias, neutropenias, myelodysplastic and myeloproliferative disorders, and hematologic malignancies [16–20]. Fluorescence-activated cell sorting and next-generation sequencing technologies make it possible to generate transcriptome profiles (RNA-Seq), genome-wide profiles of chromatin accessibility (ATAC-Seq), histone modifications (ChIP-Seq), and DNA methylation (MBD-Seq) of cells at specific stages of hematopoiesis. As part of the ValIdated Systematic IntegratiON of hematopoietic epigenomes (VISION) project, we are creating comprehensive catalogs of genomic regulatory elements in primary mouse cells to compare and contrast epigenetic regulation in mice with human data from the Encyclopedia of DNA Elements (ENCODE) project and the NIH Roadmap Epigenomics Project [21–24]. VISION also emphasizes bioinformatics modeling and machine learning to predict regulatory interactions which is enabled by the ability to manipulate mouse hematopoiesis at the genetic level.
To characterize the relationships between hematopoietic populations and the changes that accompany erythro-megakaryopoiesis, we enriched 10 primary hematopoietic cell populations from C57BL6 mice for RNA-Seq, ATAC-Seq, ChIP-Seq, and MBD-Seq analysis. These data have been integrated into transcriptional and epigenetic maps to identify candidate regulatory elements in the ERY and MK lineages and to study the establishment and maintenance of these regulatory elements during erythro-megakaryopoiesis. Our results demonstrate that committed megakaryocytes have similar transcriptional and epigenetic profiles to hematopoietic stem and progenitor cells, but do not represent a "default" developmental program. By contrast, the erythroid population is the most dissimilar from hematopoietic stem and progenitor populations and requires more extensive changes to the transcriptional and epigenetic programs to permit erythropoiesis.
Discussion
It is well known that megakaryocytes and stem cells share a number of molecular features [10, 11]. Both HSC and megakaryocytes have similar dependencies on the thrombopoietin receptor MPL and express CD41 and CD117 (cKit) [10, 11, 30]. HSC and megakaryocytes also have similar dependencies on transcription factors, including expression of RUNX1, GATA2, and EVI1 [11]. Our data suggest that there is a large population of megakaryocyte-primed cells within the multipotent progenitor population (MPP) that shares the chromatin, enhancer/promoter, and transcriptional profiles of the MPP. It is also possible that only a subpopulation of HSC are megakaryocyte-primed, but our data suggest that the majority of MPP share transcriptional and regulatory characteristics with those of the megakaryocyte population [4, 15, 31–34].
The clearest distinction between MPP and megakaryocytes is in their DNA methylation profiles, where de novo methylation increases in CFU-MK but subsequently decreases in iMK [29]. Similar patterns have been observed in muscle and neuronal lineages (reviewed in [35–37]). Our data suggest that de novo methylation is an important step in megakaryopoiesis [38], while the chromatin accessibility, enhancer/promoter profiles, and transcriptional programs remain highly consistent. Changes in DNA methylation have been linked to induction of several megakaryocytic processes, including endomitosis, transcription factor expression and DNA affinity, and enhancer activity [39–42]. The requirement for de novo DNA methylation in megakaryopoiesis suggests that despite similar transcriptional and regulatory profiles with MPP, megakaryopoiesis does not constitute a "default" developmental program.
In contrast to megakaryopoiesis, erythropoiesis is associated with significant changes in the chromatin, enhancer/promoter, transcriptional, and methylation profiles. Our data suggest that, for most elements, these profiles are first detected at the level of the MEP, where the MEP ATAC-Seq profile clusters with that of mature erythroid cells. These data are consistent with the greater frequency of erythroid committed cells in the human MEP population [14]. Based on the transcriptional profiles, we propose that many cells in the mouse MEP population are in transition from multipotent progenitor cells (as evidenced by the similar transcriptional profiles) to erythroid committed cells. Our observations support this model and previous publications: ERY-specific AREs in CMP, but not LSK, contain TFBS associated with GATA-switching. However, in-depth single-cell analyses will be needed to test this hypothesis [43, 44].
The classic model of hematopoiesis is displayed as a hierarchy in which multipotent progenitors traverse a series of oligopotent and bipotent intermediates that progressively restrict lineage potential [1, 45, 46]. Recent studies, including single-cell transcriptional analyses and clonogenic assays, have identified a subset of megakaryocyte-primed progenitor cells in the MPP compartment that is proposed to give rise directly to megakaryocytes [4, 12, 15, 47, 48]. Our data are consistent with this model. Further down the hierarchy, multipotent progenitors give rise to common myeloid progenitor (CMP) cells, then to the megakaryocyte-erythroid lineage at the MEP stage, and finally to either the megakaryocyte or erythroid lineages [9, 49]. The existence of many of the cell types in this hierarchy is supported by the ability to grow colonies comprised of single or multiple lineages from single cells in semisolid medium in vitro. However, there are no reliable assays to culture both erythroid and megakaryocytic cells under the same conditions. Our data support models in which many cells within the classically defined MEP compartment have already become committed to one or the other lineage.
The data and analysis in this paper were generated as part of ValIdated Systematic IntegratiON of hematopoietic epigenomes (VISION) project, which aims to generate comprehensive catalogs of genomic regulatory elements in mouse and human hematopoietic cells and to conduct integrative statistical modeling and machine learning to predict regulatory interactions that are then validated by manipulating hematopoiesis at the genetic level. The data come both from efforts in the project laboratories, such as those generated for this paper, and also from other laboratories and consortia such as the Encyclopedia of DNA Elements (ENCODE) project and the NIH Roadmap Epigenomics Project [21–24]. These data are available at our website, usevision.org, for use by the larger community.
Conclusion
Our studies confirm that the majority of the epigenetic and transcriptional profiles found in the hematopoietic stem cell population are present in megakaryocytes, while the erythropoietic epigenetic and transcriptional programs are not established until erythroid-lineage commitment. By performing "bulk" analyses, we achieve greater depth of coverage that emphasizes the dominant characteristics of cell populations. In contrast, single-cell analyses can resolve finer distinctions between populations, but at a lower depth of coverage.
Abbreviations
HSC:

hematopoietic stem cell
LSK:

Lin−Sca+Kit+
MPP:

multipotent progenitor
CMP:

common myeloid progenitor
CLP:

common lymphoid progenitor
GMP:

granulocyte/macrophage progenitor
MEP:

megakaryocyte/erythroid progenitor
CFU-MK:

colony-forming unit (megakaryocyte)
CFU-E:

colony forming unit (erythrocyte)
ERY:

erythrocyte
MK:

megakaryocyte
VISION:

ValIdated Systematic IntegratiON of hematopoietic epigenomes
ENCODE:

Encyclopedia of DNA Elements
iMK:

immature megakaryocyte
ATAC-Seq:

assay for transposon-accessible chromatin followed by next-generation sequencing
RNA-Seq:

next-generation sequencing of RNA
ChIP-Seq:

chromatin immunoprecipitation followed by next-generation sequencing
MBD-Seq:

methyl-binding protein immunoprecipitation followed by next-generation sequencing
TPM:

transcripts per million count
PCA:

principle component analysis
ARE:

active regulatory element
iChIP:

indexing-first chromatin immunoprecipitation
TSS:

transcriptional start site
cEE:

candidate enhancer element
cPE:

candidate promoter element
TFBS:

transcription factor binding site
Declarations
Authors' contributions
EFH generated H3K27ac ChIP-Seq data and analyzed, integrated, and interpreted next-generation sequencing experiments. CAK generated RNA-Seq and ATAC-Seq data. BG performed analyses and generated images regarding RNA-Seq and ATAC-Seq data. SMA performed flow cytometry analyses. JL generated MBD-Seq data. NISC performed sequencing for H3K27ac ChIP-Seq experiments. EFH, CAK, BG, JL, RCH, and DMB analyzed data and wrote the paper. All authors read and approved the final manuscript.
Acknowledgements
The authors would like to acknowledge Martha Kirby and Beth Psaila for their advice and assistance in preparation of this manuscript.
Competing interests
The authors declare that they have no competing interests.
Availability of data and materials
The datasets supporting the conclusions of this article are available in the VISION repository (http://usevision.org). iChIP data are available in the Gene Expression Omnibus repository, at https://www.ncbi.nlm.nih.gov/geo (accession number GSE60103, see citation below). Additionally, datasets supporting the conclusions of this article are included within the article and its additional files. Lara-Astiaso D, Weiner A, Lorenzo-Vivas E, et al. Chromatin state dynamics during blood formation. 2014. doi: https://doi.org/10.1126/science.1256271.
Consent for publication
Not applicable.
Ethics approval and consent to participate
Animal work followed the guidelines and policies and was approved by the Animal Care and Use Committee. The National Human Genome Research Institute is accredited by AAALAC International and is in accordance with the Public Health Service Policy for the Care and Use of Laboratory Animals.
Funding
This work was supported by the National Human Genome Research Institute intramural funds and the National Institute of Diabetes and Digestive and Kidney Diseases (Grant Number R24DK106766-01A1).
Publisher's Note
Springer Nature remains neutral with regard to jurisdictional claims in published maps and institutional affiliations.
Open AccessThis article is distributed under the terms of the Creative Commons Attribution 4.0 International License (http://creativecommons.org/licenses/by/4.0/), which permits unrestricted use, distribution, and reproduction in any medium, provided you give appropriate credit to the original author(s) and the source, provide a link to the Creative Commons license, and indicate if changes were made. The Creative Commons Public Domain Dedication waiver (http://creativecommons.org/publicdomain/zero/1.0/) applies to the data made available in this article, unless otherwise stated.
Authors' Affiliations
(1)
NHGRI Hematopoiesis Section, GMBB, Bethesda, USA
(2)
Pennsylvania State University, University Park, USA
(3)
NHGRI Flow Cytometry Core, Bethesda, USA