Divergence of transcriptional landscape occurs early in B cell activation
Epigenetics & Chromatin
2015
8:20
Received: 5 March 2015
Accepted: 1 May 2015
Published: 14 May 2015
Abstract
Background
Signaling via B cell receptor (BCR) and Toll-like receptors (TLRs) results in activation of B cells with distinct physiological outcomes, but transcriptional regulatory mechanisms that drive activation and distinguish these pathways remain unknown.
Results
Two hours after ligand exposure RNA-seq, ChIP-seq and computational methods reveal that BCR- or TLR-mediated activation of primary resting B cells proceeds via a large set of shared and a smaller subset of distinct signal-selective transcriptional responses. BCR stimulation resulted in increased global recruitment of RNA Pol II to promoters that appear to transit slowly to downstream regions. Conversely, lipopolysaccharide (LPS) stimulation involved an enhanced RNA Pol II transition from initiating to elongating mode accompanied by greater H3K4me3 activation markings compared to BCR stimulation. These rapidly diverging transcriptomic landscapes also show distinct repressing (H3K27me3) histone signatures, mutually exclusive transcription factor binding in promoters, and unique miRNA profiles.
Conclusions
Upon examination of genome-wide transcription and regulatory elements, we conclude that the B cell commitment to different activation states occurs much earlier than previously thought and involves a multi-faceted receptor-specific transcriptional landscape.
Keywords
Plasma Cell DifferentiationTranscriptional LandscapeTranscription Factor MotifTLR4 EngagementGenome Browser Track
Background
B cell activation, the transition from a naïve to an effector state, is important due to its essential role in immunity. Deregulated activation can have disastrous effects resulting in immune disorders and several B cell malignancies, some of which resemble activated B cell phenotypes [1, 2]. Mature resting splenic B cells maintain a quiescent G0 state with limited proliferative output [3]. Upon encountering antigen, these cells become activated, leading to plasma cell differentiation and participation in immune responses. Activation of B cells can occur through either surface B cell receptor (BCR) [4–6] or various pathogen-associated molecular patterns such as bacterial lipopolysaccharide (LPS), which is mediated by Toll-like receptor (TLR) signaling and NF-κB pathways [7]. Exposure of B cells to LPS via TLR4 can promote plasma cell differentiation [7, 8]. A properly regulated LPS activation appears critical as patients with deficient TLR signaling molecules, exhibit autoimmunity [9].
Splenic B cell differentiation can begin as early as 4 h and fully develop by 48–72 h [10]. While much is known about signaling cascades during B cell activation at early and late time points [5, 11, 12], transcriptional changes during these times are still being addressed [13]. In particular, a high-resolution picture reflecting the immediate transcriptional and epigenetic changes during early B cell activation, before mature B cells proceed toward proliferation and functional immune responses occur, is not available. Regardless of cell type, initial signaling events lead to rapid induction of primary response genes (PRGs) whose products initiate secondary waves of transcription resulting in egress from the G0 state and subsequently in proliferation and effector function [14]. Regulatory mechanisms for these rapid responses, release of preformed "paused" transcription complexes, RNA polymerase II (Pol II) recruitment via transcription co-factors, and promoter accessibility/repression through histone modifications, are particularly well established [14, 15]. But how these mechanisms operate during BCR and LPS signaling in early activation of B cells is not known.
Activation of resting splenic B cells ex vivo provides a tractable model to explore this transition in a ligand-specific manner [16]. B cells are unique hematopoietic cells because they express both BCR and TLRs. Although stimulation of naïve ex vivo B cells through both receptors elicits activation and proliferation, only LPS stimulation results in plasma cell differentiation [4, 17, 18]. We used this ex vivo model to determine how and when these ligand-specific transcriptional landscapes may diverge. We observe clear differences within 2 h post stimulation. In addition to ligand-selective differences in both protein-coding and non-coding RNAs, several other transcriptional regulatory steps differed between the activation states providing three key findings [1]. Although BCR-induced genes show new recruitment of RNA Pol II that appeared to be paused at promoters, LPS/TLR4-induced genes exhibit enhanced transition of RNA Pol II from initiation to elongation [2]. While the H3K4me3 (activating) mark is increased in both activation states (more so during TLR4 engagement), the appearance of the H3K27me3 (repressive) mark is reduced on BCR-responsive genes but remains relatively unchanged in LPS-responsive genes [3]. Predicted transcription factor binding sites in the promoter proximal regions of genes also differ significantly in a ligand-selective manner. Together, our results show that B cell egress from the resting state involves a large pool of shared/common RNAs, and a small set of signal-selective RNAs that exhibit remarkable transcriptional landscape changes soon after ligand engagement.
Discussion
Deregulation of B cell activation can result in autoimmune disorders, chronic inflammation, and lymphoma. Although B cells express both BCR and TLR4, the functional consequences to these stimuli are distinct, at least under ex vivo conditions. While BCR engagement (triggered by anti-IgM stimulation) leads to proliferative expansion of activated B cells, engagement of TLR4 (triggered by LPS stimulation) leads to proliferation and eventual production of plasma cells. However, the transcriptional signatures and molecular mechanisms that distinguish these responses are relatively unknown. Here, we employed ex vivo activation of resting murine splenic B cells to examine these molecular signatures and define the transcriptional and regulatory landscape during early activation by high-resolution RNA- and ChIP-seq. We observe that at 2 h post stimulation, most genes (~90 %) induced by the two pathways are shared, despite being triggered through distinct receptors. This observation is consistent with previous studies [44, 45]. However, the rest of the transcriptome (10 %) exhibit signal-selective transcriptional programs.
While genes induced by both responses (shared) are greatly dominated by Myc targets and Myc-associated processes, groups of genes preferentially induced by LPS, as expected, show a strong correlation with NF-κB (Fig. 1). Surprisingly, BCR-induced genes showed little relationship to processes associated with the shared and LPS specific induced genes; they only overlapped with the shared-induced genes at the level of Myc and Arnt targets. Myc expression in normal lymphoid tissue is present in both activated and resting B cells in all phases of the cell cycle [46]. We were surprised to find that the Myc co-factor Max transcription levels remained constant during activation despite a 15- to 30-fold increase in Myc, suggesting other co-factors were required to drive such a strong Myc-dominated signature. However, another Myc regulator, Mnt [47], was increased by BCR activation to a small degree. These data further underscore Myc's dominant but enigmatic role in B cell activation [48–50].
Given the distinct gene sets noted in each of the responses, we examined mechanisms that could drive these observed differences. While preexisting, paused, RNA Pol II is associated with a large number of genes in diverse cell types, new RNA Pol II recruitment indicates transcriptional activity [15]. Although preexisting RNA Pol II was found globally in resting B cells, RNA Pol II occupancy at the TSS was broadly increased during the BCR response and increased further at BCR-responsive gene promoters. This scenario suggests two general BCR-dependent mechanisms are in play [1], a global recruitment of Pol II to promoters and [2] a signal-specific guidance to intensify this general recruitment of Pol II to BCR-responsive promoters, particularly around the TSS. Conversely, LPS activation appeared to involve maintenance of steady-state RNA Pol II occupancy at the promoter relative to the resting cells. An increase in downstream RNA Pol II, possibly reflecting elongating Pol II, was noticeable, although this promoter associated RNA Pol II peak can be due to other mechanisms [51]. To better understand this phenomenon, we took a closer look at downstream regions and calculated traveling ratios of polymerase occupancy in promoter versus downstream/coding sequences (Fig. 2c). These analyses revealed that while the BCR signal resulted in enhanced RNA Pol II at promoters, the transition to downstream region (elongation) was less/slower. In contrast, although LPS stimulation did not result in additional RNA Pol II recruitment, transition to downstream regions was greater/faster than that observed with BCR. It remains possible that although the total recruitment of RNA Pol II under two stimulations is very similar, the difference in promoter versus downstream region associated RNA Pol II reflects the rate at which the enzyme transits from initiation to elongation mode. Our preliminary analysis indicates that there are differences in the complexity of gene structure (e.g., number of exons) between the BCR- and LPS-responsive genes. Whether the difference in RNA Pol II movement between the two stimuli reflects these differences, a difference in signal strength and/or a fundamental difference in signaling pathways remain to be determined.
Epigenetic regulation of gene expression plays crucial roles in lymphoid differentiation and homeostasis [
23
,
33
,
35
,
52
,
53
]. Although broad chromatin modification responses were seen with both BCR (demethylation of H3K27me3) and LPS (a greater increase in H3K4me3 methylation than with BCR) activation states, both of these effects were increased at response specific promoters, suggesting signal-dependent enhancement. While increased H3K4me3 during both responses was expected, a specific decrease in H3K27me3 around the TSS of BCR-induced genes is intriguing. Because EZH2/PRC2 is involved in germinal center B cell activation, where BCR signaling would be most likely to dominate [
54
], we speculate that PRC2 plays a role in distinguishing BCR versus LPS responses (Fig.
7
). lncRNAs may guide PRC2 activity (reviewed in [
55
]), indicating a point of convergence between the increased lncRNA transcription and decreased H3K27me3 that we observed during BCR activation (Additional file
1
: Figure S3). Conversely, the H3K27me3-specific demethylase, JMJD3/KDM6, is involved in LPS stimulation in macrophages and is recruited to the TSS [
56
–
58
]. It is thus possible that a balance of EZH2 and KDM6 counter regulation separates these two transcriptional landscapes.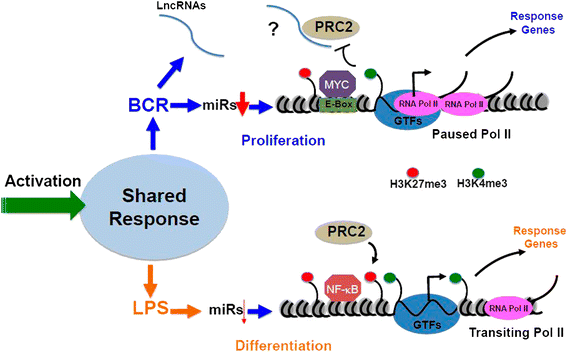 Given that helix-loop-helix (HLH) transcription factors play an important role in B cell development and differentiation [59, 60], it is intriguing that HLH TF motifs are strongly represented in BCR-responsive promoters. While much work has been done on the role of E-box binding proteins in early B cell development (reviewed in [61]), the role of this class of proteins in mature B cell early activation is limited [62]. The idea that enhancer-promoter actions mediated by HLH TFs (e.g. Myc) via E-boxes might partially account for the increased RNA Pol II occupancy at promoters induced by BCR is appealing. A recent report that targeting BET proteins in high-risk acute lymphoblastic leukemia inhibits Myc and Il7r expression, both of which exhibit increased transcription in response to BCR in our experiment, also suggests Myc plays an important role during early phases of B cell activation [63]. The fact that E-box containing promoter sequences are underrepresented in an EZH2 recruitment assay [32] further suggests that the decrease in H3K27me3 and preponderance of E-box sequences in BCR-induced genes observed in our study are related.
As deregulation of B cell activation is related to malignancies such as B cell lymphomas, our studies may also provide insights into lymphogenesis. Myc and NF-κB are well-established master regulators of initiation of transcriptional programs, but when deregulated, they function as oncogenic drivers in B cell lymphomas. Deregulated and increased Myc and Bcl proteins, such as Bcl2 and Bcl6, are associated with particularly aggressive lymphoma types [64, 65]. Here, we found BCR stimulation decreased Bcl6 expression; in contrast, Bcl6 remained stable during LPS activation. These and other Bcl transcription patterns (Additional file 1: Figure S11) suggest that the proper regulation of Myc and Bcl proteins is required for early activation. Further investigation into this oncogenic driver network might yield interesting relationships.
Targeting of miRNAs is complex with an average miRNA having approximately 100 target sites in addition to non-canonical miRNA binding [66, 67]. Here, we identified differential expression of many miRNAs known to regulate processes involved in B cell activation. That a greater decrease in miRNA expression occurred in the BCR response compared to LPS suggests rapid downregulation of miRNAs is necessary to orchestrate gene expression driving the adaptive immune response. Given the wide activity spectrum predicted for many miRNAs, it is possible they could coordinate some of the separate regulatory mechanisms we observed. For example, a recent report proposes a regulatory loop linking overexpression of Myc, EZH2, and miR26a repression to lymphoma growth [68]. Our BCR activation data showing overexpression of Myc, lowered H3K27me3, and decreased miR26a highlight the multi-factorial nature and cross-dependency of regulatory systems likely to drive complicated responses such as signal-specific B cell activation. Although miRNAs have generally been associated with oncogenic pathways, targeted deletion of miR-17 cluster shows defects in B cell differentiation [39, 69]. Because LPS but not BCR signaling in splenic B cells results in differentiation, it is tempting to speculate that signal-specific regulation in the miR-17 cluster is a way of distinguishing between the two signals. The miR-15 cluster belongs to a very selective group of miRNAs enriched in the nucleus and thus capable of further directly regulating LPS specific transcription [70]. Despite the fact that miRNAs are critical regulators of diverse biological processes, differential regulation of miRNAs to the extent observed in our analysis is very surprising. However, it is currently unknown if these miRNAs are regulated by rapid turnover of miRNAs, regulated at the level of transcription, or both.
BCR responses are slower and presumably more precise [44, 45, 71], therefore, it is tempting to speculate that a tighter regulatory environment is required to orchestrate these lengthy responses (Fig. 7). An increase in global Pol II recruitment that appears to be regulated at the level of pausing and a greater release of miRNA repression could reflect this strict regulation. Conversely, TLR4-mediated signaling is reflective of innate responses, which are generally rapid and transient, and therefore could be manifested by an enhanced transition of RNA Pol II from initiation to elongation together with a global increase in activation marks at TSSs. Additionally, one would expect the derepression (via decreasing H3K27me3) observed during the BCR response to be slower than the sharper increase in preexisting H3K4me3-activating marks observed during LPS/TLR4 signaling. How these different observations are related to each other will be the next challenging phase to understand the regulation of B cell activation. Nevertheless, our observations begin to elucidate the signal-specific signatures involved in early activation of B cells and further suggest key molecular mechanisms (Fig. 7) that govern this important process.
Conclusions
We conclude that the B cell commitment to different activation states is dependent upon rapid regulatory mechanisms and occurs much earlier than previously thought. Different RNA Pol II recruitment and transition from initiation to elongation, distinct activating (H3K4me3) and repressing (H3K27me3) histone signatures, mutually exclusive transcription factor binding in promoters and highly selective miRNA profiles distinguish these responses.
Declarations
Acknowledgements
We are deeply indebted to Drs. Ali Shilatifard, Deqing Hu, and Xin Gao of the Stowers Institute for performing an independent RNA-seq and ChIP-seq of RNA Pol II as well as their guidance and helpful discussions throughout the course of this work. We thank Xiaoting Chen (CCHMC) for help with the motif enrichment analysis and members of Tufts' Computational Biology Initiative for analysis assistance. We also thank Dr. Dinah Singer (NCI) and Dr. Harinder Singh (CCHMC) for critically reading the manuscript and for their thoughtful suggestions. This work was supported in part by the Intramural Research Program of the NIH, the National Institute on Aging to RS, and by grants to STS (R01 GM086372) and ALR (AHA 12GRNT12180023).
Authors' Affiliations
(1)
Department of Developmental, Chemical and Molecular Biology, Sackler School of Biomedical Science, Tufts University School of Medicine, Boston, USA
(2)
Wyss Institute for Biologically Inspired Engineering, Harvard University and Department of Genetics, Harvard Medical School, Boston, USA
(3)
Laboratory of Molecular Biology and Immunology, National Institute on Aging, Baltimore, USA
(4)
Gene Expression Unit, Laboratory of Genetics, National Institute on Aging, Baltimore, USA
(5)
Center for Autoimmune Genomics and Etiology (CAGE) and Divisions of Biomedical Informatics and Developmental Biology, Cincinnati Children's Hospital Medical Center, Cincinnati, USA
(6)
Department of Microbiology, Immunology, and Molecular Genetics, UCLA, Los Angeles, USA
Copyright
© Fowler et al.; licensee BioMed Central. 2015
This is an Open Access article distributed under the terms of the Creative Commons Attribution License (http://creativecommons.org/licenses/by/4.0), which permits unrestricted use, distribution, and reproduction in any medium, provided the original work is properly credited. The Creative Commons Public Domain Dedication waiver (http://creativecommons.org/publicdomain/zero/1.0/) applies to the data made available in this article, unless otherwise stated.