Trans-generational epigenetic regulation of C. elegans primordial germ cells
Epigenetics & Chromatin
2010
3:15
Received: 11 May 2010
Accepted: 12 August 2010
Published: 12 August 2010
Abstract
Background
The processes through which the germline maintains its continuity across generations has long been the focus of biological research. Recent studies have suggested that germline continuity can involve epigenetic regulation, including regulation of histone modifications. However, it is not clear how histone modifications generated in one generation can influence the transcription program and development of germ cells of the next.
Results
We show that the histone H3K36 methyltransferase maternal effect sterile (MES)-4 is an epigenetic modifier that prevents aberrant transcription activity in Caenorhabditis elegans primordial germ cells (PGCs). In mes-4 mutant PGCs, RNA Pol II activation is abnormally regulated and the PGCs degenerate. Genetic and genomewide analyses of MES-4-mediated H3K36 methylation suggest that MES-4 activity can operate independently of ongoing transcription, and may be predominantly responsible for maintenance methylation of H3K36 in germline-expressed loci.
Conclusions
Our data suggest a model in which MES-4 helps to maintain an 'epigenetic memory' of transcription that occurred in germ cells of previous generations, and that MES-4 and its epigenetic product are essential for normal germ cell development.
Keywords
Germ CellPrimordial Germ CellH3K36 MethylationSomatic NucleusOngoing Transcription
Background
Chromatin structure is an important determinant of transcriptional activity, and is thought to influence accessibility of the transcriptional machinery to the DNA and/or modulate its productivity, as a component of regulation. The structure of chromatin and its influence on genetic regulation can be heritable, and this heritability forms the basis of epigenetic forms of genome regulation. As the eukaryotic genome is passed between generations, there occurs significant remodeling or re-programming of the gamete epigenomes as they merge in the zygote. An additional round of epigenetic reprogramming also occurs upon establishment of the embryonic germline in many species [1]. The purpose of these events are not clear, but they are thought to be important for resetting an epigenetic 'ground state' that is compatible with developmental pluripotency in the zygote, and with maintaining or establishing totipotency in the germline. Although much of the research focus has been on epigenetic erasure events that occur in the zygote, it is important to note that significant epigenetic information is probably retained and/or re-established in the zygote and primordial germ cells (PGCs). How any epigenetic information is selected for erasure, retention or establishment is not yet understood.
Interestingly, a state of transcriptional quiescence also accompanies germline determination in many organisms [2]. In Drosophila and C. elegans, this quiescence is achieved by interfering with RNA polymerase (Pol) II transcriptional activation. A key mechanism of transcriptional regulation is phosphorylation of serine residues (specifically serine 2 and serine 5) within a highly repetitious seven amino acid sequence in the C-terminal domain (CTD) of the largest subunit of Pol II [3]. During the transition from initiation stages to productive elongation, Ser2 is phosphorylated by positive transcription elongation factor (P-TEFb), the predominant kinase complex that targets this residue in the CTD repeat [3, 4]. In C. elegans, in addition to P-TEFb, Tousled-like kinase (TLK-1) has also been implicated in regulating phosphorylation of the CTD of Pol II [5].
Hyperphosphorylation of the Pol II CTD is considered a hallmark of 'active Pol II' that has progressed past the initiation stage and begun transcriptional elongation [
3
]. A monoclonal antibody H5, which recognizes the hyperphosphorylated form of the CTD repeat, is often used as a marker for this active Pol II status [
6
–
8
]. In
Drosophila
germline progenitor cells, recruitment of the P-TEFb kinase complex to promoter regions is directly inhibited by a small protein encoded by the
polar granule component
(
pgc
) gene. Pgc prevents phosphorylation of the CTD at Ser2, causing transcription to be stalled at a step before productive elongation [
9
]. A similar mechanism has been proposed in
Caenorhabditis elegans
, involving a maternal protein, PIE-1, which bears no sequence similarity to Pgc [
9
–
11
]. A transient cessation of transcription elongation has also been observed in mouse PGCs [
12
]. Global transcriptional repression is thus a conserved event in germ cell specification. Seydoux and Dunn reported that H5 staining is absent from the
C. elegans
P lineage (embryonic germline) blastomeres (P1 to P4), but appears in the two lineage-restricted PGCs, Z2 and Z3. PGCs are produced by the symmetric division of the last P blastomere (P4), and PIE-1 disappears from these cells shortly thereafter [
13
] (Figure
1A
). Paradoxically, we have observed that a subset of conserved histone modifications associated with active gene expression disappear specifically from the PGC chromatin at or soon after this time [
14
,
15
].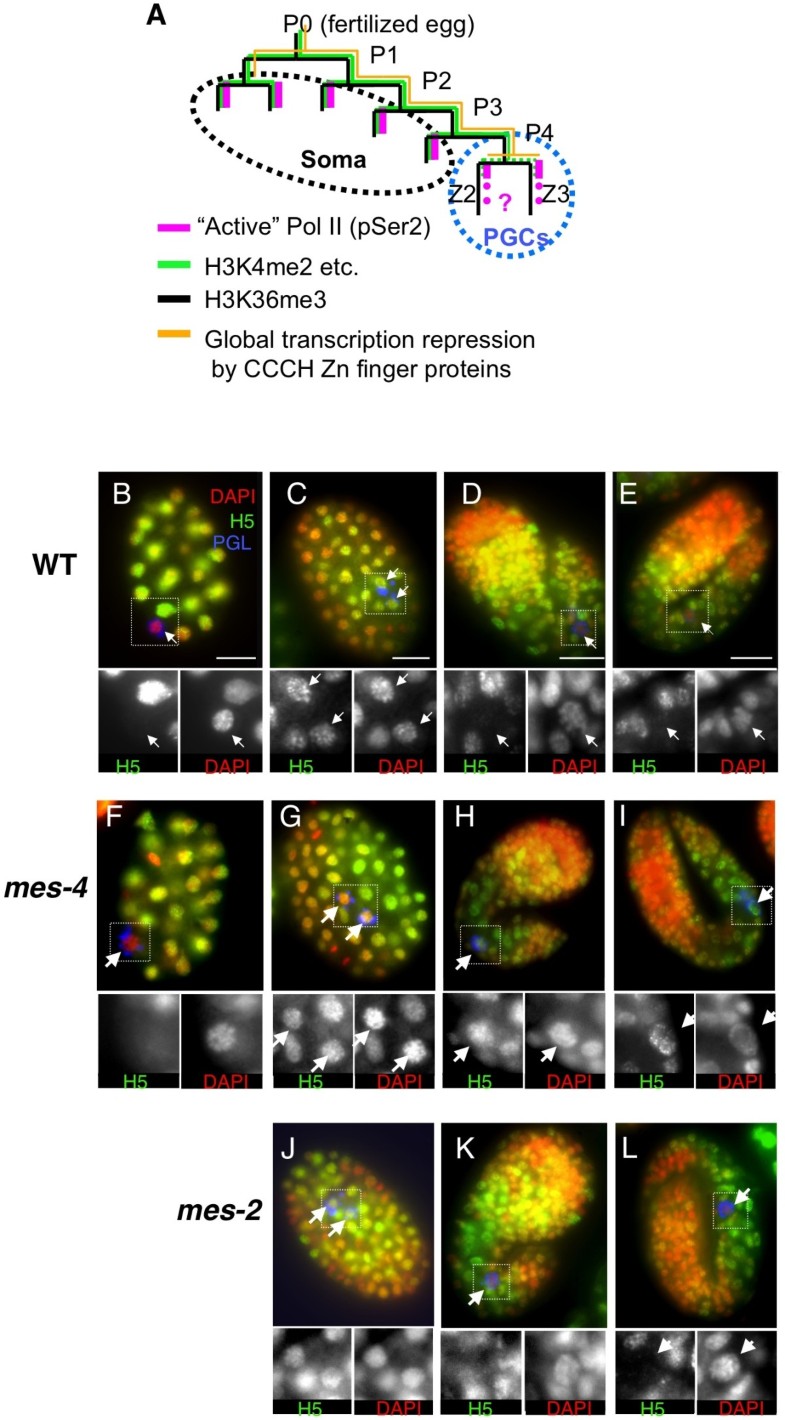 We were intrigued by the simultaneous appearance and disappearance of epitopes that are all correlated with active transcription, and sought to investigate further the transcriptional regulation in the PGCs. We show that Pol II phosphorylation is uniquely regulated and transient in PGCs, suggesting that transcriptional repression is continued in the PGCs after the PIE-1 mode of repression is lost. This repression requires a component called maternal effect sterile (MES)-4, a histone H3K36 methyltransferase that is essential for fertility [16, 17]. Genomewide chromatin immunoprecipitation followed by deep sequencing (ChIP-seq) analyses in embryos show that MES-4-mediated H3K36 methylation marks the bodies of genes that are expressed in germ cells, even those known to express only in post-embryonic stages. Our results are consistent with MES-4 contributing across generations to an epigenetic memory that marks germline-expressed genes and is required for normal germ cell development.
Discussion
In this study, we show that Pol II phosphorylation and transcriptional activity is uniquely regulated in the primordial germ cells of C. elegans, and that this regulation requires the H3K36-specific methyltransferase MES-4. The unique retention of Pol II phosphorylation in the PGCs that we observe with cdk-9(RNAi) indicates that Pol II activity is regulated differently in these cells. Indeed, the transience of this phosphorylation state followed by a prolonged association of the hypophosphorylated form with only autosomal chromatin is clearly unusual. This autosomal restriction is probably related to the paucity of germline-expressed loci on the X chromosome, and may indicate that Pol II is 'poised' at such loci, held ready at the gate in advance of larval germ cell activation at hatching. The requirement for MES-4 to maintain this status suggests that H3K36 methylation contributes to this germ cell-specific form of Pol II regulation.
H3K36 methylation is intriguing because although its addition has been generally correlated with actively transcribed genes, it has been shown also to negatively affect transcription when ectopically recruited to promoters, and can prevent initiation at cryptic promoters [37]. Interestingly, this dichotomy has been reported to depend on the local H3K4 methylation state. In budding yeast, histone acetylation is promoted by coincidence of H3K36 and H3K4 methylation [38–40]. H3K36 methylation can recruit the Rpd3 S HDAC complex and repress initiation from cryptic intragenic promoters, and this occurs most often in the 3' regions of gene bodies, where Set2-dependent H3K36me is high and Set1-dependent H3K4me is low [41–45]. In C. elegans, H3K4 methylation is extensively erased from the chromatin in PGCs shortly after they are born [14]. By contrast, H3K36me3 is actively maintained by MES-4 in these cells. Assuming the pattern of MES-4 dependent H3K36me3 is consistent in the PGCs, this would create a chromatin status in the 5' region of germline-expressed genes similar to that described above for gene bodies in yeast-- that is, enriched in H3K36me3 and low in H3K4me (Figure 1A, Figure 9B). It is thus possible that the presence of MES-4-mediated H3K36 methylation combined with an absence of H3K4me may present a repressive chromatin signature that prevents or suppresses sustained Pol II activation at most genes in the PGCs. When the PGCs activate after hatching and H3K4 methylation returns, this repressive combination no longer exists and active germline transcription ensues, perhaps through reactivation of Pol II already present (poised) at these loci.
Importantly, the defective PGC repression we observed in mes-4 PGCs was independent of the allele used. The bn67 allele is a point mutant converting a histidine to tyrosine in one of the three PHD domains of MES-4, whereas the bn85 allele is a deletion that disrupts the SET domain. Neither mutation creates a protein null mutant, but both abrogate the localization of MES-4 to DNA [17]. It is thus possible that MES-4 activities other than addition of H3K36me2/3 to histones are required for Pol II repression in the PGCs, and that these activities require recruitment to the DNA for repression. However, the PHD and SET domains (including AWS-like, SET and post-SET motifs) are the only recognizable domains of MES-4: both are known to interact with histones and both are required for H3K36 methylation by MES-4. A direct role of H3K36 methylation in Pol II repression in the PGCs awaits future analysis using a mes-4 methyltransferase catalytic mutant.
MES-4 appears to 'maintain' rather than establish H3K36 methylation in genes, independently of their transcriptional status. We base this model on the following observations: (1) In the absence of MES-4, the H3K36me3 arriving in gamete chromatin is quickly diluted by replication and cell division (Figure 5A); (2) zygotically provided MES-4 cannot contribute detectable H3K36 methylation on its own in larval or embryonic germ cells (Figure 7); (3) neither normal transcriptional quiescence (for example, P cells) nor experimental disruption of Pol II activity in germ cells noticeably affects H3K36 methylation (Figure 5, Figure 6); (4) in embryos, MES-4-dependent H3K36me3 is enriched within the body of genes that are known to be expressed only in post-embryonic germ cells (Figure 9); (5) the gene-body distribution shows an unusual 5' enrichment, which does not overlap with the reported distributions of either H3K36me3 or Pol II in other organisms and, (6) also in embryos, MES-4-dependent H3K36me3 is not enriched within the body of somatically-expressed genes that are transcriptionally active in the stages analyzed (Figure 9, Figure 10). A recent ChIP-chip analysis of the genomewide distribution of MES-4 in embryos confirms that MES-4 is enriched in germline-expressed loci and that this enrichment is independent of Pol II occupancy [26].
There has been considerable controversy regarding the ability of histone modifications to provide stable and heritable epigenetic information, given the extensive nucleosome dynamics throughout the cell cycle. However, recent studies have identified molecular mechanisms that allow epigenetic markers in both DNA and chromatin to be actively maintained despite such dynamics. The maintenance of DNA methylation is mediated by recognition of hemimethylated CpG sequences by the SRA domain of UHRF1, which recruits Dnmt1 to the DNA [46–50]. Similarly, the PRC2 complex, which catalyzes H3K27me3, was shown to bind to pre-existing H3K27me3, and this binding appears to be crucial for the maintenance of this modification in proliferating cells [51, 52]. MES-4 may be similarly stabilized on nucleosomes through its three PHD domains, which have been shown to help recruit the Rpd3 S complex to nucleosomes marked by methylated H3K36 in yeast [44]. Interestingly, both the mes-4 bn67 allele studied here and another allele with mutations in one of the PHD domains (bn50) cause dissociation of MES-4 from chromatin and the same germ cell degeneration phenotype observed in null alleles [17]. Mutations in mrg-1, which encodes a germline-enriched chromodomain protein, cause PGC proliferation defects similar to those in mes-4 mutants and misregulation of genes that are also misregulated in mes-4 mutants. The MRG-1 protein, like MES-4, is also excluded from the X chromosome [53]. MRG-1 may thus also participate in PGC transcriptional repression by MES-4.
The maintenance of epigenetic information is particularly relevant to transmission through the germline, as this information has the potential to affect gene regulation across multiple generations. The maintenance of H3K36me by MES-4 in embryos, which we observed in the bodies of genes transcribed in adult germ cells, suggests that this marker is important for such gene regulation. Indeed, a transgenerational requirement for this marker is revealed by the mes-4 (maternal effect sterile) phenotype; the dysregulation that occurs in mes-4 PGCs is not observed until a full generation after the actual loss of MES-4 protein activity. In mes-4 M+Z- embryos, the maternally provided MES-4 protein becomes focused in the PGCs as in wild type embryos and maintains H3K36 methylation status in these cells. When the embryo hatches and germline development progresses, the thousand or so germ cells arising from these PGCs are functional and can develop into normal gametes, despite having only transcription/MET-1-dependent H3K36 methylation. However, in the next (M-Z-) generation, the MET-1-dependent H3K36me3 arriving within the gamete chromatin is not maintained and the 'information' is lost in the embryonic germline. The PGCs lose stable Pol II repression, and their few descendents degenerate after postembryonic activation [16]. MES-4 is thus important for maintaining the H3K36m3 marker in germline genes, which may be essential for their normal regulation in the germ cells of subsequent generations.
The proposed maintenance histone methylation activity can also potentially explain, at least in part, the strict maternal effect sterility observed for mes-4 mutants, in which zygotically supplied MES-4 cannot rescue the germ cell degeneration phenotype (for example, M-Z+ embryos). The absence of maternal MES-4 maintenance activity in the embryonic germ cells would result in the loss of inherited H3K36me template through replication-coupled dilution (Figure 5A), yielding little 'template'/substrate for the zygotic MES-4 activity, which is not synthesized until later in development (~300-400 cells) (H. Furuhashi, unpublished results). Therefore, no rescue by zygotic MES-4 is observed.
Curiously, the marking of germline-expressed genes by MES-4 is also crucial for allowing ectopic activation of germline-expressed loci in somatic cells of mutant backgrounds that are defective in global transcriptional repression mechanisms [54, 55]. The reasons for this ectopic expression and for the requirement for MES-4 activity to allow the expression to occur in post-embryonic stages are currently unknown. The requirement for MES-4 marking to yield ectopic germline gene expression when somatic modes of repression are defective may indicate that H3K36 methylation plays a prominent role in marking genes for default expression when somatic repression mechanisms are absent (as in germ cells) or defective (as in the mutants).
The noted lack of association of MES-4 with the X chromosome in embryos can be readily explained by the paucity of germline-expressed loci on the X chromosome [20]. The methylation pattern of MES-4 in the embryo may represent the maintenance of H3K36me3 at loci that were originally marked by transcription-coupled H3K36 methylation in the adult germ cells of each preceding generation. The only genes within which such 'transcriptional memory' could be transmitted across generations would be those that are expressed in adult germ cells--that is, the pattern we observed in met-1 embryos. An intriguing possibility is that the pattern of H3K36 methylation in met-1 embryos is evidence that this memory can be highly stable-that is, that loci originally marked by transcription-coupled MET-1 activity when present in the strain many, many generations previously is still being faithfully maintained by MES-4. The gene-body distribution of MES-4-dependent H3K36me3 in embryos indicates that it can be concentrated in areas where germ cell transcription occurred in the parental germline, yet where there is no evidence of ongoing transcription in the embryo. Indeed, a recent ChIP-chip analysis of MES-4 protein in wild type embryos showed that MES-4 protein is found within germline-expressed loci that lack detectable Pol II [26]. However, although we have strong evidence that MES-4 activity can operate independently of transcription, we cannot know with certainty that this is always the case. Nevertheless, it is clear that MES-4 can provide stable maintenance across generations of H3K36me in germline genes, regardless of their transcriptional status.
MES-4 appears to be a metazoan-specific H3K36 HMTase. MES-4-related proteins in other systems (dMES-4 in Drosophila and the NSD family of proteins in mammals) are crucial for normal development and are implicated in various cancers and developmental disorders such as Sotos and Wolf-Hirschhorn syndromes [56–59]. The molecular mechanisms underlying the developmental requirement for these proteins in these organisms are not clear. Indeed, the role of MES-4 in C. elegans is somewhat paradoxical. For instance, although MES-4 is largely absent from the X chromosome, genes on the X chromosome are the major targets of dysregulation in mes-4 (M+Z-) mutant adult germ cells [17]. It has been proposed that MES-4 indirectly affects X chromatin structure by preventing repressive factors from accessing autosomal chromatin, thereby focusing their action on the X chromosome [17]. In mes-2/3/6 mutants, MES-4 is observed to localize ectopically to the X chromosome in oocytes [32]. This apparent connection between MES-4 and the other MES complex in adult germ cells may be separable from PGC-specific processes, because mes-2 mutations do not affect the PGC processes we studied.
Conclusions
Our results indicate that H3K36 methylation can serve as an important component of epigenetic memory, and that this memory is required for germline continuity in C. elegans. Although H3K36 methylation has been generally correlated with ongoing transcription elongation [22, 28], the H3K36me3 that is enriched in the C. elegans embryonic germline chromatin is dependent on MES-4, a methyltransferase whose activity can be independent of Pol II, as detailed above [17, 26]. H3K36 methylation on germline-expressed genes is stably maintained by MES-4 across generations, and our data suggest that MES-4 and/or the information transmitted by its histone modification product play a key role in preventing abnormal transcriptional activation in the PGCs of subsequent generations. These results provide new insights and identify additional modes of chromatin-based, transgenerational transcriptional regulation in metazoan development and germline specification.
Declarations
Acknowledgements
We thank Robert Horvitz, Geraldine Seydoux and Taryn Phippen for reagents, and Jason Lieb, Kohta Ikegami and members of the Kelly and Strome laboratories, especially Taryn Phippen, for helpful discussions. This work was supported by NIH grants GM077600 (W.G.K) and GM34059 (S.S.) and NHGRI modENCODE grant U01 HG004270.
Authors' Affiliations
(1)
Biology Department, Emory University, Atlanta, USA
(2)
Department of MCD Biology, University of California, Santa Cruz, Santa Cruz, USA
(3)
Graduate School for Frontier Biosciences, Osaka University, Suita, Japan
(4)
Graduate School of Pharmaceutical Sciences, Tohoku University, Sendai, Japan
(5)
Department of Molecular & Cellular Biology, UC Davis, Davis, USA
Copyright
© Furuhashi et al; licensee BioMed Central Ltd. 2010
This article is published under license to BioMed Central Ltd. This is an Open Access article distributed under the terms of the Creative Commons Attribution License (http://creativecommons.org/licenses/by/2.0), which permits unrestricted use, distribution, and reproduction in any medium, provided the original work is properly cited.