KDM1A microenvironment, its oncogenic potential, and therapeutic significance
Epigenetics & Chromatin
2018
11:33
Received: 31 January 2018
Accepted: 12 June 2018
Published: 19 June 2018
Abstract
The lysine-specific histone demethylase 1A (KDM1A) was the first demethylase to challenge the concept of the irreversible nature of methylation marks. KDM1A, containing a flavin adenine dinucleotide (FAD)-dependent amine oxidase domain, demethylates histone 3 lysine 4 and histone 3 lysine 9 (H3K4me1/2 and H3K9me1/2). It has emerged as an epigenetic developmental regulator and was shown to be involved in carcinogenesis. The functional diversity of KDM1A originates from its complex structure and interactions with transcription factors, promoters, enhancers, oncoproteins, and tumor-associated genes (tumor suppressors and activators). In this review, we discuss the microenvironment of KDM1A in cancer progression that enables this protein to activate or repress target gene expression, thus making it an important epigenetic modifier that regulates the growth and differentiation potential of cells. A detailed analysis of the mechanisms underlying the interactions between KDM1A and the associated complexes will help to improve our understanding of epigenetic regulation, which may enable the discovery of more effective anticancer drugs.
Keywords
Histone demethylation
Carcinogenesis
Acute myeloid leukemia
KDM1A
TLL
Background
Epigenetic modifications are crucial for physiological development and steady-state gene expression in eukaryotes [1] and are required for various biological processes ranging from gene expression to disease pathogenesis [2]. DNA methylation, histone modifications, and post-translational modifications (PTMs) represent epigenetic alterations that may, alone or in combination, modify chromatin structure and gene activity by facilitating either gene activation or repression depending on the regulator type [3]. Histone methylation is the most versatile epigenetic modification involved in the establishment and maintenance of the epigenome [4]. The methylation of lysine residues at specific chromatin positions is essential for many processes, such as the activation and repression of transcription, transcriptional silencing mediated by heterochromatin, DNA repair, and inactivation of the X-chromosome, that are involved in the regulation of development. Additionally, these alterations may represent aberrant markers indicating the development of different types of cancer and other diseases [5–7].
Lysine residues can be mono-, di-, and tri-methylated in the nucleosome at strategic chromatin positions, and these methylated states have different functions [
8
]. Lysine no. 4, 9, 27, 36, and 79 of histone H3 and lysine 20 of histone H4 are the most frequently studied histone methylation sites and are associated with various biologically significant processes [
9
]. These methylation marks were considered stable and irreversible prior to the discovery of the molecules termed "erasers," i.e., histone demethylases [
10
]. Shi et al. made the first discovery of histone lysine demethylase in 2004 [
11
], and this led to the establishment of new paradigms in the field of epigenetics (Fig.
1
). These epigenetic regulators have been clustered into two subclasses [
12
]: one, including the majority of these regulators, containing a jumonji domain that depend on iron and oxoglutarate as cofactors [
13
], and the other comprising of two lysine-specific demethylases that contain an amine oxidase domain and rely on flavin adenine dinucleotide (FAD) as their cofactor [
14
]. All histone modifiers were shown to have important roles in gene regulation and epigenome establishment [
15
]. However, lysine-specific histone demethylase 1A (KDM1A/LSD1), being the first identified histone demethylase, has been widely explored, and numerous studies have described its biological roles [
16
]. KDM1A represents an important enzyme that plays significant roles in the regulation of embryonic development and differentiation [
17
]. Furthermore, together with associated proteins, this protein regulates many physiological processes involved in the shape and identity determination of stem and progenitor cells and also plays a role in their differentiation into specialized cells, i.e., hematopoietic, neural, mesenchymal, sperm, and fat cells [
18
,
19
]. KDM1A has also been associated with the development of a variety of pathological conditions, such as cancer, neuronal disorders, and viral infections [
20
].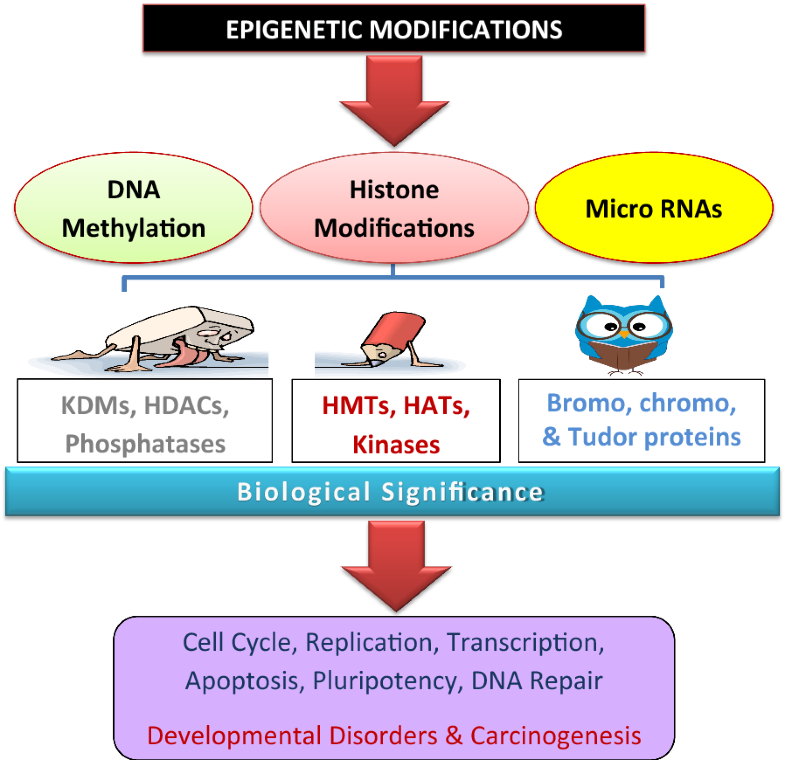 The functional diversity of KDM1A is supported by its complex structure [19]. In this review, we focus on the microenvironment of KDM1A in carcinogenesis and its structure, which is involved in the maintenance of its microenvironment by establishing complex interactions with a variety of transcriptional factors, promoters, activators, corepressors, and noncoding RNAs. Additionally, we discuss the versatile nature of KDM1A as an epigenetic modifier, regulating the expression of a number of genes involved in epithelial–mesenchymal transition (EMT). Moreover, the potential and challenges associated with KDM1A therapeutic targeting are summarized here, together with a brief description of the similarities and differences between this demethylase and its recently discovered homolog, KDM1B, the other member of the FAD-dependent demethylase family.
Conclusions
KDM1A is a unique epigenetic modifier with the ability to maintain interactions with a variety of different protein complexes, noncoding RNAs, microRNAs, and transcription factors. The functional significance of KDM1A is maintained by its interactions at multiple sites in the genome, particularly its binding to promoters and enhancers. The complex and unique structure of KDM1A enables its binding to various other protein complexes and the inhibition or activation of gene expression. The interaction of KDM1A with different promoters, transcription factors, and protein complexes allows this protein to control the cellular oncogenic program as an important epigenetic modifier. Moreover, the involvement of KDM1A in oncogenesis and development make it an attractive therapeutic target. Detailed investigation of KDM1A as an epigenetic modifier and the mechanisms underlying its activity represents a major research challenge. In summary, the analysis of KDM1A-containing repressive and stimulatory complexes and the identification of molecular signals that affect the function of KDM1A-containing complexes are necessary for a complete understanding of epigenetic modifications and their roles in stem cell differentiation and oncogenic progression.
Abbreviations
FAD:

flavin adenine dinucleotide
KDM1A:

lysine-specific histone demethylase 1A
AOL:

amine oxidase-like domain
SWIRM:

Swi3p/Rsc8p/Moira domain/small alpha helical domain
DNMT1:

DNA methyltransferase 1
CoREST:

RE1-silencing transcription factor (REST) corepressor
NuRd:

Mi-/nucleosome remodeling and deacetylase
AR & ER:

androgen & estrogen receptors
HDAC1:

histone deacetylase 1
TAL1:

T cell acute lymphocytic leukemia protein-1
EMT:

epithelial–mesenchymal transition
UTR:

untranslated region
TERRAs:

RNAs encoded by telomeric sequences
VEGF-A:

vascular endothelial growth factor A
LNCaP:

lymph node carcinoma of prostate
DKK1:

Dickkopf-1
LGR5:

leucine-rich repeat-containing G-protein-coupled receptor 5
GSK3β:

glycogen synthase kinase 3β
USP22 & 28:

ubiquitin-specific peptidase 22 & 28
BMP2:

bone morphogenetic protein 2
CDKN1A:

cyclin-dependent kinase inhibitor 1A
GATA6:

GATA binding protein 6
SIRT1:

NAD-dependent deacetylase sirtuin-1
AML:

acute myeloid leukemia
MLL:

mixed-lineage leukemia
T-ALL:

T cell acute lymphoid leukemia
PKA:

protein kinase A
MAO:

monoamine oxidase
SCLC:

small-cell lung cancer
Declarations
Authors' contributions
TI, H-KL, CK, and H-SL wrote the manuscript and prepared figures. TK, T-JP, and H-SL developed the central idea for the paper, critically analyzed it, and revised the manuscript to its final form. All authors read and approved the final manuscript.
Acknowledgements
Not applicable.
Competing interests
The authors declare that they have no competing interests.
Availability of data and materials
Not applicable.
Consent for publication
Not applicable.
Ethics approval and consent to participate
Not applicable.
Funding
This study was funded by the National Research Foundation of Korea (NRF) (Grant No. NRF-2015R1A2A1A10053265) and the Ministry of Science, ICT, and Future Planning (MSIP) (Grant No. 2015R1A4A1042271), the Republic of Korea.
Publisher's Note
Springer Nature remains neutral with regard to jurisdictional claims in published maps and institutional affiliations.
Open AccessThis article is distributed under the terms of the Creative Commons Attribution 4.0 International License (http://creativecommons.org/licenses/by/4.0/), which permits unrestricted use, distribution, and reproduction in any medium, provided you give appropriate credit to the original author(s) and the source, provide a link to the Creative Commons license, and indicate if changes were made. The Creative Commons Public Domain Dedication waiver (http://creativecommons.org/publicdomain/zero/1.0/) applies to the data made available in this article, unless otherwise stated.
Authors' Affiliations
(1)
KNU-Center for Nonlinear Dynamics, CMRI, School of Life Sciences, BK21 Plus KNU Creative BioResearch Group, College of Natural Sciences, Kyungpook National University, Daegu, South Korea
(2)
School of Life Sciences, Ulsan National Institute of Science and Technology (UNIST), Ulsan, South Korea