Extensive epigenetic reprogramming in human somatic tissues between fetus and adult
Epigenetics & Chromatin
2011
4:7
Received: 16 December 2010
Accepted: 5 May 2011
Published: 5 May 2011
Abstract
Background
Development of human tissue is influenced by a combination of intrinsic biological signals and extrinsic environmental stimuli, both of which are mediated by epigenetic regulation, including DNA methylation. However, little is currently known of the normal acquisition or loss of epigenetic markers during fetal and postnatal development.
Results
The DNA methylation status of over 1000 CpGs located in the regulatory regions of nearly 800 genes was evaluated in five somatic tissues (brain, kidney, lung, muscle and skin) from eight normal second-trimester fetuses. Tissue-specific differentially methylated regions (tDMRs) were identified in 195 such loci. However, comparison with corresponding data from trisomic fetuses (five trisomy 21 and four trisomy 18) revealed relatively few DNA methylation differences associated with trisomy, despite such conditions having a profound effect on development. Of interest, only 17% of the identified fetal tDMRs were found to maintain this same tissue-specific DNA methylation in adult tissues. Furthermore, 10% of the sites analyzed, including sites associated with imprinted genes, had a DNA methylation difference of >40% between fetus and adult. This plasticity of DNA methylation over development was further confirmed by comparison with similar data from embryonic stem cells, with the most altered methylation levels being linked to domains with bivalent histone modifications.
Conclusions
Most fetal tDMRs seem to reflect transient DNA methylation changes during development rather than permanent epigenetic signatures. The extensive tissue-specific and developmental-stage specific nature of DNA methylation will need to be elucidated to identify abnormal patterns of DNA methylation associated with abnormal development or disease.
Keywords
Embryonic Stem Cell
Adult Tissue
Imprint Gene
Bisulfite Pyrosequencing
Bivalent Chromatin Domain
Background
The human body contains more than 200 different cell types, each having developed a different function and phenotype despite containing an identical genome. Through the establishment and maintenance of cell type-specific gene expression profiles, epigenetic mechanisms contribute to cellular identity [1]. Perhaps the best understood component of the epigenetic machinery is DNA methylation, which most often occurs on cytosine residues in the context of CpG dinucleotides.
In addition to tissue-specific gene expression, there was a number of intriguing biological phenomena closely linked to DNA methylation, including inactivation of the extra X-chromosome in females [2], allele-specific expression of imprinted genes [3], and biological aging [4, 5]. All of these processes are examples of developmental programming of DNA methylation, which are generally considered to be relatively stable. However, recent studies have shown that DNA methylation can be dynamic and capable of temporally changing [6, 7]. This plasticity may be modulated in part by a diverse set of environmental influences, all of which have been correlated with changes in DNA methylation. These include nutritional factors such as folate intake [8], social factors such as maternal care [9], and environmental factors such as exposure to pollutants [10, 11]. Therefore, it is likely that DNA methylation serves as an important mediator between the environment and genome function. The malleable features of DNA methylation are important for its role in health and disease, as improper regulation of this epigenetic marker during development has been associated with a number of pathological conditions including birth defects and various cancers [12].
One particularly well-understood specialized aspect of epigenetics during development is genomic imprinting, which describes the specific allelic expression, depending on the parent of origin, of a small number of genes. Although this epigenetic program is established early in development and thought to be maintained throughout life [13, 14], relatively little is known about its tissue-specific features and temporal dynamics in different developmental stages in humans. In addition to imprinting, a number of findings connecting DNA methylation changes to biological development have emerged over the past few years, largely fuelled by the advent of genome-wide technologies. For example, substantial alterations in DNA methylation occur during stem cell differentiation, supporting a general role for DNA methylation in early development [15–17]. Similarly, profiling of adult human tissues has shown striking differences in DNA methylation, particularly in tissue-specific differentially methylated regions (tDMRs) [18–21]. DNA methylation in adult somatic tissues can undergo striking changes during the adult lifespan, with a tendency for gain of DNA methylation with age for loci (CpG sites) residing within CpG islands (CGIs), and loss of DNA methylation with age for CpG loci residing outside CGIs [22]. It has not yet been determined whether such changes reflect instability in the maintenance of DNA methylation over time, leading to more variable methylation in the older samples, or alternatively, are indicative of intrinsic programmed changes over time, due to changing biological requirements at different developmental and life stages.
It is also not clear to what extent epigenetic programming may be altered by the abnormal development of cells and tissues. Dramatic changes in DNA methylation occur in connection with the altered cellular changes in cancer [23, 24]. Reminiscent of cancer, chromosomal trisomy is also associated with altered cell-growth parameters (generally slower growth and increased apoptosis) and a global disruption of the transcriptome [25–27], which could be similarly be associated with altered DNA methylation of a subset of genes. However, comprehensive mapping of DNA methylation has not been performed in subjects with trisomy, especially as it relates to tissue-specific features.
Mechanistically, DNA methylation exerts its effects on gene expression in close partnership with histone proteins [28]. DNA methylation is sensed by proteins that turn on or off gene expression, often through altering post-translational modifications of histones. Numerous histone modifications are associated with different levels of gene expression, most prominently H3K4 trimethylation as an indicator of active transcription, and H3K27 trimethylation as an indicator of inactive genes. Curiously, in stem cells, these markers are sometimes found together in 'bivalent domains', which might poise genes for the rapid expression changes necessary during development [29].
In this study, we investigated the characteristics and functional significance of the differentially methylated CpG loci in normal and abnormal fetal development. Using a well-validated array platform, the DNA methylation status of around 1000 CpG dinucleotides located in the regulatory regions of nearly 800 genes was measured semi-quantitatively in five somatic tissues (brain, kidney, lung, muscle and skin) from second-trimester elective terminations of eight normal, five trisomy 21 (T21) and four trisomy 18 (T18). We found tissue-specific clustering of DNA methylation at this early stage of development in all fetuses, whereas relatively few sites with altered DNA methylation were seen for trisomies. Through a detailed comparison of fetal DNA methylation data with published data on normal somatic tissues from adult autopsies obtained on an identical platform [30], we identified substantial age-related changes in DNA methylation. Lastly, the plasticity of DNA methylation was also evident when we compared fetal DNA methylation profiles to embryonic stem cells [31], with the most variable markers being linked to domains with bivalent histone modifications. Collectively, these data fill an important gap between DNA methylation patterns in stem cells and in adult tissues, and illustrate the complexity that may arise in trying to identify subtler effects of environment or disease.
Discussion
The establishment and maintenance of tissue-specific gene-expression profiles during development of multicellular organisms is tightly linked to a network of transcription factors and epigenetic modifications. Among the latter, DNA methylation is currently best understood, with a large number of tDMRs having been identified [1, 17, 18, 22, 30, 48], primarily in adult tissues. In particular, a recent high-throughput DNA methylation study of 11 somatic tissues from six people (aged 35 to 60 years) provided valuable data for adult tissue- and individual-specific DNA methylation patterns [30]. In this study, we present several findings relevant to assessing the contribution of DNA methylation to tissue specificity during the course of normal and abnormal development.
First, we found clustering of fetal tissues according to their DNA methylation patterns, and identified DNA methylation markers that are indicative of tissue origin. Second, although distinct significantly altered DNA methylation markers were present in the skin of fetuses with trisomy 18 and trisomy 21, these differences overall were much less dramatic than tissue- and age-related effects. Third, DNA methylation in adult tissues was remarkably different from that in fetal tissues, with these age-dependent changes most often being tissue-specific. This was also true for imprinted loci, suggesting an unexpected plasticity of these classic epigenetic markers. Lastly, the dynamic nature of DNA methylation markers became even more evident through comparisons with ES cells, with the most plastic regions being linked to bivalent histone-modification domains. Collectively, this work not only complements recent studies identifying DNA methylation changes during aging in blood, but also expands the age range of epigenetic interrogations in somatic tissues, as these have been previously primarily been carried out on adult tissues.
Using an array-based approach, we were able to establish tissue-specific patterns of DNA methylation in fetuses from second-trimester terminations. Unsupervised clustering clearly separated the five tissues examined here, confirming that distinct patterns of DNA methylation occur during early embryonic or fetal development. Consistent with this, 23% of all sites included in the analysis were significantly different between tissues, and were thus classified as tDMRs. Interestingly, tDMRs were more likely to reside in regions of low CpG density as opposed to CGIs, indicating that these regions are particularly receptive for the establishment of tissue-specific DNA methylation markers.
Although fetal tissue-specific DNA methylation was generally maintained in pathological conditions caused by T18 and T21, these chromosomal abnormalities were associated with epigenetic differences. Specifically, we identified 17 hypermethylated loci in the T18, seven in T21 skin, and one in T21 muscle. Interestingly, none of the loci with an altered DNA methylation pattern was located on the affected chromosome (chromosome 18 or 21). This suggests that the extra chromosome may exert a trans-acting effect to change the overall epigenetic patterning of the genome, which is consistent with the global disruption in gene expression reported in association with trisomy and in a recent study of genome-wide DNA methylation of leukocytes with T21 [25–27, 49]. Many of the differentially methylated genes were related to developmental processes and immune response, perhaps reflecting an important functional difference between normal and trisomic tissues. The lack of obvious DNA methylation differences in brain, kidney and lung between normal and trisomic fetuses may be in part because of our somewhat low sample size (four cases of T18 and five cases of T21) or the relatively small number of CpG loci interrogated here.
In contrast to the relatively subtle changes in DNA methylation associated with the two trisomies, changes in DNA methylation occurring over time in normal development were much more pronounced. In total, 10% of the investigated genes had striking changes in DNA methylation between somatic tissues (brain, lung and kidney) of second-trimester fetus compared with adult. Because we used a high statistical stringency to avoid technical artifacts, even more differences would be expected if less strict criteria were used. Although the cellular composition of each tissue may also change with time, the dramatic differences in DNA methylation between fetus and adult would require major changes in cell composition to explain it. However, it is worth noting that the study was based on the comparison between fetal samples originating from a small time window, with adult samples having a wide age range (age 35 to 60 years), so there is naturally greater variation in the age of adults than in second-trimester fetuses. This may explain the wider variation in DNA methylation seen in adult tissues (Figure 4). A comparison of DNA methylation profiles of adult somatic tissues between two published data sets using the same (GoldenGate) methylation array gave high correlations between the same tissues (r = 0.99 for brain, r = 0.98 for both kidney and lung) [22, 30]. In addition, there was at most only one site for each tissue with an average β value difference >0.4 between two data, supporting that the fetal-to-adult difference we found was more profound than can be explained by batch effects. Furthermore, although single nucleotide polymorphisms (SNPs) and sequence repeats overlapping with some probes present on the array may potentially interfere with DNA methylation analysis [30], DNA sequence polymorphisms would be unlikely to cause the consistently large DNA methylation differences seen between groups. In accordance with this, we did not find any enrichment of known SNPs or repeats located in the differentially methylated loci we identified (P = 0.92).
Focusing more specifically on the tDMRs that differ between fetal and adult tissues supports the existence of extensive reprogramming of the epigenome occurring during development. Many tDMRs (~80%) identified in fetus were no longer distinctly methylated in the same tissue-specific pattern in adult. This suggests that the tissue-specific DNA methylation, and probably the expression, of these genes is required only at an early stage of development and thus is not maintained in the adult. It is possible that the loss of fetal tDMRs was due either to the reduced function of DNA methyltransferases [50], or to responses to the changing environmental influences, and/or to stochastic changes that occur over time [22]. However, the emergence of some tDMRs in adult that were not present in the fetus suggests that tDMRs also result from major programmed developmental changes occurring postnatally.
One clue to the significance of reprogramming of tDMRs might emerge from the differences in associated biological functions, depending on whether these tDMRs were hypo- or hypermethylated in adult relative to fetus. The age-dependent hypermethylated loci (that is, those that are most probably associated with decreased gene expression in the adult) were enriched for genes involved in embryonic morphogenesis, perhaps reflecting a decreased need for such genes to be expressed in fully differentiated adult tissue. Age-dependent hypomethylated loci were enriched for immune-response pathways, which may reflect the general activation of the immune system after birth.
Mechanistically, chromatin features set in ES cells might be linked to developmental plasticity of tDMRs. Both fetal and adult tDMRs were more prevalent in areas lacking H3K4me3 or H3K27me3, suggesting that tDMRs may be identified by epigenetic markers other than H3K4me3 or H3K27me3. Specifically, tDMRs from fetal tissues were less enriched for bivalent chromatin domains, which are characterized by the coexistence of an activating H3K4me3 marker and repressive H3K27me3 marker. These domains probably function to silence genes encoding developmental regulators, while simultaneously keeping them 'poised' for activation in ES cells [29]. Fetal tDMRs also less often contained PcG protein-binding regions, another hallmark of bivalent domains. PcG proteins are important regulators of cellular development and differentiation [47]. By contrast, there was no significant enrichment of either bivalent chromatin domains or PcG protein-binding regions in adult tDMRs. Together, these findings suggest two conclusions. First, tDMRs present at the fetal stage might regulate processes other than differentiation. Second, the mechanism for tissue-specific regulation of gene expression might differ between developmental stages. However, these conclusions should be taken with caution, given that the actual DNA methylation status of the ES cells being investigated was not taken into account in our study. Further investigation is needed to confirm our conclusions.
These principles are further supported by the observation that CpG loci undergoing DNA methylation changes between fetal and adult tissues often have a distinct DNA methylation pattern in ES cells. For example, whereas it might be expected that de novo DNA methylation of genes bound by PcG proteins in ES cells would be irreversible, in order to permanently silence their expression, we in fact found dramatic plasticity at these loci during development. This is well illustrated by RAB3 2, which had a considerable increase in DNA methylation during the transition from ES cells to fetal brain, but then lost DNA methylation in the adult tissues. Thus, DNA methylation is not only reversible during development, but can be changed in a non-linear, dynamic fashion throughout life. These changes may occur through passive or active processes. These data have important practical implications for DNA methylation studies. Specifically, the developmental plasticity of DNA methylation emphasizes the necessity of using age-matched case-control subjects for epigenetic studies, and considering in what age group the hypothesized differences might be most apparent.
In addition to bivalent chromatin domains being associated with differences between fetal and adult tDMRs, we identified several imprinted loci associated with differential DNA methylation during development. In general, imprinted genes are associated with DMRs that exhibit ~50% DNA methylation, corresponding to their parent-of-origin allelic gene expression pattern. These DMRs are generally classified as either primary (gametic) imprints, which are inherited from the gametes and maintained throughout tissue differentiation, or secondary DMRs, which are generally believed to be acquired before or during tissue differentiation [13]. Although it has been reported that DNA methylation of imprinted genes can change moderately during aging [22, 51], and tissue- and developmental-specific imprinting of Igf2 has been reported in the mouse [52], this may be more common than previously appreciated.
In this study, we found strong evidence for an erosion of methylation over time for CpGs associated with the promoter regions of several imprinted genes such as GABRB3 and ZNF264, having an average of ~50% methylation in the fetus, but only ~5% in various adult tissues (for some sites this occurred in all tissues, whereas for other sites, it occurred only in one specific tissue). Interestingly, GABRB3 is biallelically expressed in normal brain, including in newborns, but is imprinted in some cases of autistic spectrum disorders [39]. Although we did not measure allelic expression of GABRB3 in our fetal samples, the DNA methylation of approximately 50% at the GABRB3 locus is indicative of it being imprinted early in fetal development. This then suggests that the early imprinting would have to be erased in brain perinatally to establish biallelic gene expression reported in newborns and adults. Although speculative, it is interesting to consider that autistic disorders might be linked to the maintenance of parent-of-origin allelic expression of GABRB3, as a result of failure to erase the fetal imprint.
In addition to loss of imprinting, we also identified gain of DNA methylation at imprinted loci, suggesting that imprinting can be established later in development long after tissue differentiation. For example, MEST was unmethylated in fetal brain and highly methylated in fetal lung, but had the expected 50% DNA methylation in both adult brain and lung. Thus, DMRs associated with imprinted genes can not only be tissue-specific but also modulated during the transition from second trimester to postnatal development. This unexpected plasticity raises the possibility that the number of imprinted genes in our genome may greatly exceed those yet identified, as the correct tissue and time point in development may need to be assessed to detect their presence.
Conclusions
Although the full biological significance of dynamic changes in tissue-specific DNA methylation over time has yet to be elucidated, the patterns and magnitude of differences indicate many of the changes seen here are programmed rather than stochastic changes (Figure
7
). Obtaining well-matched normal human samples over different developmental stages is difficult, thus more detailed investigations in model organisms such as mouse are needed. Nonetheless, the investigation of fetal pathologies such as T18 and T21 cannot be fully replicated in other organisms, and these results suggest that epigenetic changes between disease groups can be identified, as long as there is careful control for all confounding factors such as gestational age and consideration of the effects of tissue composition. These data also suggest that caution should be used in applying DNA methylation analysis to prenatal diagnosis (for example, to diagnose disorders of genomic imprinting) without prior confirmatory studies demonstrating the predictive value of such prenatally determined DNA methylation.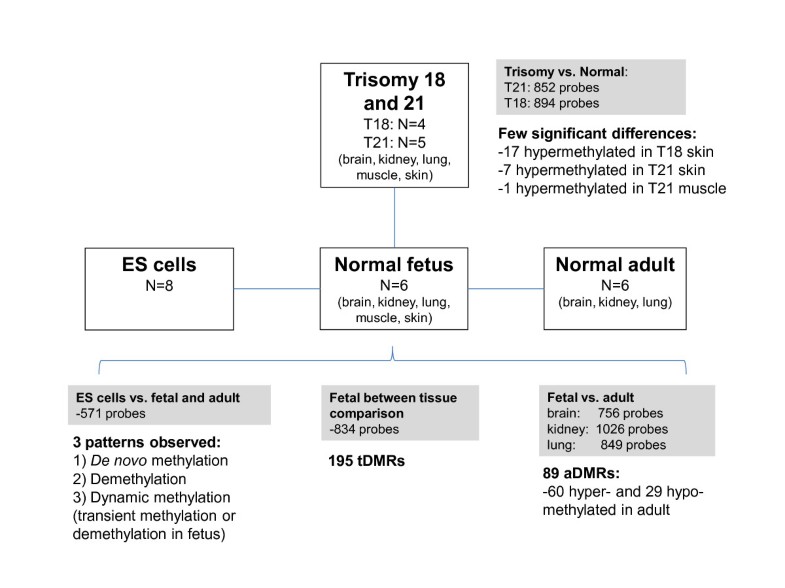 Methods
The study was approved by the ethics committees of the University of British Columbia and the Children's & Women's Health Centre of British Columbia.
Declarations
Acknowledgements
We are grateful to Dr W. Thomas Boyce and Dr Ron Barr for stimulating discussions and to Dr Louis Lefebvre for additional insight. We thank Ruby Jiang for technical assistance, Alicia Murdoch for sample recruitment, and Dr Angela Devlin for the use of the Biotage PyroMark™ MD machine. This work was supported by funds from the BC Clinical Genomics Network and National Institutes of Health grant [R24MH-081797-01] to MSK and a grant from the Canadian Institutes for Health Research to WPR. MSK is a Scholar of the Michael Smith Foundation for Health Research and the Canadian Institute for Advanced Research.
Authors' Affiliations
(1)
Department of Medical Genetics, University of British Columbia, Vancouver, Canada
(2)
Child & Family Research Institute, Vancouver, Canada
(3)
Department of Pathology, University of British Columbia, Vancouver, Canada
(4)
Centre for Molecular Medicine and Therapeutics, Vancouver, Canada
Copyright
© Yuen et al; licensee BioMed Central Ltd. 2011
This article is published under license to BioMed Central Ltd. This is an Open Access article distributed under the terms of the Creative Commons Attribution License (http://creativecommons.org/licenses/by/2.0), which permits unrestricted use, distribution, and reproduction in any medium, provided the original work is properly cited.