Genome-wide analysis of gene regulation mechanisms during Drosophila spermatogenesis
Epigenetics & Chromatin
2018
11:14
Received: 28 November 2017
Accepted: 22 March 2018
Published: 2 April 2018
Abstract
Background
During Drosophila spermatogenesis, testis-specific meiotic arrest complex (tMAC) and testis-specific TBP-associated factors (tTAF) contribute to activation of hundreds of genes required for meiosis and spermiogenesis. Intriguingly, tMAC is paralogous to the broadly expressed complex Myb-MuvB (MMB)/dREAM and Mip40 protein is shared by both complexes. tMAC acts as a gene activator in spermatocytes, while MMB/dREAM was shown to repress gene activity in many cell types.
Results
Our study addresses the intricate interplay between tMAC, tTAF, and MMB/dREAM during spermatogenesis. We used cell type-specific DamID to build the DNA-binding profiles of Cookie monster (tMAC), Cannonball (tTAF), and Mip40 (MMB/dREAM and tMAC) proteins in male germline cells. Incorporating the whole transcriptome analysis, we characterized the regulatory effects of these proteins and identified their gene targets. This analysis revealed that tTAFs complex is involved in activation of achi, vis, and topi meiosis arrest genes, implying that tTAFs may indirectly contribute to the regulation of Achi, Vis, and Topi targets. To understand the relationship between tMAC and MMB/dREAM, we performed Mip40 DamID in tTAF- and tMAC-deficient mutants demonstrating meiosis arrest phenotype. DamID profiles of Mip40 were highly dynamic across the stages of spermatogenesis and demonstrated a strong dependence on tMAC in spermatocytes. Integrative analysis of our data indicated that MMB/dREAM represses genes that are not expressed in spermatogenesis, whereas tMAC recruits Mip40 for subsequent gene activation in spermatocytes.
Conclusions
Discovered interdependencies allow to formulate a renewed model for tMAC and tTAFs action in Drosophila spermatogenesis demonstrating how tissue-specific genes are regulated.
Keywords
Drosophila
Spermatogenesis
Gene regulation
DamID
Background
During differentiation, cell identity switches from proliferating stem cell to a specialized cell with distinct physiological function. This process involves several mechanisms that ultimately converge on the activation of genes required for future function of the cell and on the repression of genes that are needed for stemness or function in other cell types. Here, we used Drosophila spermatogenesis as a model to study the mechanisms of gene activation during cell differentiation (Fig.
1
a). When a male germline stem cell divides, one of the daughter cells becomes a gonioblast, which undergoes four mitotic divisions forming a cyst of 16 spermatogonia that differentiate into spermatocytes and enter meiosis. Meiotic program and subsequent spermiogenesis require massive activation of many genes, of which about 1500 are expressed only in spermatocytes, as inferred from the whole genome microarray data [
1
,
2
].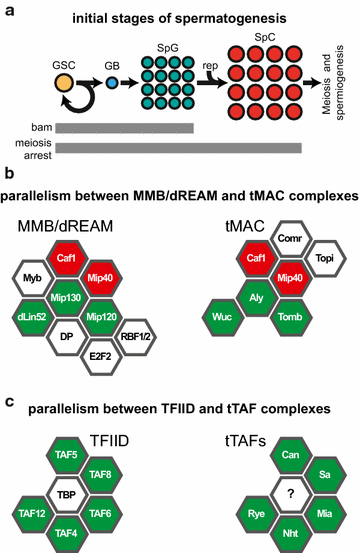 Differentiation of spermatogonia into spermatocytes depends on the bag of marbles (bam) gene (Fig. 1a), and mass activation of genes in spermatocytes requires two classes of spermatocyte-specific transcription factors encoded by meiosis arrest group of genes. Mutations in these genes result in meiosis arrest in the G2 that precedes meiosis I (Fig. 1a) and lead to accumulation of mature primary spermatocytes [3].
Meiosis arrest genes encode the components of two distinct protein complexes. Meiosis arrest complex (tMAC) [4] includes: Aly (Always early), Comr (Cookie monster), Topi (Matotopetli), and Tomb (Tombola), along with Mip40 (Myb-interacting protein 40) and CAF1-55 (Chromatin assembly factor 1, p55 subunit). These proteins form testis-specific assembly that shares several homologous subunits with the MMB/dREAM complex (Fig. 1b). Other proteins can be involved in tMAC, and their combinations suggest that there may be several tMAC-related complexes [5–7].
Can (Cannonball), Sa (Spermatocyte arrest), Rye (Ryan express), Mia (Meiosis arrest), and Nht (No hitter) are testis-specific homologues of TBP-associated factors (tTAFs) that probably form a testis-specific paralogue of TFIID (Fig. 1c) [8, 9]. It was previously reported that mutations in tMAC components show dramatic decrease in expression of about 1000 genes; mutations in tTAFs fail to activate about 350 genes, most of which also depend on tMAC [3].
Previous studies suggested that Polycomb complexes play a central role in repressing spermatocyte-specific genes in undifferentiated precursors [2, 10]. This model, however, has been recently challenged in a genome-wide study that failed to detect association of Polycomb with the promoters of testis-specific genes in spermatogonia [11]. One of the alternative mechanisms of spermatocyte-specific genes repression in spermatogonia may involve MMB/dREAM activity, as this complex has been shown to function as a repressor [12–14]. In this regard, similarity between tMAC and MMB/dREAM raises the interesting possibility that these complexes interact to regulate spermatocyte-specific gene program. To complete the picture of gene regulation in spermatogenesis, a new mechanism, involving Kmg and dMi-2, that prevents the expression of the somatic genes in Drosophila male germline was recently discovered [15].
Here, we investigated the binding of tMAC and tTAFs components to the chromosomes and studied their effects on transcription. Specifically, we performed germline cell-specific genome-wide profiling of the Cookie monster (Comr) protein representing tMAC, Mip40, which is a subunit shared by tMAC and MMB/dREAM, and Cannonball (Can, tTAF). Our study revealed the mutual dependencies between these factors that provide the new aspects in regulation of tissue-specific genes.
Discussion
The present work aims at extending our knowledge of the mechanisms of massive gene activation controlled by tMAC and tTAFs complexes in Drosophila spermatocytes. We performed comprehensive genome-wide analyses that uncovered new trends in this process.
DamID data criticism
Before proceeding to the discussion of the intricate biological effects observed, it is important to address the question of whether DamID system accurately represents the dynamic events of transcription factor binding in fly testes. Indeed, in our DamID experiments the removal of transcription terminator stuffer otherwise blocking transcription of Dam-fusion protein is mediated by CRE that is produced early in the stem cells of the germline [16, 17]. Hence, Dam-mediated methylation of DNA may occur at any of the subsequent developmental stages—in spermatogonia, spermatocytes, and spermatids—that all can contribute to the ultimate binding profile. Accordingly, changes in the ratios of cell types between the genotypes may be a confounding factor. On the other hand, in wild-type testes, as well as in meiotic arrest mutants, the fraction of spermatogonial cells among all cell types of the testis is very small and should have little if any influence on the profiles obtained.
Our data may help to address this concern. For example, Mip40 protein was mapped in bam mutant testes at TSSs of nearly 3500 genes (Fig. 5b). Should the contribution of spermatogonial cells into Mip40 binding profiles in aly, can, and wild-type backgrounds be significant, Mip40 peaks observed in spermatogonia should also be present in such samples, likely having reduced magnitude. This was not the case, as in aly mutants roughly half the peaks disappear from the promoter regions, whereas the other half of the peaks remains unchanged (Fig. 5b). Moreover in can mutants and in wild-type testes, many more Mip40 peaks appear and these map to the Mip40-negative genomic loci in spermatogonial cells (Fig. 5a, b). This acquisition of novel Mip40 sites is consistent with continued DamID activity in spermatocytes. Thus, the approach used in our study can be applied for chromatin profiling in spermatogenesis and the data obtained faithfully reproduce protein binding dynamics in the dominant cell populations in each of the genotypes tested.
Activation of spermatocyte-specifically expressed genes
The process of gene activation now appears to be somewhat different from earlier models. First, only fraction of spermatocyte-specific genes undergoes direct tTAFs- or tMAC-mediated activation. Second, regulatory cascades downstream of tMAC and tTAFs may involve other transcription factors, including those that are not particularly testis-specific. For instance, there are many transcription factors, such as invected, apontic, fushi tarazu, gooseberry-neuro, whose expression pattern is detected in, but not restricted to, testes [17]. Thus, the role of tMAC and tTAFs may be to launch the testis-specific gene program that unfolds via other regulators and transcription factors that ultimately results in appropriate gene activation.
It is interesting to note that tTAFs actually control expression of several meiosis arrest genes, topi, achi, and vis. Achi and Vis proteins are absent from the canonical tMAC complex, yet they were found in the context of a distinct complex encompassing Aly and Comr [4, 5]. In can mutant background, topi, achi, and vis undergo only partial down-regulation, and so this may explain why can mutation has a weaker phenotype compared to that of topi/achi/vis knock-outs, although this may also be interpreted the other way around, namely that reduced expression of these genes is partially responsible for the can phenotype.
It is highly probable that tTAFs forms a transcription factor paralogous to TFIID [3, 9, 10]; however, TBP protein that forms the core of tTAFs complex was not identified. An attractive hypothesis that the spermatocyte-specifically expressed TBP-like protein CG9879 may play the central role in tTAFs function was rejected in our study. Indeed, knock-down of CG9879 gene led to very subtle changes in gene expression and did not appreciably affect spermatogenesis. Nevertheless, CG9879 tends to co-localize with tTAFs subunit Cannonball implying that CG9879 participates in tTAF, but its absence may be compensated by other TBP-like proteins expressed in spermatocytes. Such redundancy may help to maintain the stability of this important genetic system.
Dual role of Mip40
Since the description of tMAC, one of the most intriguing facets of this complex was the homology of its subunits to those of MMB/dREAM complex. tMAC and MMB/dREAM complexes are not merely paralogous, and they share common subunits, Mip40 and CAF1-55. Notably, tMAC is clearly involved in gene activation [3, 17, 30], whereas MMB/dREAM predominantly has repressive activity [12–14], although several examples showing its activating effects have also been reported [25–27].
Our data indicate that at these early differentiation stages, Mip40 does not tend to associate with TSSs of genes that will later become activated in spermatocytes. This observation is in obvious conflict with the idea that MMB/dREAM orchestrates the repression of spermatocyte-specific genes in undifferentiated cells. Moreover, Mip40-bound genes in spermatogonia are those whose expression is predominantly detected in ovaries, and Mip40 binding in the context of MMB/dREAM complex has inhibitory activity. Whether this mechanism is related to the recently discovered pathway that maintains the silencing of somatically expressed genes [15] remains to be discovered.
Following spermatocyte differentiation, Mip40 binding pattern changes substantially, and novel Mip40 peaks appear that are clearly tMAC dependent. These data indicate that MMB/dREAM does not contribute to inactivation of spermatocyte-specific genes. Instead, in spermatocytes, tMAC recruits Mip40 to novel binding sites and this redistribution takes place outside the context of MMB/dREAM complex.
In wild-type testes, redistribution of Mip40 is much more pronounced. This points to the possible involvement of tTAFs. Alternatively, in early spermatocytes of can mutants we may actually observe very first steps of Mip40 redistribution, whereas more differentiated cell types are present in wild-type testes and so they may contribute to the final binding pattern. A test to discriminate between the two possibilities is to perform DamID in thoc5 mutants, as this mutation does not interfere with tMAC or tTAFs activity, yet it causes meiotic arrest [31].
Conclusions
Based on our major findings, we propose an amended picture of transcription-related events during Drosophila spermatogenesis. The mechanism controlling the inactivity of the vast majority of spermatocyte-specific genes is presently unknown: a decisive role for either the Pc [11] or MMB/dREAM complexes now seems unlikely. tMAC and tTAFs associate with their cognate gene targets and induce their activation. Surprisingly, of all the testis-specific genes, the fraction of high confidence direct gene targets of tMAC and tTAFs is relatively modest. Activation of indirectly controlled gene targets likely proceeds with the help of other transcription factors. Involvement of tTAFs in regulation of three meiosis arrest genes should be taken into account as an additional regulatory mechanism. There is a major redistribution of Mip40 in spermatocytes. This process is tMAC dependent and leads to the relocation of Mip40 to promoters of spermatocyte-specific genes leading to their activation.
Abbreviations
tMAC:

testis-specific meiosis arrest complex
tTAF:

testis-specific TBP-associated factor
TBP:

TATA-binding protein
MMB:

Myb-MuvB complex
dREAM:

DP, RB-like, E2F4, and MuvB complex
DamID:

DNA-adenine methyltransferase identification
Declarations
Authors' contributions
PPL performed most of experiments, analyzed results, and wrote the paper, DAM performed bioinformatics analysis of the whole genome experiments, SER contributed to the part concerning CG9879 mapping and deletion, PAA performed Mip130 DamID, OVP performed flywork and genetic crosses, HWC performed RNA in situ hybridizations of whole testes and wrote the paper, DEK performed genetic crosses and sample collections, SNB planned experiments, contributed to the data analysis, and wrote the paper. All authors read and approved the final manuscript.
Acknowledgements
Authors are grateful to Andrey Gortchakov for critical reading of the manuscript. We thank the IMCB SB RAS collection of Drosophila lines (Project No. 0310-2016-0001) for providing wild-type and mutant stocks that were used in this work. The authors gratefully acknowledge the resources provided by the "Molecular and Cellular Biology" core facility of the IMCB SB RAS.
Competing interests
The authors declare that they have no competing interests.
Availability of data and materials
All data are available from Gene Expression Omnibus (GSE97182).
Consent for publication
Not applicable.
Ethics approval and consent to participate
Not applicable.
Funding
This work was supported by a Grant from the Russian Science Foundation (14-14–00641), Russian Fundamental Scientific Research Project (0310-2018-0009), and Russian Foundation for Basic Research Grants (17-00-00181, 14-04-32102, 13-04-01731, 13-04-40087, and 12-04-01007). SNB was supported by the grant from the Ministry of Education and Science of Russian Federation #14.Y26.31.0024.
Publisher's Note
Springer Nature remains neutral with regard to jurisdictional claims in published maps and institutional affiliations.
Open AccessThis article is distributed under the terms of the Creative Commons Attribution 4.0 International License (http://creativecommons.org/licenses/by/4.0/), which permits unrestricted use, distribution, and reproduction in any medium, provided you give appropriate credit to the original author(s) and the source, provide a link to the Creative Commons license, and indicate if changes were made. The Creative Commons Public Domain Dedication waiver (http://creativecommons.org/publicdomain/zero/1.0/) applies to the data made available in this article, unless otherwise stated.
Authors' Affiliations
(1)
Institute of Molecular and Cellular Biology SB RAS, Novosibirsk, Russia
(2)
School of Biosciences, Cardiff University, Cardiff, UK
(3)
Novosibirsk State University, Novosibirsk, Russia