Proteogenomics analysis reveals specific genomic orientations of distal regulatory regions composed by non-canonical histone variants
Epigenetics & Chromatin
2015
8:13
Received: 13 February 2015
Accepted: 19 March 2015
Published: 10 April 2015
Abstract
Background
Histone variants play further important roles in DNA packaging and controlling gene expression. However, our understanding about their composition and their functions is limited.
Results
Integrating proteomic and genomic approaches, we performed a comprehensive analysis of the epigenetic landscapes containing the four histone variants H3.1, H3.3, H2A.Z, and macroH2A. These histones were FLAG-tagged in HeLa cells and purified using chromatin immunoprecipitation (ChIP). By adopting ChIP followed by mass spectrometry (ChIP-MS), we quantified histone post-translational modifications (PTMs) and histone variant nucleosomal ratios in highly purified mononucleosomes. Subsequent ChIP followed by next-generation sequencing (ChIP-seq) was used to map the genome-wide localization of the analyzed histone variants and define their chromatin domains. Finally, we included in our study large datasets contained in the ENCODE database. We newly identified a group of regulatory regions enriched in H3.1 and the histone variant associated with repressive marks macroH2A. Systematic analysis identified both symmetric and asymmetric patterns of histone variant occupancies at intergenic regulatory regions. Strikingly, these directional patterns were associated with RNA polymerase II (PolII). These asymmetric patterns correlated with the enhancer activities measured using global run-on sequencing (GRO-seq) data.
Conclusions
Our studies show that H2A.Z and H3.3 delineate the orientation of transcription at enhancers as observed at promoters. We also showed that enhancers with skewed histone variant patterns well facilitate enhancer activity. Collectively, our study indicates that histone variants are deposited at regulatory regions to assist gene regulation.
Keywords
Histone VariantAsymmetric PatternCTCF BindingHistone PTMsCanonical Histone
Background
The eukaryotic genome is packaged in the nucleus as chromatin, a dynamic arrangement which serves to compact the DNA. Chromatin structure is highly complex as, while packaged, is accessible for selective gene expression and DNA repair. Moreover, chromatin is highly dynamic during chromosome condensation processes such as mitosis and meiosis [1]. The fundamental unit of chromatin is the nucleosome. Nucleosomes are composed of an octamer of histone proteins comprised of two copies each of H2A, H2B, H3, and H4 [2]. Histone N-terminal tails are exposed outside the nucleosomes, and they are heavily modified by dynamic post-translational modifications (PTMs). The deposition of such PTMs modulates chromatin structure, which directly affects the abovementioned DNA-related events [3,4]. Histone PTMs are also among the major drivers of epigenetic memory, as they can be inherited after cell division [5]. Aberrations in PTM relative abundance have been found in several diseases [6,7], which highlights the direct link between histone marks and cell phenotype.
In addition to the canonical histones, there are also protein variants encoded by separate genes [8]. These variants play further important roles in DNA packaging and controlling gene expression [9]. For instance, histone H2A.Z replaces canonical H2A at some 5′ end of both active and inactive genes [10-15]. Recent studies also identified that H2A.Z is enriched at active enhancers, destabilizing the local nucleosome structure and facilitating nucleosome removal [16,17]. Histone H3.3 is specially enriched at transcriptionally active genes as well as regulatory elements [18-22]. Also, unstable H2A.Z/H3.3 double-variant-containing nucleosomes were reported at active promoters, enhancers, and insulator regions [23]. Another H2A variant, macroH2A, is enriched for the inactive X chromosome, and therefore, it has been mainly associated with heterochromatic regions [24,25]. More recently, macroH2A has also been shown to activate genes, although it was still closely associated with the silencing mark H3K27me3 [26]. Such complex panorama of histone PTMs and variants calls for further studies to more accurately define the combinatorial preferences of histone variants and their function for gene regulation.
In order to understand the strategic deposition of histone proteoforms and their functional roles, we quantitatively investigated using chromatin immunoprecipitation coupled to mass spectrometry (ChIP-MS) the composition at single-nucleosome resolution of histone-variant-containing mononucleosomes. Moreover, such mononucleosomes were genome-wide mapped using chromatin immunoprecipitation followed by next-generation sequencing (ChIP-seq). In these experiments, we employed HeLa cells expressing either FLAG-tagged canonical histone H3, H3.3, canonical histone H2A, and H2A.Z. Moreover, FLAG-affinity-purified mononucleosomes were analyzed by ChIP-MS (Figure
1
A, B) to quantitatively determine histone PTM composition [
27
]. Hence, our proteogenomic approach allowed us to define chromatin domains containing combinations of histone variants. In particular, we mapped and determined the composition of domains enriched in histone H3.1 and macroH2A, which last is known as repressive signature. More importantly, we observed directional profiles of histone variants, where histone H2A.Z occurred ahead of H3.3 in gene enhancers. This directional pattern co-occurred with the enrichment of RNA polymerase II (PolII), suggesting that PolII has orientation at enhancers and histone variants reflect its transcriptional direction.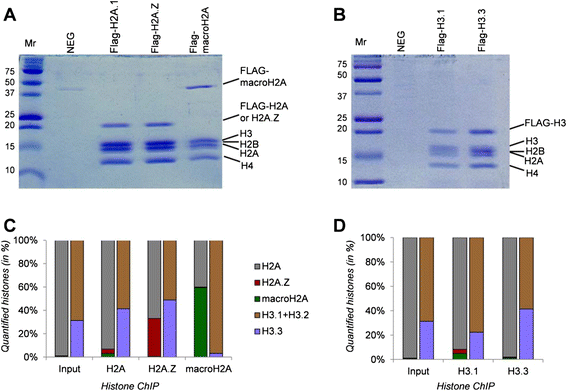 Conclusions
Histone non-canonical variants play a major regulatory role in mammalian genomes. For example, H2A.Z is enriched at active promoters as well as active enhancers marked by H3K27ac, and H3.3 was found enriched at the peaks of H2A.Z [16]. In this paper, we dissected the composition of histone variants using both proteomics and genomics strategies. Our quantitative MS results revealed that activating histone PTMs were highly enriched on H2A.Z-containing and H3.3-containing mononucleosomes, while such marks were generally depleted in macroH2A-containing mononucleosomes. Conversely, macroH2A-containing mononucleosomes were enriched for repressive histone PTMs.
We further investigated the distribution of histone variants in the genome especially at distal regulatory regions. We identified diverse compositions of four histone variants at potential regulatory regions. Besides H3.3 and H2A.Z, which have been known to be enriched at regulatory regions [16,21], we additionally found regulatory regions enriched in H3.1 or macroH2A. The regulatory regions enriched for macroH2A were depleted for active histone marks and enhancer activities, suggesting a repressive role for this element (cluster 1, Figure 3C). H3.1 was observed in two clusters: one in the closed chromatin structure (cluster 2) and one with strong enrichment of CTCF. This evidenced that histone H3.1 has still several unknown functions at distal regulatory regions. Unexpectedly, we also found histone variants at the center of DHSs, potential nucleosome-free regions. Specifically, we observed the centers of some DHSs enriched for H2A.Z and H3.3 (clusters 2 and 4). These regulatory elements may be associated with unstable nucleosomes containing H3.3/H2A.Z double variant at DHS [23].
Importantly, we found asymmetric patterns of histone variants. In general, symmetric bimodal patterns have been accepted as profile for activating histone marks [37,44,45]. Our results showed a large portion of regulatory regions with asymmetric patterns. These regulatory regions were associated with the skewed patterns of the activating mark H3K27ac. Besides, the asymmetric patterns of histone variants were associated with PolII occupancy. Taken together, this demonstrated that skewed histone variants were not just noise, but such deposition dictates the direction of PolII movement.
Enhancers were originally defined as remote elements that increase transcription independently of their orientation [46,47]. However, some groups already identified a number of enhancer groups with asymmetric histone modification patterns [48]. Other computational models found asymmetric H2A.Z and nucleosome occupancies at CTCF binding sites [49,50]. More directly, nascent RNAs at enhancers show both bidirectional and unidirectional transcripts [51]. The 5′ ends of capped RNAs detected by Cap Analysis of Gene Expression (CAGE) in HeLa cells confirmed unidirectional transcripts at enhancers [39]. Nascent RNAs are closely associated with RNA polymerase [52,53]. The asymmetric patterns of eRNA as well as the skewed PolII occupancy in our study suggest that enhancers have directional information. For example, experiments that flipped enhancer sequences changed the activity of promoter in the luciferase assay [54], showing that directional information of the flanking regions around distal regulatory regions is important for gene regulation.
PolII orientation is clearly defined at promoters, where transcriptional orientation defines the asymmetric epigenetic pattern of H3K4me3 towards the direction of transcription [11]. A remarkable observation was made for bidirectional as well as unidirectional promoters in association with histone variants. H2A.Z at active promoters show strong upstream as well as downstream peaks in human and yeast [11,17,30,55], but not in flies [56] or Arabidopsis [57]. The presence of upstream H2A.Z nucleosomes seen in some organisms correlates with bidirectional transcription in yeast and mammals [53,58]. This suggests that histone variants are associated with transcriptional direction. At promoters, moreover, the nucleosome located to the transcriptional direction blocks the movement of PolII [59]. Depletion of H2A.Z from a nucleosome position resulted in a higher barrier to PolII [59]. Enhancers bare similar characteristics with promoters. Besides eRNAs, some enhancers are even with TATA box sites [39]. The nucleosome at distal regulatory region may block the movement of PolII as at promoters. H3.3 as well as H2A.Z may work to remove the barrier for PolII at distal regulatory regions. We additionally investigated the histone variants as well as PolII profiles at active promoters (Additional file 3: Figure S7). The genome-wide profile showed that the PolII and H3.3 profiles at enhancers are strikingly similar to the profile of H2A.Z and PolII at promoters.
In conclusion, why do enhancers have orientation? A DNA looping model has been suggested where promoter-enhancer interactions facilitate gene transcription [
60
-
62
]. These observations questioned the transcriptional mechanism associated with histone variants and PolII. By forming a looping structure, PolII needs to have a preference for its movement as it needs to move towards the transcription orientation of the associated gene (Figure
5
). The nucleosome on one side of the regulatory region may block the movement of PolII at distal regulatory regions. H3.3 and H2A.Z may help the movement of PolII by destabilizing the nucleosome that blocks the movement of PolII.

Methods
Chromatin immunoprecipitation of histone variants
HeLa S3 cells stably expressing either FLAG-tagged canonical histone H3, H3.3, canonical histone H2A, and H2A.Z were grown in suspension in Joklik media containing 10% newborn calf serum (Hyclone, GE Healthcare, Little Chalfont, UK), 1% GlutaMAX (Invitrogen, Carlsbad, CA, USA), and 1% penicillin-streptomycin, and cells were harvested at log phase. Nuclei were isolated, mononucleosomes were subsequently obtained from these cell lines, and ChIP experiments were performed as described [29]. Briefly, cells were lysed in hypotonic TMSD buffer to isolate nuclei, which were then digested with micrococcal nuclease. The resulting mononucleosomes (Figure 1A, B) were immunoprecipitated with anti-FLAG M2-agarose beads (Sigma-Aldrich, St. Louis, MO, USA) and eluted with FLAG peptide (Sigma-Aldrich, St. Louis, MO, USA).
Preparation of histones for mass spectrometry
Histone samples, from both ChIP input and ChIP elutions, were prepared as described previously [27], with the exception that the acid extraction step was simply replaced by a boiling step for the ChIP elutions. Briefly, digestion was performed as follows: derivatization reagent was prepared by mixing propionic anhydride with 2-propanol in the ratio 1:3 (v/v) and added to the histone sample in the ratio of 1:2 (v/v) for 15 min at 37°C. This reaction was performed twice to obtain complete labeling. Histones were then digested with trypsin (enzyme:sample ratio of 1:20, overnight at room temperature) in 50 mM NH4HCO3. After digestion, the derivatization reaction was performed again twice to derivatize peptide N-termini. Samples were desalted by using C18 Stage-tips, and resuspended in 0.1% formic acid for LC-MS analysis.
Quantitative mass spectrometry
Histone samples were analyzed using nano liquid chromatography-tandem mass spectrometry (nanoLC-MS/MS) essentially as described previously [27]. Briefly, nanoLC was configured with a 75 μm ID × 17 cm Reprosil-Pur C18-AQ (3 μm; Dr. Maisch GmbH, Germany) nano-column using an EASY-nLC nanoHPLC (Thermo Scientific, Odense, Denmark). Detection was performed by using an Orbitrap XL mass spectrometer (Thermo Scientific, Odense, Denmark). Peak area was extracted from raw files by using our in-house software EpiQuant. The relative abundance of a given PTM was calculated by dividing its intensity by the sum of all modified and unmodified peptides sharing the same sequence. All raw files are available at the Chorus database (https://chorusproject.org).
Determination of variant histone relative abundance
In order to determine the fraction of canonical histone H2A, macroH2A, and H2A.Z histones that comprises fH3.1-, fH3.3-, fH2Ac-, and fH2A.Z-containing mononucleosomes, we first quantified four peptides within the canonical histone H2A protein, namely the abundances of 4-11 (GKQGGKAR; H2Ac1), 12-17 (AKAKTR; H2Ac2), 21-29 (AGLQFPVGR; H2Ac3), and 82-88 (HLQLAIR; H2Ac4) peptides in each sample, which we refer to as reference peptides. Next, we quantified the abundances of the variant-specific peptides, namely the 36-42 canonical histone H2A peptide (KGNYAER; H2Ac), the 4-14 macroH2A peptide (GGKKKSTKTSR), and the 1-19 H2A.Z peptide (AGGKAGKDSGKAKTKAVSR). We then normalized a given variant-specific peptide such as the 1-19 H2A.Z peptide over each of the four references to attain four separate ratios, namely a common H2A.Z numerator over four different denominators (that is, H2A.Z/H2Ac1, H2A.Z/H2Ac2, H2A.Z/H2Ac3, H2A.Z/H2Ac4). We repeated this normalization for the other variant-specific peptides. To determine the relative ratios of the H3 variants, we quantified a peptide common to H3.1 and H3.2 27-40 (KSAPATGGVKKPHR) and compared it directly to the H3.3 peptide 27-40 (KSAPSTGGVKKPHR) that differs by only a single amino acid at residue 31 (alanine in H3.1 and H3.2 and serine in H3.3).
Genomic data processing
All ChIP-seq tags were aligned to the human genome hg19 using Bowtie [63] with options '-v 2 -m 1 --best --strata,' and all of the redundant tags were removed before downstream analysis. All ChIP-seq data were normalized to 10 reads per kilobase per million mapped reads (RPKM) [64]. Besides H3.1 and H3.3, we used ChIP-seq data for macroH2A [32], H2A.Z H3K4me1, and H3K27ac [33]. Additional file 1: Table S1 summarizes all the data we integrated in our study. Besides, we used the ChIPseq data for various transcription factors (TFs) and co-factors from ENCODE database [33] to investigate enriched binding for each cluster. We used the processed peak files deposited in the ENCODE database for this analysis. Hyper-geometric P values were calculated to identify enriched occupancy for TFs and co-factors. We used Refseq annotated genes (hg19) and sort them based on expression level from RNAseq data in HeLa cells [33]. DHSs were identified using Homer [35]. We excluded DHSs at promoter or body of annotated genes in GENCODE v19 [65]. Clustering was performed using the obtained distal DHSs. For clustering analysis, we used MeV V4.8 [66] and applied the K-means clustering algorithm to the ChIP-seq data of histone variants (H3.1, H3.3, macroH2A, and H2A.Z) using the Pearson correlation with absolute distance as a metric (K = 10). Clusters were rearranged to group the mirroring images. Average profiles were obtained using the Homer package [35].
Data availability
The ChIP-seq data from this study are available at the NCBI Gene Expression Omnibus (GEO; http://www.ncbi.nlm.nih.gov/geo/) under accession number (GSE64652).
Abbreviations
CAGE:

cap analysis of gene expression
ChIP:

chromatin immunoprecipitation
ChIP-MS:

ChIP followed by mass spectrometry
ChIP-seq:

ChIP followed by next-generation sequencing
DHS:

DNaseI hypersensitive site
eRNA:

enhancer RNA
GEO:

gene expression omnibus
GRO-seq:

global run-on sequencing
lncRNA:

long non-coding RNA
mESC:

mouse embryonic stem cell
NCP:

nucleosome core particle
NFR:

nucleosome free regions
PTM:

post-translational modification
PolII:

RNA polymerase II
RPKM:

reads per kilobase per million mapped reads
TF:

transcription factor
TSS:

transcriptional start site
TTS:

transcription termination site
Declarations
Acknowledgements
BAG acknowledges funding from an NIH grant R01GM110174 and an NSF Faculty CAREER award. KJW acknowledges funding from an NIH/NIDDK grant R21DK098769-01.
Authors' Affiliations
(1)
The Institute for Diabetes, Obesity, and Metabolism, Philadelphia, USA
(2)
Department of Genetics, Perelman School of Medicine, University of Pennsylvania, Philadelphia, USA
(3)
Department of Molecular Biology, Princeton University, Princeton, USA
(4)
Epigenetics Program, Department of Biochemistry and Biophysics, Perelman School of Medicine, University of Pennsylvania, Philadelphia, USA
(5)
Department of Agricultural Biotechnology, National Academy of Agricultural Science, Jeonju-si, South Korea
Copyright
© Won et al.; licensee BioMed Central. 2015
This is an Open Access article distributed under the terms of the Creative Commons Attribution License (http://creativecommons.org/licenses/by/4.0), which permits unrestricted use, distribution, and reproduction in any medium, provided the original work is properly credited. The Creative Commons Public Domain Dedication waiver (http://creativecommons.org/publicdomain/zero/1.0/) applies to the data made available in this article, unless otherwise stated.