Genome-wide assays that identify and quantify modified cytosines in human disease studies
Epigenetics & Chromatin
2015
8:5
Received: 5 November 2014
Accepted: 5 January 2015
Published: 22 January 2015
Abstract
The number of different assays that has been published to study DNA methylation is extensive, complemented by recently described assays that test modifications of cytosine other than the most abundant 5-methylcytosine (5mC) variant. In this review, we describe the considerations involved in choosing how to study 5mC throughout the genome, with an emphasis on the common application of testing for epigenetic dysregulation in human disease. While microarray studies of 5mC continue to be commonly used, these lack the additional qualitative information from sequencing-based approaches that is increasingly recognized to be valuable. When we test the representation of functional elements in the human genome by several current assay types, we find that no survey approach interrogates anything more than a small minority of the nonpromoter cis-regulatory sites where DNA methylation variability is now appreciated to influence gene expression and to be associated with human disease. However, whole-genome bisulphite sequencing (WGBS) adds a substantial representation of loci at which DNA methylation changes are unlikely to be occurring with transcriptional consequences. Our assessment is that the most effective approach to DNA methylation studies in human diseases is to use targeted bisulphite sequencing of the cis-regulatory loci in a cell type of interest, using a capture-based or comparable system, and that no single design of a survey approach will be suitable for all cell types.
Keywords
DNA methylation5-methylcytosineEpigenomicAssayCpG islandEnhancermicroarray
Introduction
While it is customary to think of DNA as containing four nucleotides - adenine, thymine, guanine and cytosine - the cytosines in many organisms represent targets for several covalent modifications, now recognized to include 5-methylcytosine (5mC), 5-hydroxymethylcytosine (5hmC), 5-carboxylcytosine (5caC) and 5-formylcytosine (5fC) (reviewed in [1]). Of these, 5mC is the most abundant alternative version of cytosine [2]. The cytosine 5mC was first recognized as a toxic extract from Mycobacterium tuberculi in 1898 and named tuberculinic acid as a result [3]. Studies of neoplastic cells in the 1980s revealed differences in 5mC content compared with nontransformed cells [4, 5], opening up the possibility that studies of human development and diseases, including cancer in particular, may involve this nucleotide variant [6].
The decades since have seen a steady progression in our capability to study 5mC more broadly throughout the genome, at increasing resolution and in an expanding range of organisms. Some of the earliest approaches involved performing Southern blots using DNA pre-digested with restriction enzymes that are sensitive to the presence of 5mC [7]. This approach allowed some of the earliest observations of cancer-related 5mC changes [4] and revealed the role of 5mC in developmental regulation of gene expression due to genomic imprinting in mammals [8]. The development of the polymerase chain reaction (PCR) led to new assays being designed, with some based on ligation-mediated PCR [9] and others on the amplification across the sites that could be digested by a specific restriction enzyme [10]. The latter type of assay enabled the sensitive detection of the presence of methylated DNA at loci where 5mC was normally completely absent, which became a major means of testing for the presence of abnormal DNA methylation in cancer in particular [11, 12].
A technical breakthrough in the technology to measure DNA methylation was the development of bisulphite conversion, which was found to deaminate selectively cytosines but not 5mC [13]. Once converted, downstream assays could be applied, including not only restriction enzyme digestion but also currently-available sequencing-based approaches. The restriction enzyme-based approaches included COBRA (COmbined Bisulphite Restriction Analysis [14]), which generally exploited the destruction by bisulphite exposure of a pre-existing restriction enzyme site or the creation of a new one. However, for the first time, DNA sequencing could be applied to the product of the bisulphite treatment, generally involving PCR of the bisulphite-treated DNA followed by sequencing [13]. This generates nucleotide-resolution quantification of DNA methylation, while cloning and sequencing of the PCR product add allelic information, shedding further light upon processes like genomic imprinting [15]. Other technologies were also applied downstream of bisulphite treatment, including pyrosequencing [16] and mass spectrometry [17], which were designed to enable more accurate quantification of 5mC at sites within the amplicons tested.
The development of massively-parallel sequencing (MPS) in the last decade has allowed the product of bisulphite conversion to be sequenced on a scale never previously possible. During the MPS era, it has emerged that 5mC is not the only cytosine variant in the genome, but is accompanied by lower proportions of 5hmC [
2
], 5caC and 5fC [
18
] (Figure
1
). It became apparent that previous assays involving bisulphite conversion read each of these cytosine modifications differently [
19
] (Figure
2
), which prompted the need to re-evaluate prior assumptions about distributions of modified cytosines in the genome. Assay development for these new modifications is focused on exploiting MPS technologies, resulting in some intriguing early observations about the distributions of some of these cytosine variants. For example, 5hmC can be tested using Tet-assisted bisulphite sequencing (TAB-seq [
20
]) or oxidative bisulphite sequencing (oxBS-seq [
21
]), with chemical modification-assisted bisulphite sequencing (CAB-seq) developed for 5caC [
22
], and reduced bisulphite sequencing (redBS-seq) for 5foC [
23
]. Within the genome of mouse embryonic stem (ES) cells, 5hmC has been found to be enriched at promoters, especially those encoding bivalent chromatin domains and exons [
24
]. CpG islands in mouse ES cells appear to be especially enriched for 5fC [
25
], but these studies used an affinity-based assay, which may preferentially target such CG-rich loci [
26
]. Definitive nucleotide-resolution mapping studies will undoubtedly be published in the near future, giving us insights into the potential function of these cytosine modifications.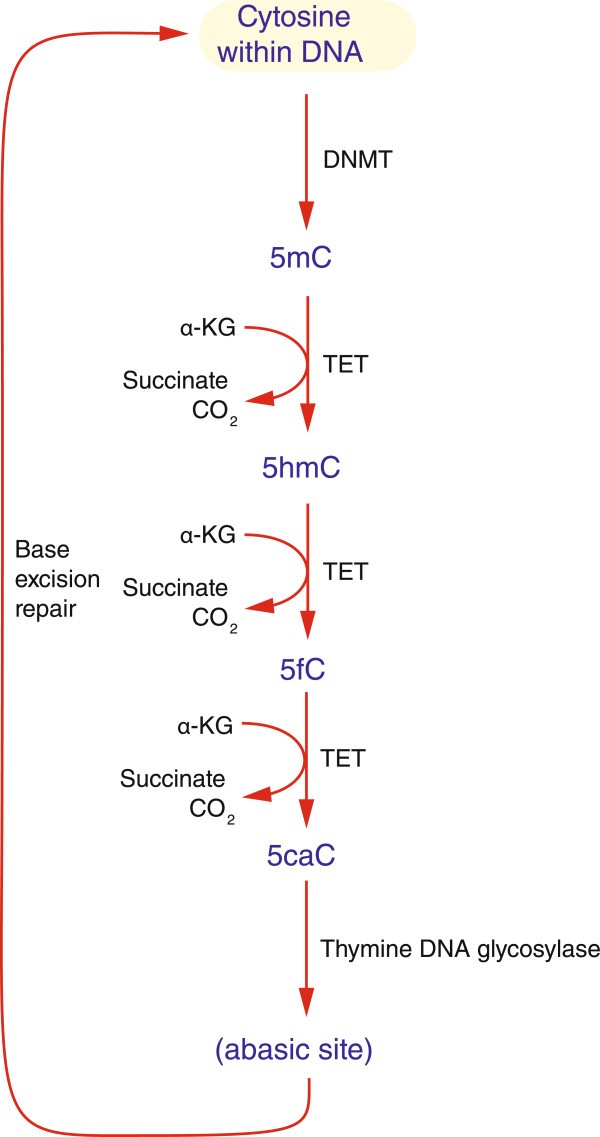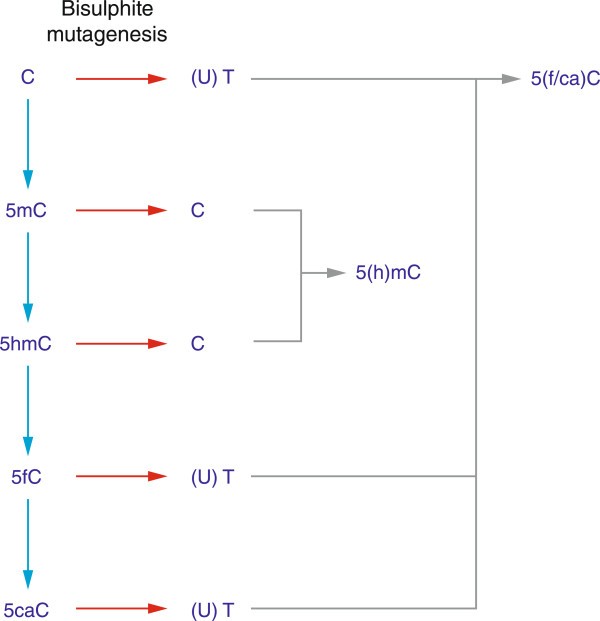 There have been numerous excellent reviews that have described the panoply of DNA methylation assays currently available for use [19, 28–31]. In this review, the goal is to build upon this prior foundation with a focus on the use of MPS technologies, especially as applied to studying human diseases, including attention to the study of cytosine variants other than 5mC, and incorporating a discussion about how new insights into genomic physiology help to direct our experimental approaches to studying cytosine variants in the genome.
Authors' information
NU is a graduate student in the Sue Golding PhD program at the Albert Einstein College of Medicine. JMG is the director of the Center for Epigenomics and Chief of the Division of Computational Genetics of the Department of Genetics at the Albert Einstein College of Medicine and is also a clinical genomics attending physician at the Children's Hospital at Montefiore.
Abbreviations
5hmC:

5-hydroxymethylcytosine
5caC:

5-carboxylcytosine
5fC:

5-formylcytosine
CG (CpG):

a cytosine followed by a guanine nucleotide
CHG:

a cytosine followed by a non-guanine nucleotide followed by a guanine
CHH:

a cytosine followed by two non-guanine nucleotides
ChIP-seq:

chromatin immunoprecipitation followed by MPS
CIMP:

CpG island methylator phenotype
COBRA:

combined bisulphite restriction analysis
CXXC:

A protein domain that binds to unmethylated CG dinucleotides
DMRs:

differentially-methylated regions
DNA:

deoxyribonucleic acid
DNMT:

DNA methyltransferase
ENCODE:

Encyclopedia of DNA elements
(G + C):

The proportion of guanine and cytosine mononucleotides
H3K4me3:

trimethylation of lysine 4 in histone H3
HSPCs:

hematopoietic stem and progenitor cells
LINE:

long interspersed nuclear element
LUMA:

luminometric methylation assay
MBD:

methyl-binding domain
MECP2:

methylCpG-binding protein 2
MPS:

massively parallel sequencing
mQTLs:

methylation quantitative trait loci
NMI:

non-methylated islands
PCR:

polymerase chain reaction
RE:

restriction enzyme
RRBS:

reduced representation bisulphite sequencing
SINE:

short interspersed nuclear element
SNP:

single nucleotide polymorphism
TET:

ten-eleven translocase enyzme
WGBS:

whole-genome bisulphite sequencing.
Declarations
Acknowledgements
Joseph Costello from UCSF and Alan Harris from Baylor College of Medicine are thanked for recommending suitable RRBS and MethylC-seq data files for our analyses. We thank Masako Suzuki, Jessica Tozour, N. Ari Wijetunga and Julie Nadel for their critical reading of the draft manuscript.
Authors' Affiliations
(1)
Department of Genetics, Albert Einstein College of Medicine, Center for Epigenomics and Division of Computational Genetics, Bronx, USA
Copyright
© Ulahannan and Greally; licensee BioMed Central. 2015
This article is published under license to BioMed Central Ltd. This is an Open Access article distributed under the terms of the Creative Commons Attribution License (http://creativecommons.org/licenses/by/4.0), which permits unrestricted use, distribution, and reproduction in any medium, provided the original work is properly credited. The Creative Commons Public Domain Dedication waiver (http://creativecommons.org/publicdomain/zero/1.0/) applies to the data made available in this article, unless otherwise stated.