The histone 3 lysine 4 methyltransferase, Mll2, is only required briefly in development and spermatogenesis
Epigenetics & Chromatin
2009
2:5
Received: 23 November 2008
Accepted: 06 April 2009
Published: 06 April 2009
Abstract
Background
Histone methylation is thought to be central to the epigenetic mechanisms that maintain and confine cellular identity in multi-cellular organisms. To examine epigenetic roles in cellular homeostasis, we conditionally mutated the histone 3 lysine 4 methyltransferase, Mll2, in embryonic stem (ES) cells, during development and in adult mice using tamoxifen-induced Cre recombination.
Results
In ES cells, expression profiling unexpectedly revealed that only one gene, Magoh2, is dependent upon Mll2 and few other genes were affected. Loss of Mll2 caused loss of H3K4me3 at the Magoh2 promoter and concomitant gain of H3K27me3 and DNA methylation. Hence Mll2, which is orthologous to Drosophila Trithorax, is required to prevent Polycomb-Group repression of the Magoh2 promoter, and repression is further accompanied by DNA methylation. Early loss of Mll2 in utero recapitulated the embryonic lethality found in Mll2-/- embryos. However, loss of Mll2 after E11.5 produced mice without notable pathologies. Hence Mll2 is not required for late development, stem cells or homeostasis in somatic cell types. However it is required in the germ cell lineage. Spermatogenesis was lost upon removal of Mll2, although spermatogonia A persisted.
Conclusion
These data suggest a bimodal recruit and maintain model whereby Mll2 is required to establish certain epigenetic decisions during differentiation, which are then maintained by redundant mechanisms. We also suggest that these mechanisms relate to the epigenetic maintenance of CpG island promoters.
Keywords
TamoxifenEmbryonic Stem CellEmbryonic Stem Cell LinePachytene SpermatocyteH3K4 Methyltransferases
Background
Epigenetic mechanisms play several roles in genome function including the maintenance of genome stability, suppression of transposons, dosage compensation and imprinting, as well as the regulation of gene expression. Despite much progress, the understanding of gene regulation by epigenetic mechanisms remains far from complete. For example, epigenetic mechanisms contribute to the differences in gene expression patterns between somatic cells, and to the loss of pluripotency during development [1–4]. However, it is still not understood whether these mechanisms direct decisions during lineage commitment and differentiation, or merely secure them.
Amongst the several classes of histone post-translational modifications, the six lysine methylations on histones 3 and 4 have emerged as central to epigenetic mechanisms, with each apparently relating to a different chromatin status [3]. In mammals, unraveling epigenetic roles in gene expression is likely to prove difficult. Even assuming that epigenetic mechanisms are largely confined to DNA and histone methylation, the existence of multiple enzymes for each modification complicates the analysis. For example, by bioinformatic criteria, there are at least six H3K4 and seven H3K9 methyltransferases amongst more than 42 candidate enzymes [5]. Of these, at least half appear to be pairs of sister genes, indicating that redundancy may obscure studies to determine their functional roles. Nevertheless, knock-outs of six of the nine histone methyltransferases studied so far are embryonic lethal in the mouse [5–12].
The studies reported here began with the aim to explore and compare epigenetic functions in pluripotent and somatic cells. We reasoned that epigenetic mechanisms secure a particular cellular state by maintaining a characteristic gene expression pattern. Thereby a single genome can be reliably utilized in many different ways because epigenetic modifications fix the different gene expression patterns that define different cellular states [2–4, 13]. Consequently a role for epigenetics in cellular homeostasis is implied.
To explore these issues, we chose the H3K4 methyltransferase Mll2/Wbp7 (Figure
1A
), which is the sister of Mll (mixed lineage leukemia) by gene duplication [
14
]. Both
Mll
and
Mll2
are widely expressed throughout development and in adults and both are required for embryogenesis, however show different phenotypes when knocked-out [
5
,
7
,
12
]. Hence exploration of their cellular and somatic roles requires a strategy for conditional mutagenesis. We used ligand-regulated site-specific recombination [
15
] mediated by Cre recombinase-mutant estrogen receptor fusion proteins (Cre-ERT) to induce loss of
Mll2
. We aimed at temporal recombination without spatial restrictions by using a
Cre-ERT2
transgene [
16
] targeted to the ubiquitous
Rosa26
locus [
17
]. Thereby functional enquiry can be directed towards any cell at a chosen time, which is a prerequisite for the study of homeostasis.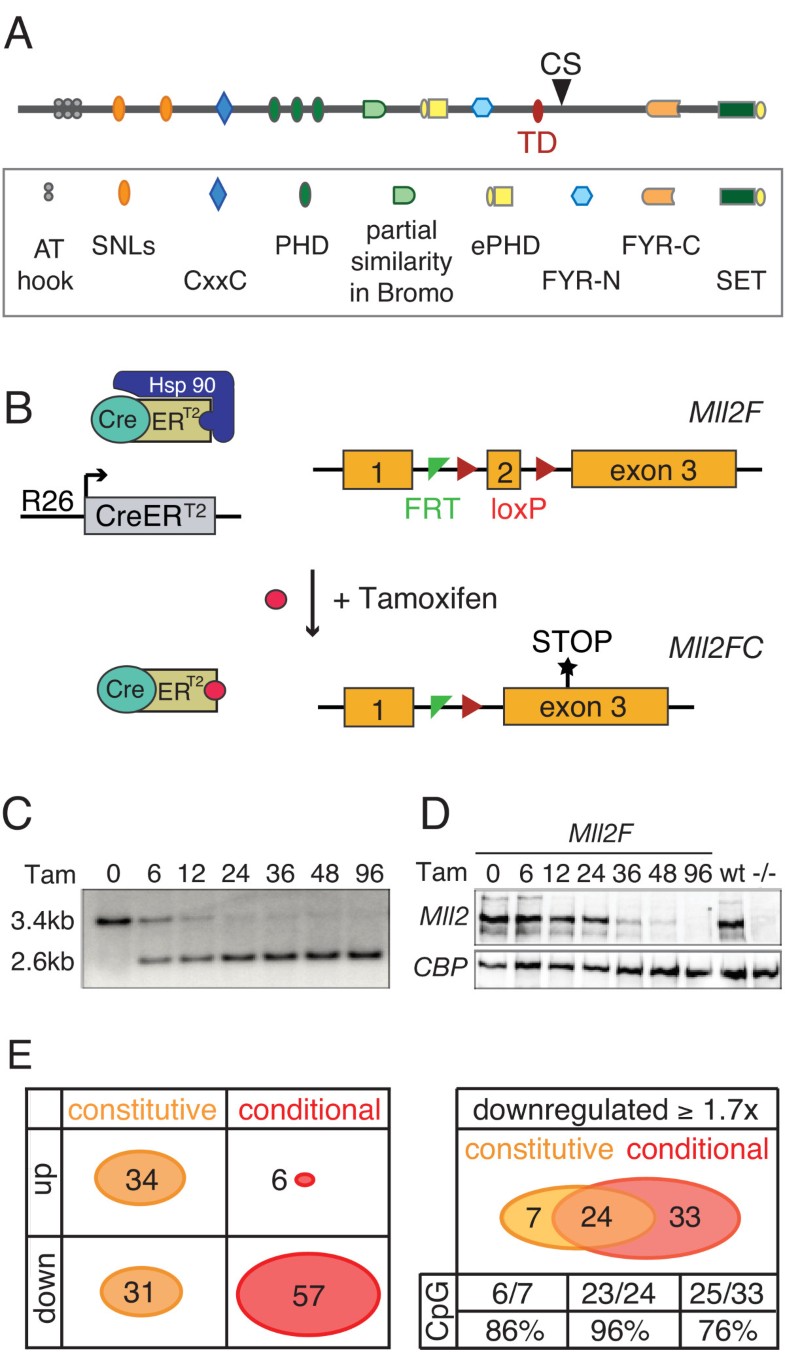 Discussion
Epigenetics was first conceived as a necessary mechanism for multi-cellular organisms to use a single genome in multiple ways [4, 13]. Roles for epigenetic mechanisms in transcriptional regulation, defining or confining cellular identity and maintaining homeostasis follow from this concept. The work described here started with the intention to look for epigenetic roles in the maintenance of cellular identity by use of conditional mutagenesis to remove an H3K4 methyltransferase, Mll2, from somatic states. Unexpectedly, we found that many cellular identities are apparently indifferent to the removal of Mll2. However, Mll2 is required during a developmental window and in both male and female germ lineages. We discuss the implications of these findings in turn.
Conclusion
The studies reported here began with the intention to examine epigenetic mechanisms in the maintenance of cellular identities using conditional mutagenesis of Mll2 as the model case. Unexpectedly we found that Mll2 is only required briefly in certain conditions. During development it is not required in the pluripotent stem cells but at certain points around gastrulation. During spermatogenesis, it is not required in spermatogonia A stem cells but in the differentiating spermatogonia. We therefore propose a model whereby Mll2 function is only occasionally essential during alterations of cellular gene expression programs and otherwise is supported on established promoters by a redundant mechanism(s). Furthermore, we find a correlation between Mll2 target genes and CpG island promoters and report a case where Mll2 is required to prevent PcG repression of a CpG island promoter. PcG repression is further secured by DNA methylation.
Methods
ES cells
Methods with ES cells have been described elsewhere [20, 55]. In addition, Mll2F/F; Rosa26-CreERT2/+ and Mll2F/+; Rosa26-CreERT2/+ ES cell lines were isolated from blastocyst outgrowths. Cre-mediated recombination was induced by 10-6 M 4-hydroxy tamoxifen from 10-4 M ethanol stocks.
Affymetrix gene chip analyses were performed with mouse Set430_A arrays for the constitutive experiment or mouse Set430_2.0 arrays for the conditional experiment. The constitutive experiments were performed in triplicate whereas the conditional experiments were performed in quintuplicate. Conditional Mll2 ES cells were grown without feeders on 0.1% gelatine-coated plates, induced for 48 h or not and harvested 96 h after the start of induction. RNA extraction and processing were according to the manufacturers' instructions. Statistical analyses of gene expression profiles were performed with students t-test ANOVA. Wild-type and FLP-rescued ES cell gene expression data were paired and compared with constitutive Mll2-/- data. Probe sets with a statistical significance (p-value) lower than E-04 were used for analysis. Microarray data of conditional ES cells were analyzed by pairwise comparison of genes with p-values lower than E-05 in a students t-test ANOVA.
Chromatin immunoprecipitation with H3-K4me3, H3-K27me3 (Abcam) and H3-K9me3-specific antibodies (Upstate) used conditional Mll2F/F; Rosa26-CreERT2/+ ES cells after induction with 4-hydroxy tamoxifen for 48 h and crosslinked at day 4, day 8 and day 12. Uninduced ES cells as well as tamoxifen-induced Mll2F/+; Roasa26-CreERT2/+ ES cells were used as controls. Immunoprecipitations were carried out as described [56] and analyzed by quantitative PCR analysis.
Primer pairs for bisulfite sequencing were Magoh2_BiS and Magoh2_BiSnested. For Southern blot analysis, a 550 bp genomic probe for the Magoh2 promoter was generated by PCR amplification with the primer pair Magoh2_probe. Genomic DNA of tamoxifen-treated or untreated conditional Mll2F/F ES cells was digested with Eco RI, Bcl I and methylation-sensitive Nae I. Methylated CpG dinucleotides at positions +32 and/or +35 produced a 1.8 kb fragment with Nae I-digested DNA samples, while a 1.2 kb fragment was detected as long as both sites were unmethylated. Methylation at two CpG dinucleotides (positions -48 and -30) overlapping with two Hpa II restriction sites was detected by quantitative PCR with primer pair Magoh2_HpaII. Genomic DNA of tamoxifen-treated or untreated conditional Mll2F/F ES cells was fragmented with Rsa I, which does not cleave between the primer pair and therefore determined the Ct value of the assay corresponding to uncleaved template. Rsa I/Hpa II-digested DNA was used to determine the amount of uncleaved template corresponding to methylation at both CpG dinucleotides. Rsa I/Msp I-digested DNA served as negative control and did not produce a PCR product (primers listed in Additional file 5).
Mice
The Mll2-/- mice, genotyping and Western methods were described previously [5]. Homozygous Mll2+/- were crossed to hACTB-Flpe mice to generate Mll2F/+. Intercrosses of Mll2F/+ mice produced homozygous mll2F/F mice at the expected Mendelian ratio, which were crossed to the Rosa26-CreERT2 line. An Nla III fragment of Mll2 cDNA (321 to 988) was used as probe that hybridized to 3.4 kb or 2.6 kb bands for Mll2F and Mll2FC respectively.
For in vivo tamoxifen inductions, tamoxifen base (Sigma, T5648) was dissolved in peanut oil (Sigma) at 80 mg/ml. The solution was shaken rigorously at 55°C until the tamoxifen was completely dissolved and divided into 50 μl aliquots for storage at -20°C. Mice received one aliquot containing 4 mg tamoxifen per day for five consecutive days. Aliquots were heated at 37°C and given by gavage with a 1.2 mm × 40 mm feeding needle (037-0129 MediQuick).
Testes were fixed for 6 hours in Bouin's fixative, dehydrated in a graded ethanol series, and embedded in paraffin. Mounted sections where used for hematoxylin/eosin stainings, for immunohistochemical staining, and TUNEL assays. For immunohistochemistry, antigen retrieval was performed in 50 mM glycine (ph 3.5; 90°C maintained for 8 min). TUNEL assays were performed on sections treated with Proteinase K (10 μg/ml) for 15 min at 37°C using the In situ Death Detection Kit (Roche). In situ hybridization was performed with digoxigenin-labeled cRNA probes (Mll, bp 11897 to 12400 of Accession no. NM001081049; Mll2, bp 8151 to 8458 of Accession no. NM029274) as previously described [57]. Total RNA from testes were isolated using TriReagent (Sigma), pretreated with Dnase I (Promega) and reverse-transcribed with oligo-dT primers and Superscript III (Invitrogen). DNA samples from at least three individual mice for each time point after induction were analyzed by the SYBR green method using a Stratagene MX4000. All assays produced Ct values below 30 (Additional file 4B) and were normalized against levels of GAPDH and Rpl19 mRNAs (all primers are listed in Additional file 5).
Declarations
Acknowledgements
We thank Jorma Toppari for discussions about spermatogenesis, Imke Listermann and Karla Neugebauer for help with ChIPing, Herbert Schulz and Norbert Huebner for help with expression profiling, and Michelle Meredyth for comments on the manuscript. This work was supported by funding from EU 6th Framework Programs FunGenES (LSHG-CT-2003-503494) and HEROIC (LSHG-CT-2005-018883). SG is supported by a postdoctoral fellowship from the Deutsche Forschungsgemeinschaft. All animal experiments were preformed according to German law (license nr. 24-9168.11-1-2004-26).
Authors' Affiliations
(1)
Genomics, BioInnovationsZentrum, Technische Universitaet Dresden, Dresden, Germany
(2)
Centre for Regenerative Therapies Dresden, BioInnovationsZentrum, Technische Universitaet Dresden, Dresden, Germany
(3)
Monash Institute of Medical Research, Melbourne and ARC Centre of Excellence in Biotechnology and Development, Monash University, Australia
(4)
Department of Histology and Cell Biology, School of Medicine, Yokohama City University, Yokohama, Japan
(5)
The Walter and Eliza Hall Institute of Medical Research, Melbourne, Australia
(6)
TaconicArtemis Pharmaceuticals GmbH, Cologne, Germany
(7)
Department of Applied Natural Sciences, University of Applied Science Gelsenkirchen, Recklinghausen, Germany
Copyright
© Glaser et al; licensee BioMed Central Ltd. 2009
This article is published under license to BioMed Central Ltd. This is an Open Access article distributed under the terms of the Creative Commons Attribution License (http://creativecommons.org/licenses/by/2.0), which permits unrestricted use, distribution, and reproduction in any medium, provided the original work is properly cited.