Metabolic labeling in middle-down proteomics allows for investigation of the dynamics of the histone code
Epigenetics & Chromatin
2017
10:34
Received: 16 January 2017
Accepted: 27 June 2017
Published: 6 July 2017
Abstract
Background
Middle-down mass spectrometry (MS), i.e., analysis of long (~50–60 aa) polypeptides, has become the method with the highest throughput and accuracy for the characterization of combinatorial histone posttranslational modifications (PTMs). The discovery of histone readers with multiple domains, and overall the cross talk of PTMs that decorate histone proteins, has revealed that histone marks have synergistic roles in modulating enzyme recruitment and subsequent chromatin activities. Here, we demonstrate that the middle-down MS strategy can be combined with metabolic labeling for enhanced quantification of histone proteins and their combinatorial PTMs in a dynamic manner.
Methods
We used a nanoHPLC-MS/MS system consisting of hybrid weak cation exchange–hydrophilic interaction chromatography combined with high resolution MS and MS/MS with ETD fragmentation. After spectra identification, we filtered confident hits and quantified polypeptides using our in-house software isoScale.
Results
We first verified that middle-down MS can discriminate and differentially quantify unlabeled from heavy labeled histone N-terminal tails (heavy lysine and arginine residues). Results revealed no bias toward identifying and quantifying unlabeled versus heavy labeled tails, even if the heavy labeled peptides presented the typical skewed isotopic pattern typical of long protein sequences that hardly get 100% labeling. Next, we plated epithelial cells into a media with heavy methionine-(methyl-13CD3), the precursor of the methyl donor S-adenosylmethionine and stimulated epithelial to mesenchymal transition (EMT). We assessed that results were reproducible across biological replicates and with data obtained using the more widely adopted bottom-up MS strategy, i.e., analysis of short tryptic peptides. We found remarkable differences in the incorporation rate of methylations in non-confluent cells versus confluent cells. Moreover, we showed that H3K27me3 was a critical player during the EMT process, as a consistent portion of histones modified as H3K27me2K36me2 in epithelial cells were converted into H3K27me3K36me2 in mesenchymal cells.
Conclusions
We demonstrate that middle-down MS, despite being a more scarcely exploited MS technique than bottom-up, is a robust quantitative method for histone PTM characterization. In particular, middle-down MS combined with metabolic labeling is currently the only methodology available for investigating turnover of combinatorial histone PTMs in dynamic systems.
Keywords
EpigeneticsHistonesMass spectrometryMethylationMiddle-downPosttranslational modificationsSILAC
Background
DNA and histone proteins are the major components of chromatin, a highly organized and dynamic macromolecular element in cell nuclei. Due to their intimate association with DNA, chromatin proteins modulate the transcription of genes, recruit enzymes responsible for DNA repair and also moderate condensation of DNA into chromosomes during mitosis and meiosis [1]. The basic unit of chromatin is the nucleosome, comprised of an assembly of eight histones, four histone types with two copies each, wrapped around by DNA every ~200 base pairs. Histones are heavily modified by posttranslational modifications (PTMs); such modifications contribute to all the above-mentioned chromatin functions mostly by serving as binding target for readers that get recruited on the chromatin [2]. For about 15 years, it has been proposed that histone sequence variations and combinations of PTMs compose a sort of "code" [3] that complements the genetic code in modulating chromatin activities. Nowadays the term "code" is not used as much anymore, mostly because it is yet unraveled. However, there are many examples of enzymes with multiple domains docking more than one histone PTM (e.g., [4]) and examples of cross talk between histone PTMs [5, 6]. For instance, both phosphorylation on serine 10 (S10ph) and acetylation on lysine 14 (K14ac) are required on the same histone H3 tail to activate the transcription of the gene p21, where only one of the two PTMs does not suffice [7]. As well, the binding of the heterochromatin protein 1 (HP1, or CBX) to the histone H3 mark K9me3 is obstructed and leads to protein release in the presence of H3S10ph [8]. Another example is that H3K4ac inhibits the binding of the protein spChp1 to H3K9me2/me3 in S. pombe [9]. Overall, these examples highlight the highly synergistic role of combinatorial PTMs and emphasize the need to quantify the total PTM content of a single histone tail.
Another open debate is whether histone PTMs are actually epigenetics, meaning that they are preserved during cell division, and which mechanisms are used for transgenerational inheritance (e.g., [10, 11]). Some studies propose that histone writers, and not histone PTMs, are preserved during replication (e.g., [12]). In general, understanding aberrant regulation of these heritable gene expression patterns is essential, as it is becoming increasingly evident that they are implicated in many disease pathologies, including cancer [13–15]. However, investigating this kind of histone PTM dynamics is not trivial, as it requires a methodology that can accurately quantify combinatorial histone PTMs, possibly discriminating old versus newly synthesized histones and their respective PTMs. Genetically encoded fluorescent reporters have been proposed as a suitable technique to understand PTM dynamics. This method involves tagging the protein of interest with two fluorophores using cloning techniques, and performing FRET analysis to determine the dynamics based on conformational changes [16, 17]. However, these experiments have several pitfalls to consider: (1) The protein crystal structure needs to be known to place the fluorophore in a key location that does not disturb the native secondary structure of the protein; (2) stable cell lines that express the desired constructs may not be obtained; (3) only one protein can be studied in a single experiment; and (4) no more than 2 modifications can be studied at same time. Modification-specific intracellular antibodies (mintbodies) were also developed to monitor the levels of histone PTMs in dynamic systems, thus overcoming some of the FRET-based techniques limitations [18]. This method provides information about the spatial distribution of a given mark, but only one PTM at a time can be studied in each experiment. Bernstein and co-workers also published a genomics approach to looking at combinatorial PTMs; the approach performs high-throughput single-molecule imaging and it can cope with multiple histone PTMs [19]. Overall, even though these methods have proved very successful in dedicated applications, they have all the limitations associated with the use of antibodies, including the fact that binding can be affected by nearby PTMs, which occurs frequently for hypermodified proteins such as histones.
Mass spectrometry (MS) is currently the ideal method to study histone PTMs [20], as high mass accuracy, speed and flexibility in MS/MS fragmentation allow for the rapid characterization of peptide sequences with unknown modifications [21]. MS has been widely applied in characterizing histones upon epigenetic aberrations, particularly related to abnormal levels of PTMs and histone mutations (reviewed in [22]). Middle-down MS is the sub-discipline of proteomics that adopts partial protein digestion to characterize coexisting PTMs. Usually, histones are purified and digested using GluC, because cleavage after glutamic acid cleaves the entire histone N-terminal tail from the nucleosome core. Most histone PTMs occur on the tails and so GluC digestion preserves the connectivity between the majority of histone PTMs [23]. After improvements in separation using a hybrid weak cation exchange–hydrophilic interaction chromatography (WCX–HILIC) [23], and efficient MS/MS fragmentation using electron transfer dissociation (ETD) [24], we optimized middle-down MS for histone tail analysis to a high-throughput platform [25]. In the same work, we introduced isoScale [25] as software tool to filter results from traditional proteomics search engines (not optimized for middle-down MS). isoScale also performs peptide quantification, including co-fragmented isobaric species, using the fragment ion relative ratio (FIRR) approach proposed by Pesavento et al. [26]. Today, isoScale is available at http://middle-down.github.io/Software/. More recently, we determined that the relative quantification of histone PTMs using middle-down MS proteomics is comparable to the more canonical bottom-up approach where shorter tryptic peptides are analyzed [27], demonstrating that middle-down MS is a reliable strategy for histone PTM quantification.
So far, middle-down MS has been exclusively performed using label-free approaches, as labeling adds further complexity into an already complex identification and quantification process. Metabolic "pulse" labeling was applied in a wide variety of histone-related projects using bottom-up MS, including determination of PTM catalysis rates on newly synthesized histones (using heavy lysines or arginines) [28], or the dynamics of histone methylations [29–31] [using heavy methionine, the precursor of the methyl donor S-adenosylmethionine (SAM)]. Combining middle-down MS and metabolic labeling would be the first technique that allows discrimination of newly synthesized proteins or PTMs while preserving the information of coexisting PTM patterns. Interestingly, a few studies demonstrated that analysis of intact proteins, namely top-down MS, can be performed when such proteins are metabolically labeled [32–34]. However, histone analysis is a whole different issue, due to their very large degree of modified forms, many of them leading to the same intact protein mass.
In this work, we labeled metabolically HeLa cells and cells undergoing epithelial to mesenchymal transition (EMT) using heavy lysine/arginine (K(13C6, 15N2), R(13C6, 15N4)) or methionine (M(methyl-13CD3)) in cell culture, respectively. Then, we analyzed histone H3 N-terminal tails using middle-down MS. We upgraded our in-house software isoScale [25] into the version isoScale labels (http://middle-down.github.io/Software/) to allow filtration of custom PTMs and heavy labeled peptide sequences, and then we demonstrate that middle-down MS can be used to analyze labeled histone N-terminal tails. Thanks to this method, we observed that H3K27me3 is a crucial player in EMT, and it is catalyzed during mesenchymal transition on histone proteins carrying the combinatorial pattern H3K27me2K36me2. This combination is converted into H3K27me3K36me2 in mesenchymal cells, likely silencing chromatin regions that were in a hybrid state in epithelial cells. In summary, our work enhances the flexibility of the middle-down MS platform, which can now be used to characterize the dynamics of both single and combinatorial histone PTMs.
Results
In this work, we evaluated the feasibility of middle-down MS proteomics to characterize the dynamics of histone PTMs upon metabolic labeling. Stable isotope labeling in cell culture (SILAC) is a routine quantitative strategy in proteomics [
39
]; by differentially labeling the protein amino acid sequence it is possible to discriminate samples mixed in the early stage of the preparation. Stable isotope labeling of the PTMs has also been applied, but it is less widely adopted (e.g., [
29
–
31
]). To assess the reliability of middle-down MS in analyzing isotopically labeled histones, we first tested the capability of the technique in discriminating unlabeled versus heavy labeled peptide sequences. To do so, we mixed histone H3 from HeLa cells grown in unlabeled and heavy KR medium in 1:1 ratio, digested them using GluC and analyzed them using nLC-MS/MS with ETD fragmentation (Fig.
1
a). After this analysis, we used isotopically labeled methionine to identify newly synthesized methylations on histone tails, being methionine a precursor of methylation. To do so, we monitored the accumulation of heavy labeled methylation on epithelial cells transitioning into mesenchymal cells at days 0, 1 and 2 (Fig.
2
b). Overall, this study allowed us to evaluate the quantification accuracy of middle-down MS in the analysis of metabolically labeled histone samples.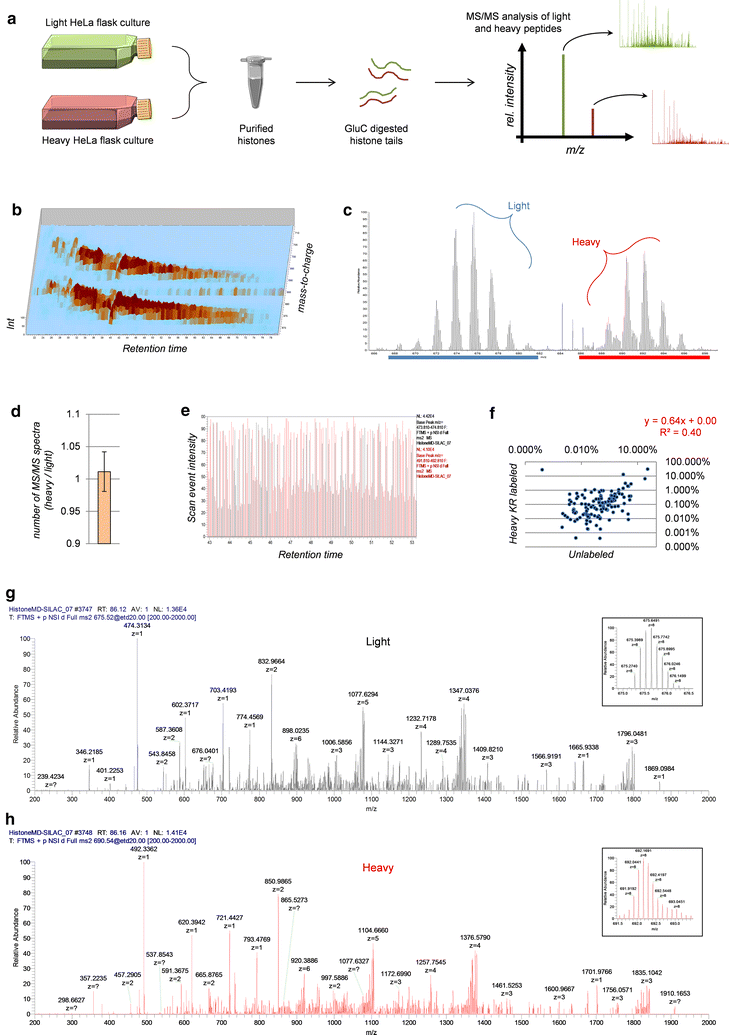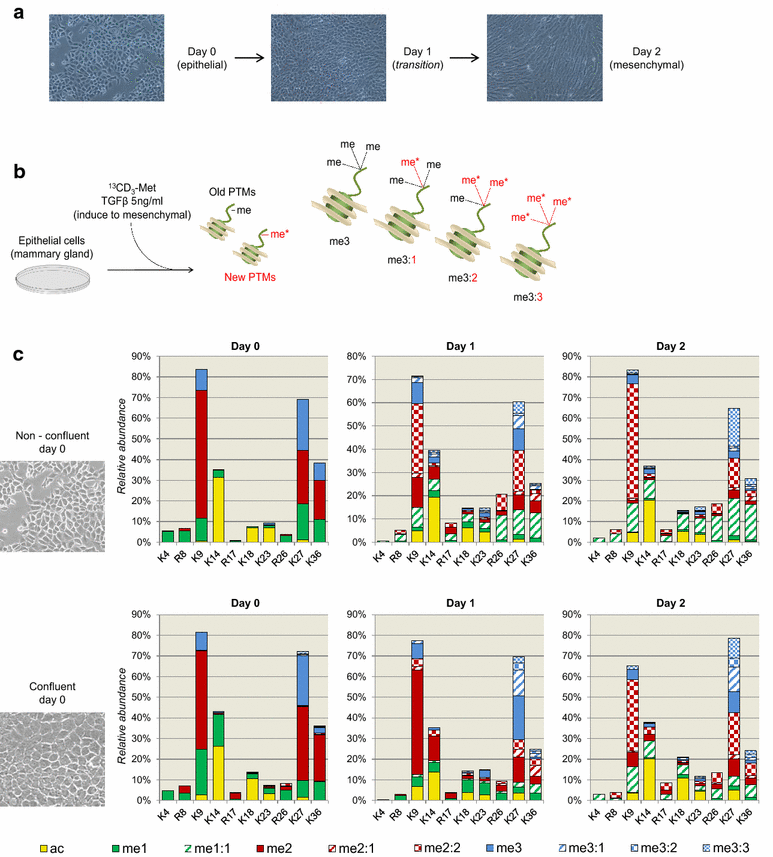 Discussion
In this manuscript, we demonstrate that middle-down MS proteomics can be exploited to identify and quantify combinatorial histone PTMs in the presence of either stable isotopic labeling of the protein sequence or the PTM methylation. Such stable isotopic labeling was introduced in the cells by using amino acids for the cell metabolism; for labeling the protein sequence, we used heavy lysine and arginine (typical of SILAC proteomics), while for labeling the methyl groups we used heavy methionine. First, we assessed that hypermodified histone tails can be equally identified and quantified in the presence of with these isotopic labels. Next, we verified that middle-down MS results are relatively comparable to bottom-up results, albeit with some variability. Finally, we exploited this new technology to define the dynamics of H3K27me3 during epithelial to mesenchymal transition, highlighting that this modification is mostly catalyzed on histones carrying specific PTM patterns.
Bottom-up MS is currently the most adopted method for histone and histone PTM characterization. As such, bottom-up MS methods and analysis tools are widely available. However, in bottom-up MS the connectivity between most PTMs is lost upon trypsin digestion. Middle-down MS offers an attractive alternative because we can analyze the intact tail. This methodology enables the identification of nearly all combinatorial PTM profiles, as most PTMs reside on the histone N-terminal tail. However, middle-down MS is still a more challenging and less reproducible technique, mostly due to the different type of chromatography, high performance MS and bioinformatics required. Such imperfect chromatography leads to a large percentage of isobaric combinatorial PTMs present in mixed MS/MS spectra, which are hard to identify and differentially quantify.
Because of the existing challenges, middle-down MS analyses have all been performed using label-free quantification so far. Very recently, Liao et al. [43] showed that by performing propionic anhydride derivatization on middle-down-sized histone tails you can improve separation with reversed-phase chromatography. It is not yet proved that derivatization with differentially labeled propionic anhydride can be performed to multiplex samples, but it is a possibility on the horizon. Sample labeling is an appealing goal, as label-free techniques require the most instrument time due to the impossibility of multiplexing, and they are more susceptible to variations in sample preparation and instrument performance. But mostly, metabolic labeling has one unique advantage, which is the possibility to "pulse" stable heavy isotopes and monitor the dynamics of biological processes such as protein and PTM turnover. We exploited this aspect in the present work by proposing a new analysis of histone PTMs with unprecedented depth. In fact, our workflow proved to be able to characterize PTM turnover and predict PTM cross talk. By using EMT as model system, we identified the binary marks H3K27me2H3K36me2 and H3K9unmodK27me2 being the main precursors of the transition into the chromatin silenced state H3K27me3K36me2 and H3K9me2K27me3 during EMT. This would have not been possible with either label-free middle-down MS or the traditional bottom-up MS, even if stable isotope labeling was adopted. We speculate that this type of analysis has potential in answering questions such as the order of deposition or removal of PTMs on newly synthesized or old histones, which will be critical for elucidation of PTM propagation and inheritance. Studying combinatorial PTM turnover during different cellular processes such as differentiation will also enable us to determine how chromatin states change. For example, a hypothetical combination such as H3K14acK18acK27me3:2 would indicate that the chromatin was in an open state (acetylation is correlated with euchromatin), but introduction of K27me, a repressive mark, could poise the chromatin to a more closed state. In the present manuscript, we provide the full workflow for nLC-MS/MS analysis and provide the link to our raw data and freely available software isoScale labels (http://middle-down.github.io/Software/) for filtering and quantification of middle-down MS identifications.
This methodology is also widely applicable to the other histone variants, or proteins other than histones. It will undoubtedly also be useful in quantifying turnover of protein variants that have a small number of amino acid substitutions such as histone H3.1 versus H3.3, as by using middle-down MS we can define the sequence variation of these two highly similar variants on the histone tail, not possible with most peptides in bottom-up MS. However, it is important to keep into consideration that when analyzing peptide sequences containing methionine residues the labeling of the protein sequence must be taken into account when analyzing methylation turnover, due to the fact that labeling of methyl groups is performed by using isotopically heavy methionine. Finally, the combination of protein and PTM labeling within a single experiment could provide a means to monitor new PTM deposition on old versus new protein, although this type of double labeling would require further validation of results due to the larger variety of the molecular candidates potentially present in the sample. This type of analysis may require a more advanced version of isoScale, or other software for middle-down MS. There are many potential applications of middle-down MS coupled to metabolic labeling, and this method will be particularly useful for highly modified proteins where maintaining PTM connectivity is desirable.
Conclusions
Collectively, we demonstrate that histone H3 N-terminal tails can be analyzed using middle-down MS when metabolic labeling is performed. In our work, we applied the technique for the investigation of histone PTM patterns during EMT, showing that H3K27me3 in mesenchymal cells is mostly the product of the catalysis on histones modified in specific ways in epithelial cells. We provide the workflow and the software to perform such experiment and filter result files. We consider this method of high potential to explore the dynamics of histone PTMs from a different perspective, not currently possible with any other technique. Our personal opinion is that middle-down MS should be more promoted as tool for chromatin biology, since it has great potential but it is still scarcely exploited. In this manuscript, we show that the methodology has reached an additional level of flexibility, potentially attractive for the above-mentioned applications.
Abbreviations
EMT:

epithelial to mesenchymal transition
ETD:

electron transfer dissociation
KR:

lysine/arginine (used when mentioned stable isotopic labeling)
MS:

mass spectrometry
MS/MS:

tandem mass spectrometry
nLC:

nano-liquid chromatography
PTM:

posttranslational modification
SAM:

S-adenosylmethionine
WCX–HILIC:

weak cation exchange–hydrophilic interaction chromatography
Declarations
Authors' contributions
All authors provided intellectual contributions and revised the manuscript; SS performed part of the experiments, analyzed the data and wrote the manuscript; CL and MC performed the experiments with non-confluent EMT cell lines; XW performed the experiment with confluent EMT cell lines; KRK performed the experiment with HeLa cell lines labeled in SILAC media; CR improved isoScale to make it suitable for the analysis of labeled protein sequences and PTMs; BAG helped conceiving and supervised the study. All authors read and approved the final manuscript.
Acknowledgements
We gratefully acknowledge funding from NIH Grants R01GM110174 and P01CA196539 and DOD Grant W81XWH-113-1-0426. We also acknowledge funding from the Leukemia and Lymphoma Society Dr. Robert Arceci Scholar Award.
Competing interests
The authors declare that they have no competing interests.
Availability of supporting data
Supplementary Material is included in the submission; raw files are available at https://chorusproject.org at the Project No. 1287.
Consent for publication
All authors agree to publish all material once the manuscript is accepted for publication.
Publisher's Note
Springer Nature remains neutral with regard to jurisdictional claims in published maps and institutional affiliations.
Open AccessThis article is distributed under the terms of the Creative Commons Attribution 4.0 International License (http://creativecommons.org/licenses/by/4.0/), which permits unrestricted use, distribution, and reproduction in any medium, provided you give appropriate credit to the original author(s) and the source, provide a link to the Creative Commons license, and indicate if changes were made. The Creative Commons Public Domain Dedication waiver (http://creativecommons.org/publicdomain/zero/1.0/) applies to the data made available in this article, unless otherwise stated.
Authors' Affiliations
(1)
Department of Biochemistry and Biophysics, Epigenetics Institute, Perelman School of Medicine, University of Pennsylvania, Philadelphia, USA