Cells adapt to the epigenomic disruption caused by histone deacetylase inhibitors through a coordinated, chromatin-mediated transcriptional response
Epigenetics & Chromatin
2015
8:29
Received: 18 May 2015
Accepted: 3 August 2015
Published: 16 September 2015
Abstract
Background
The genome-wide hyperacetylation of chromatin caused by histone deacetylase inhibitors (HDACi) is surprisingly well tolerated by most eukaryotic cells. The homeostatic mechanisms that underlie this tolerance are unknown. Here we identify the transcriptional and epigenomic changes that constitute the earliest response of human lymphoblastoid cells to two HDACi, valproic acid and suberoylanilide hydroxamic acid (Vorinostat), both in widespread clinical use.
Results
Dynamic changes in transcript levels over the first 2 h of exposure to HDACi were assayed on High Density microarrays. There was a consistent response to the two different inhibitors at several concentrations. Strikingly, components of all known lysine acetyltransferase (KAT) complexes were down-regulated, as were genes required for growth and maintenance of the lymphoid phenotype. Up-regulated gene clusters were enriched in regulators of transcription, development and phenotypic change. In untreated cells, HDACi-responsive genes, whether up- or down-regulated, were packaged in highly acetylated chromatin. This was essentially unaffected by HDACi. In contrast, HDACi induced a strong increase in H3K27me3 at transcription start sites, irrespective of their transcriptional response. Inhibition of the H3K27 methylating enzymes, EZH1/2, altered the transcriptional response to HDACi, confirming the functional significance of H3K27 methylation for specific genes.
Conclusions
We propose that the observed transcriptional changes constitute an inbuilt adaptive response to HDACi that promotes cell survival by minimising protein hyperacetylation, slowing growth and re-balancing patterns of gene expression. The transcriptional response to HDACi is mediated by a precisely timed increase in H3K27me3 at transcription start sites. In contrast, histone acetylation, at least at the three lysine residues tested, seems to play no direct role. Instead, it may provide a stable chromatin environment that allows transcriptional change to be induced by other factors, possibly acetylated non-histone proteins.
Keywords
Histone modificationChromatinGene expressionHistone deacetylase inhibitorsPolycomb complexValproic acidSuberoylanilide hydroxamic acid
Background
Levels of histone acetylation across the genome reflect a dynamic equilibrium between the activities of two enzyme families, lysine acetyltransferases (KATs) and histone deacetylases (HDACs) [1, 2]. HDAC activity can be suppressed by a variety of naturally occurring and synthetic compounds, resulting in a detectable increase in global histone acetylation after 10 min or less, and hyperacetylation of over 90 % of H4 molecules after just a few hours, indicating that most of the genome is acted on by KATs and HDACs ([3, 4] and references therein). This conclusion is consistent with studies on the genomic distribution of these enzymes [5–9].
Like other post-translational histone modifications, acetylation rarely acts in isolation, but as part of a combination of different modifications, usually along the histone N-terminal tails, that collectively regulate chromatin function [10–12]. They do this either by directly influencing chromatin structure, or by serving as docking sites for non-histone proteins which, in turn, exert functional change [13–15]. In view of this, generalisations about the functional roles of particular modifications are rarely appropriate or useful. However, there is a long-standing connection between relatively high levels of overall histone acetylation and transcriptional activity [16–18]. This association is supported by more recent epigenomic studies [19–24], and by experiments on the functional consequences of acetylation of specific histone lysines. For example, enhanced acetylation of H4 specifically at lysine 16 is a marker of the transcriptionally hyperactive male X chromosome in D. melanogaster [25, 26] and has recently been linked more generally to transcriptionally active genes [27]. H3K9 acetylation is consistently enhanced at gene promoter regions [28, 29], while H3K27 acetylation protects this residue from methylation by the Polycomb silencing Complex PRC2 and consequent long-term suppression of transcription [30, 31].
In view of this, it is puzzling that cells can tolerate so well the massive hyperacetylation of core histones, and other proteins, caused by histone deacetylase inhibitors (HDACi). Many cultured cell types, including non-transformed lines such as mouse embryonic stem cells, continue to grow, albeit slowly, in the presence of HDACi [32, 33] and whole organisms continue to function [34, 35]. Indeed, various HDACi have been in clinical use for many years. Valproic acid (VPA), a short-chain fatty acid, is an effective anti-epileptic and mood stabiliser [36], while VPA and chemically more complex HDACi such as hydroxamic acid derivatives and depsipeptide, have been tested against a variety of cancers [37–40]. It has been known for some time that cultured cells treated with HDACi do not undergo a global up-regulation of transcription. In fact, only a small proportion of genes significantly change expression, and up to half of these are down-regulated [41–45]. These findings raise fundamental questions regarding the relationship between histone acetylation and transcription, and about the mechanisms by which cells might protect their transcriptional programmes from the potentially disruptive effects of induced epigenetic change.
Attempts to define the processes through which HDACi influence cell function, are complicated by the fact that they usually inhibit several different members of the 18-strong HDAC family. The most commonly used HDACi, including short-chain fatty acids and hydroxamic acid derivatives, inhibit the class I and IIa enzymes, HDACs 1, 2, 3, 6 and 8, of which HDACs 1–3 are consistently chromatin associated and likely to be key players in regulation of gene expression [5]. These enzymes are catalytically active only when physically associated with specific partner proteins and four complexes have been isolated and characterised, namely CoRest, NuRD, Sin3 and NCoR/SMRT [46–48]. Class IIb and IV enzymes have little or no catalytic activity, while the NAD-dependent Class III enzymes (the Sirtuins, SIRT1-7) have a different catalytic mechanism and are unaffected by HDACi [49, 50]. Finally, each of the class I/IIa HDACs has multiple substrates, both histones and non-histone proteins, including various acetyltransferases and deacetylases [51–53].
Most previous work to explore cellular responses to HDACi has used treatment times of at least 4 h and often 24 h or longer, making it impossible to identify the key processes that underpin, and initiate, what is inevitably a complex and changing response. The experiments described here define the sequential transcriptional and histone modification changes that constitute the early response (within 2 h) of human cells to VPA and suberoylanilide hydroxamic acid (SAHA). The results reveal a coordinated transcriptional response that promotes cell survival by minimising protein hyperacetylation, slowing growth and re-balancing patterns of gene expression. Unexpectedly, the response involves a precisely timed increase in H3K27me3 at transcription start sites, but little or no increase in histone acetylation, whose role seems to be to provide a stable chromatin environment that allows transcription to be modified by other factors.
Results
All experiments were carried out with human lymphoblastoid cell lines, derived from B-lymphocytes immortalized, but not fully transformed, by Epstein Barr Virus (EBV, [54]). To explore the earliest transcriptional responses to HDACi, we treated cells, in triplicate, with either sodium valproate or SAHA for 0, 30, 60 and 120 min. We tested three concentrations of each inhibitor, covering a 25-fold range. A progressive increase in histone acetylation was detectable by western blotting at all concentrations of both inhibitors (Additional file 1A). No change in cell cycle profile or the frequency of apoptotic cells was detectable within 120 min, but after 24 h both inhibitors slowed cell cycle progression and, at the highest concentrations tested, induced a small proportion (8–10 %) of apoptotic cells (Additional file 1B).
To monitor changes in transcription, fluorescently-labelled cDNA from each sample was applied to a Nimblegen HD2 135K array, on slides each containing 12 such arrays. Thus, a time-course experiment (0, 30, 60, 120 min), in triplicate, could be accommodated on a single slide. We used
t
tests (
P
< 0.05, fold change >1.5) to identify genes whose transcript levels were significantly changed, relative to
t
0
, at each time point. After 120 min at the highest concentration of each inhibitor, about 7 % of elements on the array showed significantly up- or down-regulated expression, in approximately equal numbers (Fig.
1
).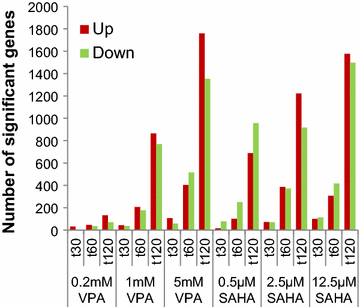 Conclusions
Cells respond to HDACi with a transcription based, adaptive response that allows them to survive in the presence of the inhibitor. The response includes the universal down-regulation of KAT complex components, a change that will diminish and eventually eliminate protein hyperacetylation caused by HDAC inhibition, and the up-regulation of developmental regulators that adjust transcription to accommodate inhibitor-induced epigenomic changes. Genes whose expression is sensitive to HDACi are consistently pre-marked by high levels of H3 and H4 acetylation. We find little evidence that transcriptional changes are driven by further increases in histone acetylation at gene control regions, but there is a dramatic, across-the-board increase in H3K27me3 at transcription start sites. Inhibition of the methyltransferase EZH1/2 alters the transcriptional response, confirming the functional involvement of the Polycomb complex PRC2. Collectively, our results support the conclusion that the transcriptional response to HDACi, including activation or mobilisation of PRC2, is driven by increased acetylation of specific non-histone proteins, with histone acetylation providing a chromatin context that allows transcriptional change. Given the potential importance of the survival response in determining the resistance or sensitivity of cancer cells to therapeutic doses of HDACi, the identification of these proteins is a key objective.
Methods
Cell culture
The work described here used two long-established human lymphoblastoid cell lines (LCL), GM12878 (Coriell Institute, see [28]) and AH-LCL (produced in-house in the course of previous work by Rowe and colleagues [84]). Lines were maintained at 37 °C, 5 % CO2 in RPMI 1640 medium, 10 % foetal bovine serum, supplemented with l-glutamine (2 mM) and penicillin/streptomycin (all reagents from Life Technologies). A stock solution of sodium valproate (VPA, Sigma) was prepared at 1 M in water and stocks of suberoylanilide hydroxamic acid (SAHA, Sigma) were prepared at 0.5, 2.5 and 12.5 in DMSO. Cells were treated at 0.2, 1 and 5 mM VPA and 0.5, 2.5 and 12.5 µM SAHA such that DMSO concentration in SAHA-treated cells was always 0.1 %. A stock solution of UNC1999 was prepared at 3 mM in DMSO and cells were treated with 3 µM UNC1999.
Antibodies
Rabbit polyclonal antisera to H4K16ac (R251), H3K9ac (R607) and H3K4me3 (R612) were raised in-house by immunisation with synthetic peptides conjugated to ovalbumin as previously described [85]. The antibody to H3K27me3 was from Millipore (07-449) and to H3K27ac from Abcam (ab4729). Antibody specificities was assayed by inhibition ELISA and checked by Western blotting.
Western blotting
Histones were extracted from ES cells by acid extraction and analysed by electrophoresis in 15 % SDS–polyacrylamide gels and western blotting as previously described [4]. Protein loading was confirmed by Ponceau S staining before proteins were probed with appropriate primary antibodies. Primary antibody binding was detected by fluorescent-tagged anti-rabbit IgG secondary antibody (Rockland) and detected by scanning (Odyssey system; LI-COR, Cambridge, UK).
FACS cell cycle analysis
Treated and control cells were washed in PBS and fixed in ice cold 90 % ethanol at −20 °C for at least 30 min. Fixed cells were washed in PBS and resuspended in propidium iodide staining buffer [PBS with 20 µg/ml propidium iodide (Sigma), 100 µg/ml RNase A (Life Technologies), 0.1 % NP40, 5 µg/ml tri-sodium citrate (Sigma), 5 % foetal bovine serum (Life Technologies) and 0.02 % sodium azide (Sigma)]. Cells were analysed on a Cyan ADP Flow Cytometer using Summit software v4.3 (Beckman Coulter), gating for forward and side scatter and pulse width to isolate single cells. Apoptotic populations in untreated or treated LCLs were determined using the Annexin V Apoptosis Detection Kit—APC (eBioscience) according to the manufacturer's instructions.
Microarray expression analysis
All microarray experiments were carried out in biological triplicates. All microarray reagents are from Roche Nimblegen unless otherwise stated. Cells were harvested by centrifugation and RNA was extracted and purified using the RNeasy kit with DNase digestion (Qiagen) according to the manufacturer's instructions. Double stranded cDNA was synthesised using the cDNA Synthesis System, including RNase I and Proteinase K treatment followed by DNA clean up using the PCR purification kit (Qiagen). Samples were labelled with cy3 using a Nimblegen One-Colour Labeling Kit, mixed with alignment oligos and sample tracking control oligos (Nimblegen Hybridisation and Sample Tracking Control Kits) and hybridised to a 12 × 135k HD2 expression array (Roche Nimblegen, containing 3 probes per sequence for 44,049 human sequences) and scanned on a Nimblegen MS200 Microarray scanner. Data were extracted using DEVA (Roche Nimblegen) and normalised by robust multichip average in R. Direct comparisons of t 0 and individual time points was carried out using t Tests. Genes with a P value smaller than 0.05 and FC larger than 1.5 have been selected for further analysis including functional annotation and network construction. The ongoing transcriptional response was identified using ANOVA in TMEV [86]. The P values derived from ANOVA analysis were corrected for multiple testing by performing the Benjamini–Hochberg correction in R. Differentially expressed genes were selected using a threshold of false discovery rate (FDR) smaller than 10 % with fold change greater than 1.5. In order to group genes with similar expression patterns into clusters, a SOTA analysis was performed using TMEV [86]. Each cluster that was characterised by highly co-regulated genes was then functionally annotated for GO terms using the web based tool DAVID [55]. Co-regulation networks were constructed using ARACNE and visualised in Cytoscape with a forced directed layout. The microarray data from this publication have been submitted to the GEO database (http://www.ncbi.nlm.nih.gov/geo/) and assigned the identifier GSE65297.
Chromatin immunoprecipitation: sequencing
Immunoprecipitation of native chromatin was performed based on the method described previously [87]. Briefly, cells were lysed to release nuclei prior to micrococcal nuclease digestion. The amount of micrococcal nuclease added and digestion time were adjusted to obtain a mix of mono- and short oligo-nucleosomes, optimal for immunoprecipitation. Chromatin was pre-cleared by incubation with protein A Sepharose beads and incubated overnight with antibodies to H4K16ac, H3K9ac, H3K27ac and H3K27me3. Antibody-bound material was isolated on Protein A-Sepharose beads (Invitrogen, UK) and DNA from antibody-bound and input chromatin was purified by PCR purification kit (Qiagen). Sequencing libraries were prepared from 100 ng DNA per sample using the KAPA Library preparation kit for Illumina (Anachem). Samples were barcoded using the system described by Bronner et al. [88]. Sequencing was carried out at the West Midlands Regional Genetics Laboratory. Pooled libraries were clustered using a 'cBot' cluster generation system at a final concentration of 13 pM, followed by sequencing on a HiSeq 2500, in 'rapid run', paired-end mode (2 × 51 bp). FASTQ files were simultaneously generated and de-multiplexed using the Illumina 'HiSeq Analysis software' v0.9 followed by alignment using Bowtie2 [89]. Bowtie2 was run using the default parameters for 'very-sensitive-local' alignment mode. Crucially, this means the 'best alignment' is reported for every read that can be mapped; if there are two alignments that are tied, then one is randomly chosen. The output from Bowtie2 was converted to bam files and sorted using Samtools v0.1.19. ChIP-seq data was analysed using SeqMonk (Babraham Institute, http://www.bioinformatics.babraham.ac.uk/projects/seqmonk/).
Declarations
Authors' contributions
JAH devised and performed laboratory experiments, analysed the data and wrote the paper. NT analysed the data. MW performed experiments. BMT devised experiments, discussed the data and wrote the paper. All authors read and approved the manuscript.
Acknowledgements
We are grateful to Paul Marks for sending us the SAHA used for our first experiments, Samuel Clokie, WMRGL, for assistance with Hi-Seq DNA sequencing and Simon Andrews and the bioinformatics team at the Babraham Institute for introducing us to SeqMonk. We thank Peter Cockerill, Padma-Sheela Jayaraman and Karl Nightingale for critical reading of early versions of the manuscript. This work was supported by project Grants from Cancer Research UK.
Compliance with ethical guidelines
Competing interests The authors declare that they have no competing interests.
Open AccessThis article is distributed under the terms of the Creative Commons Attribution 4.0 International License (http://creativecommons.org/licenses/by/4.0/), which permits unrestricted use, distribution, and reproduction in any medium, provided you give appropriate credit to the original author(s) and the source, provide a link to the Creative Commons license, and indicate if changes were made. The Creative Commons Public Domain Dedication waiver (http://creativecommons.org/publicdomain/zero/1.0/) applies to the data made available in this article, unless otherwise stated.
Authors' Affiliations
(1)
Chromatin and Gene Expression Group, School of Cancer Sciences, College of Medical and Dental Sciences, University of Birmingham, Birmingham, UK