The PEG13-DMR and brain-specific enhancers dictate imprinted expression within the 8q24 intellectual disability risk locus
Epigenetics & Chromatin
2014
7:5
Received: 26 September 2013
Accepted: 5 March 2014
Published: 25 March 2014
Abstract
Background
Genomic imprinting is the epigenetic marking of genes that results in parent-of-origin monoallelic expression. Most imprinted domains are associated with differentially DNA methylated regions (DMRs) that originate in the gametes, and are maintained in somatic tissues after fertilization. This allelic methylation profile is associated with a plethora of histone tail modifications that orchestrates higher order chromatin interactions. The mouse chromosome 15 imprinted cluster contains multiple brain-specific maternally expressed transcripts including Ago2, Chrac1, Trappc9 and Kcnk9 and a paternally expressed gene, Peg13. The promoter of Peg13 is methylated on the maternal allele and is the sole DMR within the locus. To determine the extent of imprinting within the human orthologous region on chromosome 8q24, a region associated with autosomal recessive intellectual disability, Birk-Barel mental retardation and dysmorphism syndrome, we have undertaken a systematic analysis of allelic expression and DNA methylation of genes mapping within an approximately 2 Mb region around TRAPPC9.
Results
Utilizing allele-specific RT-PCR, bisulphite sequencing, chromatin immunoprecipitation and chromosome conformation capture (3C) we show the reciprocal expression of the novel, paternally expressed, PEG13 non-coding RNA and maternally expressed KCNK9 genes in brain, and the biallelic expression of flanking transcripts in a range of tissues. We identify a tandem-repeat region overlapping the PEG13 transcript that is methylated on the maternal allele, which binds CTCF-cohesin in chromatin immunoprecipitation experiments and possesses enhancer-blocker activity. Using 3C, we identify mutually exclusive approximately 58 and 500 kb chromatin loops in adult frontal cortex between a novel brain-specific enhancer, marked by H3K4me1 and H3K27ac, with the KCNK9 and PEG13 promoters which we propose regulates brain-specific expression.
Conclusions
We have characterised the molecular mechanism responsible for reciprocal allelic expression of the PEG13 and KCNK9 transcripts. Therefore, our observations may have important implications for identifying the cause of intellectual disabilities associated with the 8q24 locus.
Keywords
ImprintingDNA methylationChromatin looping
Background
Genomic imprinting is the epigenetic marking of a subset of genes that results in parent-of-origin monoallelic expression. The regulation of imprinting is complex, involving interplay between many different epigenetic mechanisms, including DNA methylation, histone tail modifications and non-coding RNA (ncRNAs) [1]. Most imprinted genes are associated with a region of differential DNA methylation that is acquired in the gametes, and maintained in somatic tissues after fertilization by the UHRF1-DNMT1 complex [2–4].
The majority of imprinted differentially DNA methylated regions (DMRs) acquire their methylation from oocytes, as only a few examples of sperm-derived methylation at DMRs are known [5]. Maternally methylated DMRs generally act as promoters, associated in some cases with long ncRNAs. In some cases these ncRNAs confer silencing of neighbouring genes in cis through recruitment of histone remodelling complexes [6, 7]. Some of the intergenic, paternally methylated, DMRs act as methylation-sensitive insulators recruiting CTCF [8], influencing higher-order chromatin folding [8].
Aberrant imprinting in the brain is known to be associated with severe developmental disorders such as Angelman and Prader-Willi syndromes, and other behavioural phenotypes including autism-spectrum disorder (ASD), mental retardation (MR) and psychosis [9, 10]. Recently, several genome-wide scans have identified susceptibility alleles for MR and ASD mapping to 8q22-24 [10]. This approach was used to identify maternally inherited missense mutations of the imprinted two pore-domain potassium channel (K2P) gene, KCNK9 (also known as TASK3) in Birk-Barel mental retardation syndrome [11]. This gene is located adjacent to TRAPPC9 (also known as NIBP), a gene disrupted by both coding mutations and deletions in non-syndromic, autosomal-recessive mental retardation [12–15]. The orthologous region on mouse chromosome 15 shows parent-of-origin allelic expression in mouse brain, and includes the maternally expressed Kcnk9[16], Trappc9, Chrac1 and Ago2 (also known as Eif2c2) genes, clustered around the paternal Peg13 ncRNA (Figure 1A).
In the present study, we characterise the human 8q24 locus, and show that only
PEG13
and
KCNK9
are imprinted (Figure
1
B). These transcripts are reciprocally expressed, with paternal expression of
PEG13
and maternal expression of
KCNK9
. The
PEG13
transcript is embedded within a maternal methylated region, with the unmethylated allele enriched for CTCF-cohesin, which acts as an enhancer-blocker
in vivo
. Lastly, we show chromatin loops between an enhancer region, with a canonical enhancer histone modification signature in brain tissues, and the
KCNK9
and
PEG13
promoters.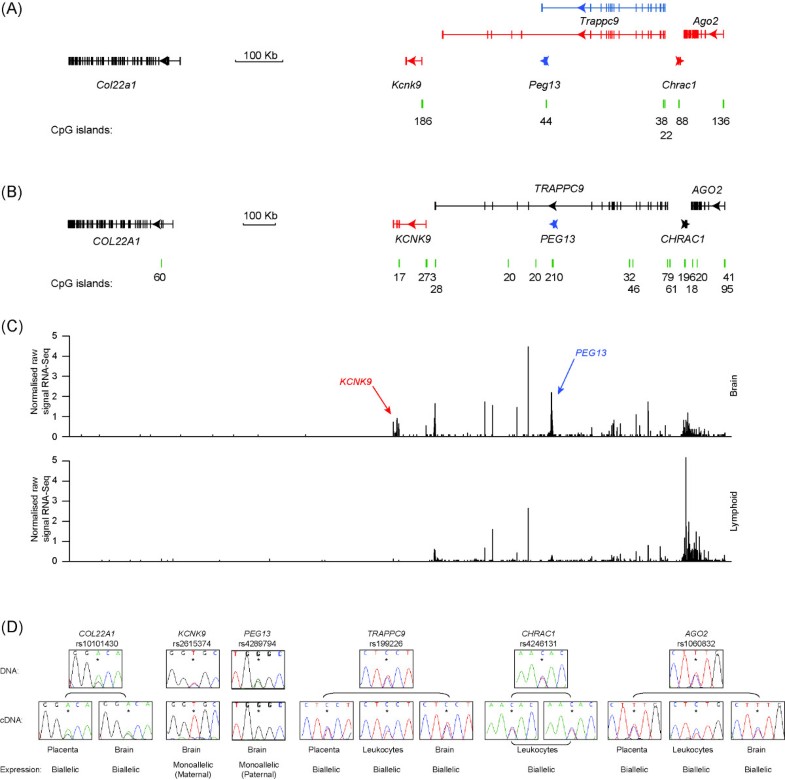 Discussion
We have characterised a new imprinted cluster on human chromosome 8q24, which harbours two brain-specific genes. We show that the promoter of the novel, paternally expressed, non-coding PEG13 transcript arises from a maternally methylated DMR. This DMR binds a CTCF-cohesin complex that acts as a methylation-sensitive enhancer-blocker on the unmethylated paternal allele. Furthermore, we have utilized publically available ChIA-PET datasets to identify an enhancer region that was previously unknown to be associated with gene expression within the locus. The ChIA-PET technique combines both chromatin immunoprecipitation with 3C-type analyses for the direct analysis of chromatin interactions exclusively formed between sites bound by a given chromatin interacting protein, in our case CTCF, however it does not address whether the identified loops depend on the protein of interest. We confirm the ChIA-PET interactions using standard 3C assays in brain. Our data suggest that the brain-specific expression of the imprinted transcripts is directly due to the acquisition of an active enhancer chromatin signature. The genomic regions immediately flanking the 3C/ChIA-PET interacting region within intron 17 of TRAPPC9 is marked in neuronal tissues by H3K4me1, a histone mark associated with many cell-type specific enhancers, abundant H3K27ac, with the acetyl group presumably deposited by the P300 acetyltransferase [30].
DNA methylation composition in brain is highly dynamic, being present in several forms. An oxidative derivative of 5-methylcytosine (5mC) called 5-hydroxymethylcytosine (5-hmC) accumulates in adult brain [31, 32]. In addition, methylation in non-CpG context (mCH, where H is A, C or T) is also more abundant in frontal cortex of both adult mouse and humans [32]. Previous reports have shown that the adult brain contains high levels of 5-hmC, accounting for approximately 40% of CG methylation in cerebellar Purkinje cells [31]. This modification is especially enriched in multi-exonic, highly expressed brain genes [33]. Methodologies based on standard bisulphite-sequencing techniques cannot distinguish between abundant 5mC and 5-hmC and sites, so the methylation profiles we identified by WGBS or bisulphite PCR will represent the sum of both modifications. However, our results using meDIP using an antibody directed against 5mC strongly suggest that the methylation we observe is not 5-hmC. This observation at the brain-specific PEG13 transcript is consistent with intronless, single exon genes having significantly less, or no, 5-hmC when compared to spliced transcripts [34]. In addition, a previous genome-wide study has identified 'diffuse' parent-of-origin dependent non-CG methylation sites overlapping the gene bodies of the mouse Ago2 and Peg13 genes [19]. Our analyses did not reveal any allelic methylation outside the CpG context at the PEG13 or AGO2 gene in WGBS datasets from human grey and white brain matter or by direct bisulphite PCR in adult frontal cortex (Additional file 4: Figure S3) [19]. This evolutionary discrepancy may partially explain the lack of imprinting of the AGO2 gene in humans.
Changes in the accumulation of DNA methylation in neurons throughout early childhood has been implicated in learning and memory, as well as cognitive function [32, 35]. Some Angelman syndrome cases, as well as autism and ASD, are associated with coding mutations and methylation defects at the imprinted SNRPN locus [9, 10]. Interestingly, similar to the long-range looping we that we have identified for KCNK9, the PWS/AS-IC interacts with the CHRNA7 gene, a distance of more than 5 Mb [36, 37]. This higher-order chromatin interaction is associated with MeCP2, suggesting that this protein, like CTCF, is capable of orchestrating long-range chromatin organisation in the brain [37].
Conclusions
We identified a maternally methylated region that binds CTCF-cohesin, possesses enhancer- blocker activity, which we hypothesize dictates mutually exclusive chromatin looping between a novel enhancer region and the promoters of the reciprocally imprinted PEG13 and KCNK9 transcripts. Our findings are of particular relevance, not only to those researchers working on the aetiology of intellectual disabilities, but also to those interested in tissue-specific transcriptional regulation, since we show that the essential chromatin scaffold of the domain is present in all tissues but that a brain-specific enhancer is the only regulatory element dictating tissue specificity. It will be interesting to determine whether the PEG13 ncRNA functional contributes to the imprinting of the KCNK9 gene and whether these two imprinted transcripts are subject to epigenetic deregulation of the cis-acting sequences that could silence or cause loss-of-imprinting in non-syndromic forms of intellectual disability.
Abbreviations
3C:

chromosome conformation capture
5-hmC:

5-hydroxymethylcytosine
ASD:

autism-spectrum disorder
bp:

base pair
BAC:

bacterial artificial chromosome
ChIP:

chromatin immunoprecipitation
CMV:

cytomegalovirus
CpG:

CpG dinucleotide
Ct:

cycle threshold
DMEM:

Dulbecco's modified Eagle's medium
DMR:

differentially methylated region
ESTs:

expressed sequence tags
FCS:

fetal calf serum
H3K:

histone 3 lysine
MR:

mental retardation
ncRNA:

non-coding RNA
qRT-PCR:

real-time quantitative polymerase chain reaction
SNP:

single nucleotide polymorphism
UCSC:

University of California Santa Cruz
WGBS:

whole genome bisulphite sequencing.
Declarations
Acknowledgements
We thank Isidro Ferrer of the Barcelona Brain Bank for supplying human brain specimens. We also thank Thierry Forne for supplying the reagents for the 3C experiments. We are especially grateful to Isabel Iglesias-Platas and all the families and staff members at Hospital Sant Joan de Déu for participating and coordinating the placenta tissue and cord blood collection. This work was supported by Spanish Ministerio de Educacion y Ciencia (grant number BFU2011-27658 to DM); Fundació La Marató de TV3 (101130 to DM); Telethon-Italia grant number GGP11122 (to AR). DM and AR are members of the COST action BM1208. DM is a Ramon y Cajal research fellow and AGA was funded by a FPU studentship.
Authors' Affiliations
(1)
Imprinting and Cancer Group, Cancer Epigenetics and Biology Program (PEBC), Bellvitge Institute for Biomedical Research (IDIBELL), L'Hospitalet de Llobregat, Barcelona, Spain
(2)
Department of Molecular and Cellular Biology, Centro Nacional de Biotecnología (CNB-CSIC), Madrid, Spain
(3)
CIBERER-ISCIII, Madrid, Spain
(4)
Institute of Genetics and Biophysics, A Buzzati-Traverso, CNR, Naples, Italy
(5)
Cancer Epigenetics Group, Cancer Epigenetics and Biology Program (PEBC), Bellvitge Institute for Biomedical Research (IDIBELL), L'Hospitalet de Llobregat, Barcelona, Spain
(6)
Department of Physiological Sciences II, School of Medicine, University of Barcelona, Barcelona, Spain
(7)
Institucio Catalana de Recerca i Estudis Avançats (ICREA), Barcelona, Spain
(8)
Unidad de Genética Médica, Sistemas Genómicos SL, Paterna, Spain
Copyright
© Court et al.; licensee BioMed Central Ltd. 2014
This article is published under license to BioMed Central Ltd. This is an Open Access article distributed under the terms of the Creative Commons Attribution License (http://creativecommons.org/licenses/by/2.0), which permits unrestricted use, distribution, and reproduction in any medium, provided the original work is properly credited. The Creative Commons Public Domain Dedication waiver (http://creativecommons.org/publicdomain/zero/1.0/) applies to the data made available in this article, unless otherwise stated.