A global assessment of cancer genomic alterations in epigenetic mechanisms
Epigenetics & Chromatin
2014
7:29
Received: 12 August 2014
Accepted: 14 October 2014
Published: 4 December 2014
Abstract
Background
The notion that epigenetic mechanisms may be central to cancer initiation and progression is supported by recent next-generation sequencing efforts revealing that genes involved in chromatin-mediated signaling are recurrently mutated in cancer patients.
Results
Here, we analyze mutational and transcriptional profiles from TCGA and the ICGC across a collection 441 chromatin factors and histones. Chromatin factors essential for rapid replication are frequently overexpressed, and those that maintain genome stability frequently mutated. We identify novel mutation hotspots such as K36M in histone H3.1, and uncover a general trend in which transcriptional profiles and somatic mutations in tumor samples favor increased transcriptionally repressive histone methylation, and defective chromatin remodeling.
Conclusions
This unbiased approach confirms previously published data, uncovers novel cancer-associated aberrations targeting epigenetic mechanisms, and justifies continued monitoring of chromatin-related alterations as a class, as more cancer types and distinct cancer stages are represented in cancer genomics data repositories.
Keywords
EpigeneticsPan-cancerChromatinMutationAmplificationRNA-seq
Background
Epigenetic control of gene expression dictates cell fate in health and disease, and dysregulation of epigenetic signals is associated with cancer [1, 2]. Two observations support pharmacological targeting of the 'cancer epigenome' [1]: (1) some cancer-associated epigenetic aberrations drive cancer initiation or progression; and (2) unlike genetic information, epigenetic states are reversible. Pharmacological agents targeting with little specificity DNA methylation and histone de-acetylation have been approved for the treatment of myelodysplastic syndrome and lymphoma respectively [3, 4], and compounds targeting bromodomain-containing proteins and protein methyltransferases have recently advanced to clinical trials [5, 6]. Cancer associated overexpression, mutation, or aberrant recruitment of chromatin factors (defined here as proteins that participate in the chemical modification of DNA, histones, or control nucleosome occupancy), represent emerging opportunities for cancer therapy. For instance, inhibitors of EZH2 - a histone 3 lysine 27 (H3K27) methyltransferase that is overexpressed in a number of solid tumors and is the site of recurrent gain-of-function mutations in lymphoma - are raising considerable interest as potential anti-cancer agents, and have recently advanced to the clinic [5].
Chromosomal aberrations and altered expression of chromatin factors that are recurrent in specific cancer types have been reported in the literature, some extensively, and recently reviewed [2, 7–9]. Out of the recent compilation of the 58 most frequently mutated genes in cancer [10], we find that 16 are chromatin factors. These aberrations can lead to the deregulation of chromatin patterns controlling hundreds of target genes, as recently reviewed by Plass et al.[11]. Pan-cancer analyses of the human genome's mutational landscape were also recently reported [12–14]. Here, we present a pan-cancer analysis focused on proteins that shape the human epigenome based on the chromosomal and transcriptional landscape of tumor samples from cancer patients available from The Cancer Genome Atlas (TCGA) [15] and the International Cancer Genome Consortium (ICGC) [16]. We took an unbiased approach and focused on cancer types with large numbers of patient samples, but excluding genomes that are extensively rearranged. This systematic and integrated approach identifies many oncogenic aberrations already recorded in the literature, but also uncovers novel alterations recurrently affecting chromatin factors in specific cancer types. Overall our results provide novel insight into the cancer epigenome revealing a tendency toward alterations predicted to result in greater transcriptional repression, decreased transcriptional activation and reduced chromatin remodeling.
Discussion
Recent landmark next-generation sequencing campaigns of large cancer patient cohorts repeatedly revealed recurrent alterations of genes involved in epigenetic mechanisms [20, 23, 24, 59–61]. The data associated with most of these and other unbiased cancer genomic projects were deposited in TCGA and the ICGC repositories, and made publicly accessible to the scientific community [14, 16]. Here, we took a systematic approach to analyze this aggregated data across a list of 441 genes involved in chromatin-mediated signaling.
Specific combinations of post-translational modifications of DNA and histones at distinct genomic elements control chromatin compaction, nucleosome occupancy, and gene activation status [
62
]: histone acetylation and H3K4 di- or tri-methylation at promoters, H3K4 mono-methylation at enhancers and tri-methylation of H3K36 as well as DNA methylation in gene bodies are associated with transcriptionally active genes. Promoters tri-methylated at H3K4 and H3K27 are thought to be in a state that is transcriptionally repressed, but 'poised' for rapid activation upon demethylation of H3K37. Finally, tri-methylated H3K9 and methylated DNA at enhancers, or a combination of these two marks with trimethylated H3K27 at promoters, is associated with gene silencing (Figure
6
A,B).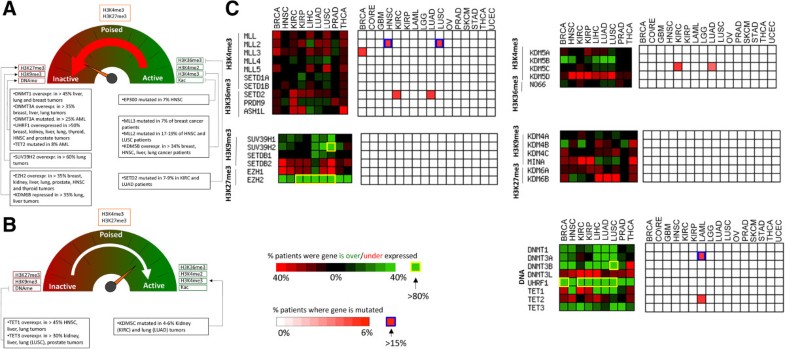 Intriguingly, we find that enzymes that deposit histone marks associated with gene activation, such as the H3K4 trimethylases MLL1-4 and SETD1A/B, or the H3K36 trimethylase SETD2 are more often repressed and mutated in cancer (Figure 6C). On the other hand, enzymes that deposit repressive histone marks, such as the H3K9 trimethylases SETDB1 or SUV39H1/2, and the H3K27 trimethylase EZH2 are overexpressed in most cancer types studied. The trend is not as clear for demethylase, but we note that KDM5B, which removes the activating mark H3K4me3, is significantly overexpressed in five of the eight cancer types studied and never repressed, while the H3K27me3 demethylases KDM6A/B are repressed in most cancer types (Figure 6C). Alterations in genes regulating histone methylation appear therefore to be biased towards silencing histone marks. The functional relevance of this observation is unclear. We note that alterations of genes regulating DNA methylation do not follow a similar trend (Figure 6C), and that transcription levels are not repressed in tumor samples when averaging across the whole genome (Additional file 6: Figure S4). In this regard, it is unlikely that a general trend in the control of transcription applies across all tumors, considering the divergence in molecular mechanisms driving different cancer subtypes.
Currently approved epigenetic drugs are DNMT and HDAC inhibitors against myelodysplastic syndrome, acute myeloid leukemia, and lymphoma. With the exceptions of DNMT3B, which is significantly overexpressed in most cancer types studied here, and DNMT3A which is highly mutated in LAML, we do not see notable mutation rates or cancer-associated changes in expression level for DNMTs and HDACs (Additional file 2: Figure S1). We also note that the mode of action of these first generation drugs remains unclear and their toxicity profile mediocre. Some of the emerging epigenetic drugs, such as bromodomain, protein methyltransferase, or IDH1 inhibitors, are targeting patient group with clear oncogenic chromosomal aberrations such as gene fusions at BRD4 and MLL1, or mutations at IDH1[6, 63, 64]. Translocations are not included in our analysis, but IDH1 mutations are high on our chromatin factor mutation landscape (Additional file 2: Figure S1A). Other peaks, such as ATRX mutations in lower grade glioma or ARID1A mutations in endometrial cancer and stomach adenocarcinoma may represent other points of entry for therapeutic intervention.
Conclusions
The refined complexity of chromatin as a signaling platform, and its dysregulation in cancer, can only be dissected through systematic identification and functional characterization of all chromatin factors, in specific tissue types, and at specific stages of cancer progression. Here, we apply a reductionist approach to identify general trends associated with protein families or chromatin complexes that are primary determinants of the cancer epigenome. This analysis is restricted by the limited but rapidly growing number of cancer types that are represented at TCGA and the ICGC repositories. It is also limited by restrictions that we imposed to focus on statistically significant patient cohorts and on non-hypermutated genomes (see Methods section for details). It has been proposed that most epigenetic-associated mutations are observed in hematological, in pediatric, or in rare and aggressive variants of solid tumors [9]. It was also noted that, contrary to the general pattern identified here, H3K4me3 and H3K36me3 marks are upregulated during epithelial to mesenchymal transition, an important step in cancer progression [9]. As the volume of cancer genomics data grows, future analysis similar to the one presented here should capture with more accuracy epigenetic transformations underlying distinct types and stages of cancer.
Methods
Data access
All raw data analyzed can be accessed and downloaded via the Broad TCGA GDAC Firehose (http://gdac.broadinstitute.org/) or the ICGC data portal (http://dcc.icgc.org/). Somatic mutation, copy number variation, RNASeq gene expression, and DNA methylation data downloaded via TCGA's Firehose was extracted from the 'stddata Run' and is pre-processed. This means the data have been mapped to genes, genomic locations, and a variety of auxiliary data has been added (ex. Amino acid change for mutation data). This type of pre-processed data is referred to as 'Level 3' data using TCGA's nomenclature. Only pre-processed somatic mutation data (version 12) referred to as 'Simple Mutation' were downloaded from the ICGC data portal. Further analyzed data, known as Level 4' , are extracted for somatic mutation and copy number data from the 'analyses run'. Level 4 data are produced by taking level 3 data and running an algorithm that further isolates statistically significant alterations. For mutation data the algorithm used is MutSigCV [65], while GISTIC 2.0 [66] is used for copy number data.
Cancer types
In most cases, nomenclature and abbreviations of cancer types used at TCGA and the ICGC were preserved. These are TCGA: BRCA: invasive breast carcinoma, COAD: colon adenocarcinoma, COADREAD: colon and rectum adenocarcinoma, GBM: glioblastoma multiforme, LUAD: lung adenocarcionma, LAML: acute myeloid leukemia, HNSC: head and neck squamous cell carcinoma, KIRC: kidney renal clear cell carcinoma, KIRP: kidney renal papillary cell carcinoma, LGG: lower grade glioma, LUSC: lung squamous cell carcinoma, OV: ovarian serous cystadenocarcinoma, SKCM: skin cutaneous melanoma, STAD: stomach adenocarcinoma, THCA: thyroid carcinoma, LIHC: liver hepatocellular carcinoma, PRAD: prostate adenocarcinoma, and UCEC: uterine corpus endometrioid carcinoma (The Cancer Genome Atlas Network). For ICGC: breast carcinoma, breast cancer, colorectal cancer, glioblastoma multiforme, lung adenocarcinoma, myeloproliferative disorders, chronic lymphocytic leukemia, liver cancer, pediatric brain tumors, and pancreatic cancer. Mutation data downloaded from the TCGA were excluded from the ICGC downloads. In a few cases, distinct patient cohorts from TCGA and the ICGC were affected by similar cancer types. These were merged as follows: breast cancer, breast carcinoma cohorts from ICGC and BRCA cohort from TCGA, colorectal cancer, COADREAD and READ cohorts from TCGA, glioblastoma multiforme cohort from ICGC and GBM cohort from TCGA, lung adenocarcinoma cohort from ICGC and LUAD cohort from TCGA.
Somatic mutations
Somatic mutations relative to the reference human genome (hg18 for COAD/READ, LAML and OV; hg19 for all other cancer types) are extracted from sequencing data using complex algorithms (which are not discussed here since this pre-processing step is conducted at TCGA and the ICGC) and linked to anonymized patient ID, affected gene/transcript, chromosomal position, and nucleotide/amino acid change. For each patient, the overall number of genes mutated within the tumor sample genome is stored and used to filter out cancer genomes with unusually high number of mutations. This cutoff differs across cancer types based on their mutation level. In order to determine this cutoff, for each cancer type cohort analyzed, the number of mutated genes was plotted across all patients and a value equivalent to the mean +3*standard deviation of the normal distribution was used to set the cutoff (Additional file 7: Figure S5). Any tumor with more mutated genes than the cutoff set for that cancer type was excluded from the analysis when analyzing mutations hotspots and mutation co-occurrence/mutual exclusion, that is, when comparing each individual patient. In other analyses, where the readout is the frequency of mutation, we rely on MutSigCV, which accounts for background mutation rates, gene length, and other source of noise (q value ≤0.1) [65]. No normal distribution, but a continuum of highly mutated genomes were found for lung squamous cell carcinoma and skin cutaneous melanoma, and these two patient cohorts were therefore excluded from our recurrent mutation analysis. Since the frequency of mutation of a single gene is low, cohorts that were less than 100 patients were excluded. Additionally, mutation frequencies that were derived from less than three mutations, and mutations at poly-Q regions were excluded from further analysis to reduce noise levels. The mutation frequencies that we observed for our 1,000 random genes across diverse cancer types differs from that previously published [25]. We attribute this apparent discrepancy due to the fact that level 3 mutation data that we obtain from TCGA and the ICGC are pre-processed to eliminate false-positives. This is in agreement with previous work showing that some cancer types are particularly enriched in false mutation calling. For instance, pre-processing can reduce the number of frequently mutated genes in lung cancer from 450 to 11 [65].
Co-mutation analysis
Using 2 × 2 contingency tables we produced fisher P values, odds ratios, and 95% confidence intervals for each possible pairing of genes present in Additional file 1: Table S1. Two-sided Fisher's exact test was used to produce P values and only those that were ≤0.05 were considered significant. Odds ratios and confidence intervals were produced as previously reported [67]. Odds ratios >1 were considered to imply mutation co-occurrence, while odds ratios <1 implied mutation mutual exclusion. Gene pairs with a confidence interval containing 0 was considered statistically insignificant.
mRNA expression
TCGA level 3 RNASeq gene expression data were downloaded from the Broad Institute's Firehose (RNASeq V2 data). Only data from patients with matched tumor and normal samples were used. Cancer types with cohorts under 30 patients were excluded. This threshold is more permissive than the 100 patient cohort used for somatic mutations, as frequencies of transcriptional changes in tumor samples are typically an order of magnitude higher than mutation frequencies. RSEM values are used to quantify mRNA expression levels [
68
]. A log2 fold change in gene expression is calculated from RSEM values of tumor and matched normal samples as follows:
Frequencies were calculated for each gene and cancer type as the percentage of patients with a log2 fold change greater than 1 for overexpression or lower than -1 for underexpression.
Average frequencies in over-/underexpression and mutation across protein families
Average frequencies in over-/underexpression and mutation across protein families (Figure 1) were generated for each cancer type by summing frequencies shown in Figure 1 (after changing the Log2 cutoff from 1 to 2 to focus on transcriptional changes of higher amplitude) and dividing by the total number of genes present within the indicated protein family.
Copy number variation
GISTIC values are used to evaluate copy number variations relative to the reference genome (hg18 for COAD/READ, LAML and OV; hg19 for all other cancer types) [66]. GISTIC values of 1 and 2 indicate moderate and high copy number gains, respectively, while values of -1 and -2 indicate hetero- and homozygous deletions, respectively. All GISTIC copy number data are directly downloaded from TCGA's Firehose interface (level 4 data). Anonymous patient ID provided by TCGA was used to determine patients where both GISTIC copy number and matched-control RNASeq gene expression data were available. Corresponding patient cohorts with fewer than 15 patients were excluded. These data were used to find correlations between copy number variation and gene expression levels in tumor samples. For interested readers, we made correlations for all cancer types available on the Chromohub website [69].
Identification of mutation hotspots
Mutation hotspots were defined as aminoacids affected by a minimum of three mutations representing at least 20% of non-silent mutations for that gene in a given cancer type. Highly mutated genomes were ignored, as previously specified.
Declarations
Acknowledgements
The SGC is a registered charity (number 1097737) that receives funds from AbbVie, Bayer, Boehringer Ingelheim, Canada Foundation for Innovation, Genome Canada through the Ontario Genomics Institute (OGI-055), GlaxoSmithKline, Janssen, Lilly Canada, the Novartis Research Foundation, the Ontario Ministry of Economic Development and Innovation, Pfizer, Takeda, and the Wellcome Trust (092809/Z/10/Z).
Authors' Affiliations
(1)
Structural Genomics Consortium, University of Toronto, MaRS Centre, South Tower, Toronto, Canada
(2)
Princess Margaret Cancer Centre and Department of Medical Biophysics, University of Toronto, Toronto, Canada
(3)
Department of Pharmacology and Toxicology, University of Toronto, 1 King's College Circle, Toronto, Canada
(4)
Courant Institute, New York University, New York, USA
Copyright
© Shah et al.; licensee BioMed Central Ltd. 2014
This article is published under license to BioMed Central Ltd. This is an Open Access article distributed under the terms of the Creative Commons Attribution License (http://creativecommons.org/licenses/by/4.0), which permits unrestricted use, distribution, and reproduction in any medium, provided the original work is properly credited. The Creative Commons Public Domain Dedication waiver (http://creativecommons.org/publicdomain/zero/1.0/) applies to the data made available in this article, unless otherwise stated.