Systematic prediction of DNA shape changes due to CpG methylation explains epigenetic effects on protein–DNA binding
Epigenetics & Chromatin
2018
11:6
Received: 29 July 2017
Accepted: 15 January 2018
Published: 6 February 2018
Abstract
Background
DNA shape analysis has demonstrated the potential to reveal structure-based mechanisms of protein–DNA binding. However, information about the influence of chemical modification of DNA is limited. Cytosine methylation, the most frequent modification, represents the addition of a methyl group at the major groove edge of the cytosine base. In mammalian genomes, cytosine methylation most frequently occurs at CpG dinucleotides. In addition to changing the chemical signature of C/G base pairs, cytosine methylation can affect DNA structure. Since the original discovery of DNA methylation, major efforts have been made to understand its effect from a sequence perspective. Compared to unmethylated DNA, however, little structural information is available for methylated DNA, due to the limited number of experimentally determined structures. To achieve a better mechanistic understanding of the effect of CpG methylation on local DNA structure, we developed a high-throughput method, methyl-DNAshape, for predicting the effect of cytosine methylation on DNA shape.
Results
Using our new method, we found that CpG methylation significantly altered local DNA shape. Four DNA shape features—helix twist, minor groove width, propeller twist, and roll—were considered in this analysis. Distinct distributions of effect size were observed for different features. Roll and propeller twist were the DNA shape features most strongly affected by CpG methylation with an effect size depending on the local sequence context. Methylation-induced changes in DNA shape were predictive of the measured rate of cleavage by DNase I and suggest a possible mechanism for some of the methylation sensitivities that were recently observed for human Pbx-Hox complexes.
Conclusions
CpG methylation is an important epigenetic mark in the mammalian genome. Understanding its role in protein–DNA recognition can further our knowledge of gene regulation. Our high-throughput methyl-DNAshape method can be used to predict the effect of cytosine methylation on DNA shape and its subsequent influence on protein–DNA interactions. This approach overcomes the limited availability of experimental DNA structures that contain 5-methylcytosine.
Keywords
methyl-DNAshape5-methylcytosineDNA methylationEpigeneticsDNA structureDNase I cleavage sensitivityHuman Hox protein binding specificity
Background
Cytosine methylation is the most abundant of all epigenetic marks found on DNA. At the molecular level, cytosine methylation involves the addition of a methyl (CH3) group to the C5 atom of cytosine, yielding 5-methylcytosine (5mC). In mammalian genomes, this alteration often occurs in the context of the CpG dinucleotide and is referred to as "CpG methylation" or "DNA methylation." Ever since 5mC was proposed as a potential epigenetic factor capable of altering gene regulation and cellular differentiation [1], research in this field has been quite active. A recent review [2] highlights the complexity in the interpretation of epigenetic data and the evolution of the definition of epigenetics as the field has advanced.
Although the addition of a single methyl group at the major groove edge leads to only a subtle change in DNA structure, important functional effects have been observed at different scales. For example, methylation-induced alterations in gene expression have been observed in regulatory regions [3–5], and an increase in DNA methylation in one of the X-chromosomes in the female genome can lead to X-chromosome inactivation [6, 7]. Effects of methylation have been studied in two main contexts, genome organization and protein–DNA interactions. Owing to recent advances in technology, DNA methylation profiling can now be performed for any given genome [8–10]. Furthermore, in vitro approaches have recently been used to profile systematically the influence of methylation on DNA binding for human transcription factors (TFs) [11–14], by using variants of universal protein-binding microarray (PBM), high-throughput systematic evolution of ligands by exponential enrichment (HT-SELEX), and SELEX in combination with massively parallel sequencing (SELEX-seq). These approaches revealed that methylation affects binding across the affinity range and that the effect varies within and between TF families [13, 15–17].
To achieve mechanistic insights into these phenomena, detailed understanding of the biophysical and structural effects of DNA methylation is required. Some proteins, such as the Lac repressor, prefer having a bulky methyl group in the major groove and form hydrophobic contacts to this group [18]. By contrast, MspI, a Moraxella sp. restriction endonuclease, recognizes the CCGG sequence irrespective of methylation status [18]. These context-dependent effects may be explained in terms of three possible readout mechanisms: direct contacts [19], competitive binding [20, 21], and structural readout [22]. Direct contact to a methyl group allows for the possible formation or alteration of van der Waals interactions, which can either completely abolish or enhance binding [19, 23]. For example, CpG methylation of the cyclic adenosine monophosphate (cAMP) response element half-site (half-CRE) confers binding of CCAAT/enhancer-binding protein alpha (C/EBPα) and C/EBPβ and abolishes binding of CREB, c-Jun, JunD, and ATF2 [24]. In a competitive binding mechanism, the methyl-CpG binding protein (MeCP2) initially binds methylated CpG sites and then blocks sites for other proteins to bind [20, 21]. Many TFs seem to employ one of these first two mechanisms, as revealed by in vitro binding assays [23]. In the case of structure-mediated methylation sensitivity, first demonstrated for the endonuclease DNase I [25], local DNA shape changes enhance binding to target sites already preferred by particular DNA-binding proteins. While direct contacts with the methyl group confer binary effects, the shape-dependent effect is sequence context dependent and can fine-tune the binary direct contact mechanism.
Here, we introduce a methodology that enables quantitative probing of the shape-dependent methylation effect. We recently studied how DNA shape contributes to protein–DNA recognition [
26
–
28
]. However, we have not yet systematically quantified the effect of DNA methylation on protein binding [
22
]. Motivated by the widespread occurrence of CpG dinucleotides in TF binding motifs of different protein families [
29
–
31
], we aimed to study CpG methylation in the context of gene regulation (Fig.
1
b). Understanding the protein–DNA readout of methylated cytosine requires structural insight derived from experimentally determined structures. Unfortunately, the current content of the Protein Data Bank (PDB) [
32
] includes only a few structures containing cytosine modifications (Fig.
1
a). To close this knowledge gap, we utilized computational modeling of many DNA fragments to study the intrinsic effects induced by cytosine methylation, in a manner analogous to previous high-throughput studies of DNA shape of unmethylated genomic regions [
33
–
35
]. The resulting query tables can be utilized to analyze systematically the effect of methylation on protein–DNA interactions, as we demonstrate for DNase I cleavage and Pbx-Hox binding data.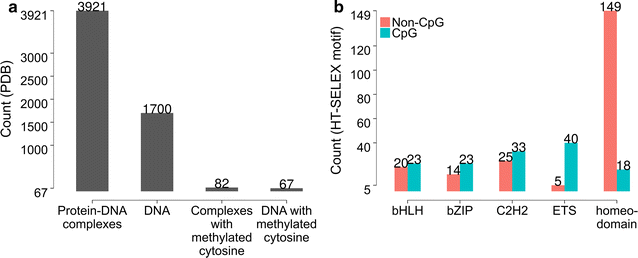 Conclusions
Mechanisms of protein–DNA recognition remain incompletely understood. This lack of knowledge is particularly true for the readout of methylated DNA [15], despite its important role in gene regulation [22]. DNA sequence and shape readout are key factors in achieving TF binding specificity. For base readout, presence of a bulky hydrophobic methyl group in the major groove may facilitate hydrophobic contacts with protein side chains [17]. For shape readout, local structural changes of the double helix induced by cytosine methylation may strengthen or weaken protein contacts to DNA [25]. Here, we describe an approach to probe and comprehend the shape readout mechanism of methylated DNA. As a high-throughput approach for predicting shape features of methylated DNA, our methyl-DNAshape method can be used to determine how the intrinsic shape of chemically modified DNA mediates recognition by TFs. Moreover, this method overcomes the limitation of the unavailability of experimental structures containing methylated cytosine.
One possible application of our method is to utilize high-throughput predictions of DNA shape features in quantitative models of protein–DNA binding. We found that the predicted change in shape features due to methylation partially explained the magnitude and context dependence of the experimentally measured effect of CpG methylation on DNase I cleavage [25]. Moreover, we were able to explain previously unexplained effects of DNA methylation on the binding specificity of human Pbx-Hox complexes. This study, therefore, represents a step forward toward a full mechanistic understanding of gene expression regulation.
Declarations
Authors' contributions
SR, HJB, and RR conceived and designed the project. SR generated and analyzed MC simulation data, developed, and validated the methyl-DNAshape method, and performed statistical analyses. TPC updated the DNAshapeR/Bioconductor package to predict shape features of methylated DNA. SR, JFK, RSM, and HJB analyzed Pbx-Hox SELEX-seq and DNA shape data. SR, HJB, and RR wrote the manuscript with contributions from all authors. HJB and RR supervised the project. All authors read and approved the final manuscript.
Acknowledgements
The authors thank all members of the Mann, Bussenmaker, and Rohs laboratories for valuable input.
Competing interests
The authors declare that they have no competing interests.
Consent for publication
Not applicable.
Ethics approval and consent to participate
Not applicable.
Funding
This work was supported by the National Institutes of Health (Grants R01HG003008 to HJB and RR; R01GM106056 to RR; R35GM118336 to RSM), an Andrew Viterbi Fellowship (to SR), a Manning Endowed Fellowship (to TPC), and a Howard Hughes Medical Institute International Student Research Fellowship (to JFK). RR is an Alfred P. Sloan Research Fellow.
Publisher's Note
Springer Nature remains neutral with regard to jurisdictional claims in published maps and institutional affiliations.
Open AccessThis article is distributed under the terms of the Creative Commons Attribution 4.0 International License (http://creativecommons.org/licenses/by/4.0/), which permits unrestricted use, distribution, and reproduction in any medium, provided you give appropriate credit to the original author(s) and the source, provide a link to the Creative Commons license, and indicate if changes were made. The Creative Commons Public Domain Dedication waiver (http://creativecommons.org/publicdomain/zero/1.0/) applies to the data made available in this article, unless otherwise stated.
Authors' Affiliations
(1)
Computational Biology and Bioinformatics Program, Department of Biological Sciences, University of Southern California, Los Angeles, USA
(2)
Department of Biological Sciences, Columbia University, New York, USA
(3)
Department of Systems Biology, Columbia University, New York, USA
(4)
Department of Biochemistry and Molecular Biophysics, Columbia University, New York, USA
(5)
Mortimer B. Zuckerman Mind Brain Behavior Institute, Columbia University, New York, USA
(6)
Department of Neuroscience, Columbia University, New York, USA
(7)
Department of Chemistry, University of Southern California, Los Angeles, USA
(8)
Department of Physics & Astronomy, University of Southern California, Los Angeles, USA
(9)
Department of Computer Science, University of Southern California, Los Angeles, USA