Targeted bisulfite sequencing of the dynamic DNA methylome
Epigenetics & Chromatin
2016
9:55
Received: 14 July 2016
Accepted: 10 November 2016
Published: 3 December 2016
Abstract
Background
The ability to measure DNA methylation precisely and efficiently continues to drive our understanding of this modification in development and disease. Whole genome bisulfite sequencing has the advantage of theoretically capturing all cytosines in the genome at single-nucleotide resolution, but it has a number of significant practical drawbacks that become amplified with increasing sample numbers. All other technologies capture only a fraction of the cytosines that show dynamic regulation across cell and tissue types.
Results
Here, we present a novel hybrid selection design focusing on loci with dynamic methylation that captures a large number of differentially methylated gene-regulatory elements. We benchmarked this assay against matched whole genome data and profiled 25 human tissue samples to explore its ability to detect differentially methylated regions.
Conclusions
Our target capture design fills a major gap left by all other assays that exist to map DNA methylation. It maintains the ability to link cytosine methylation to genetic differences, the single-base resolution and the analysis of neighboring cytosines while notably reducing the cost per sample by focusing the sequencing effort on the most informative and relevant regions of the genome.
Keywords
DNA methylationBisulfite sequencingTarget enrichment
Background
DNA methylation, most commonly at cytosines in the CpG dinucleotide, plays an important role in gene and genome regulation [1, 2]. Despite decades of elegant work, we continue to learn more about how and in what context DNA methylation functions through an ever-increasing collection of data. New insights are frequently enabled by technical advances in our ability to effectively map and quantify DNA methylation [3]. While numerous technologies exist, the most widespread are all based on the principle of sodium bisulfite-induced selective deamination of unmethylated cytosine to uracil [4] with either microarrays or sequencing as read-out. Whole genome bisulfite sequencing (WGBS) has the advantage of theoretically capturing all cytosines in the genome at single-nucleotide resolution [5], but it has also a number of practical drawbacks that become amplified with increasing sample numbers. These include the sequencing cost to achieve sufficient coverage, data storage and computing time as well as the fact that most of the genome is depleted of CpGs and hence many reads lack any relevant information. Moreover, the majority of CpGs are static and do not change their methylation state across cell and tissue types, decreasing the information content of WGBS reads even further [5].
Results
To overcome the limitations of WGBS while retaining its advantages of single-base resolution, the ability to compare neighboring CpGs on the same read, assign single nucleotide polymorphisms (SNPs) and cover the most relevant parts of the genome, we developed a cost-effective targeted bisulfite sequencing assay for the
Dy
namic
Me
thylome (DyMe-Seq) that covers CpGs known to change their methylation state across cell and tissue types (see "
Methods
" section). To this end, we first compiled a list of loci that is highly enriched for dynamic CpGs and includes a large number of gene-regulatory elements and then implemented a hybrid-selection-based targeted bisulfite sequencing strategy for this prime subset of the human methylome—akin to the exome for human genome sequencing. Targeted bisulfite sequencing can be performed either by bisulfite conversion of hybrid-selected native DNA [
6
] or by hybrid selection of converted DNA [
7
,
8
]. We adopted the latter approach which is commercially available as SeqCap Epi (Roche), trading the superior target specificity of native hybrid selection for lower DNA-input requirements and the ability to capture both strands of bisulfite-converted genomic DNA to distinguish a C to U bisulfite conversion from a C to T SNP. Targeted bisulfite sequencing by post-conversion SeqCap Epi capture has been technically validated previously and displays no apparent capture bias due to DNA methylation states [
7
,
8
]. In contrast to prior designs, we took full advantage of an unprecedented amount of multilayered data to choose the most informative sequencing targets. As outlined in Fig.
1
a, we utilized a well-curated set of genome-wide data for DNA methylation (
n
= 60 WGBS datasets) and extensive chromatin maps (H3K4me3 and H3K27ac) from the Roadmap Epigenome Project [
9
], DNAse I hypersensitive sites in 92 cell types and tissues, and transcription factor (TF) binding data (
n
= 165 TFs across 10 cell and tissue types) from ENCODE [
10
] and our previous work [
11
].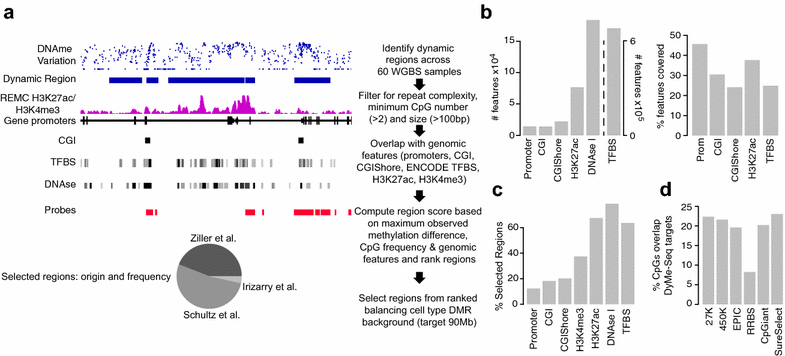 The triage process for differentially methylated regions (DMRs) and dynamic CpGs from the two main data sources [5, 12] is outlined in Additional file 1: Figure S1a-d. Our final list of 119,809 DyMe-Seq targets encompasses 91,039,504 bp of which approximately 90 Mb harboring 2.3 M million CpGs constitute legitimate capture space of the corresponding SeqCap Epi probes (Additional file 2). The chosen ~3% of the genome does not comprise all targetable dynamically methylated loci. Nor is 90 Mb the upper limit of the targeting technology. Rather, our curated DyMe-Seq target list represents a carefully balanced compromise between information content, number of capture probes as well as sequencing cost per sample. By design, our set of targets is predominantly enriched for differentially methylated putative regulatory regions and TF binding sites (TFBS) with >90% carrying H3K27ac or H3K4me3 annotations, while maintaining a representative coverage of classic genomic features such as promoters, CpG Islands (CGIs) and CGI shores (Fig. 1b,c). Importantly, our target set captures on average 44% of all putative enhancer regions that are enriched for H3K27ac chromatin marks across 87 distinct cell types or tissues (Additional file 1: Figure S1e). Our final list of prime targets still includes ~40% of our unranked initial list of candidate dynamic CpGs that were filtered solely by repeat content (≤60%), number of CpGs (≥2) and length (≥100 bp) of target regions, irrespective of overlap with genomic features (Additional file 1: Figure S1d).
The gold standard in the field remains WGBS, but as noted its cost and inefficiency are limiting its broad use despite decreasing sequencing costs. The advantage of sequencing only 90 Mb of highly informative targets instead of WGBS becomes clear when comparing the reads required for each sample to achieve 30× coverage across an increasing number of samples: 74 million versus 1.7 billion 100-base reads for 100 samples, covering each CpG in at least 80% of all samples (Additional file 1: Figure S1f). As would be expected, our design always captures a fraction of CpGs that are also covered by other common platforms including methylation bead arrays (Illumina), reduced representation bisulfite sequencing [13] and off-the-shelf targeted bisulfite-sequencing assays (Roche, Agilent). However, the overlap with any single one is less than 25% (Fig. 1d). Hence, DyMe-Seq fills an important gap between existing targeted assays and comprehensive WGBS (Additional file 1: Figure S1g, h).
Next, we assessed key performance properties of DyMe-Seq including genomic biases, coverage distribution, input requirements, off-target and PCR-duplicate rates (Additional file 3: Figure S2). This analysis revealed minimal differences in GC content distribution of the captured targets among technical replicates (Additional file 3: Figure S2b). Lowering the amount of input DNA increased the PCR-duplication rates from 3% for 1 microgram to 6% and 15% for 500 and 250 ng, respectively (Additional file 3: Figure S2c), when using a conventional library preparation strategy where DNA fragments are ligated to sequencing adapters prior to bisulfite conversion ("Methods" section). This result prompted us to continue with an input amount of 500 ng for most subsequent analysis. However, we also evaluated the possibility of lowering the input amounts further by switching to a "bisulfite-first" pre-capture library protocol (Swift Biosystems), yielding dramatically lower PCR-duplication rates essentially constant across an input range from 500 ng down to 160 ng (Additional file 3: Figure S2d). Finally, evaluation of our off-target rate revealed that on average 30% of all reads map outside of the targeted regions (Additional file 3: Figure S2e, f). Based on these analyses, we conclude that 30× coverage requires only 48 million reads for a single library (assuming a 10% duplication rate and 30% off-target reads). However, as noted above, comparing 100 samples where each CpG is covered 30× in at least 80 samples will require more reads (~74 M) per library.
Next, we compared DyMe-Seq to WGBS on a number of matched samples. We used high-coverage WGBS samples (1.2–1.5 billion reads) from CD8 positive primary T cells and human embryonic stem cells (hESCs) as a reference and generated between 41 and 129 million targeted DyMe-Seq reads from each cell type. This comparison revealed high correlation of methylation levels of 200-bp tiles across the genome among DyMe-Seq technical replicates (
r
= 0.9 for
n
= 4 and
r
= 0.96 for
n
= 3 distinct sets of technical replicates, Fig.
2
a) that is comparable to correlation levels between biological replicates generated by WGBS (Fig.
2
a, b). The power to discriminate between cell types is not different from WGBS based on CD8 versus hESC comparison (Fig.
2
a). Most importantly, correlation between WGBS and DyMe-Seq on independent biological replicates generated years apart is also very high (
r
= 0.94, Fig.
2
b). Subsequently, we confirmed that DyMe-Seq does not exhibit capture biases based on CpG methylation status. To that end, we compared the distribution of methylation level differences as a function of WGBS based methylation levels between two biological replicates of WGBS data and one WGBS and DyMe-Seq sample from the same cell type. This analysis revealed no difference between WGBS and DyMe-Seq (Additional file
3
: Figure S2g). The browser shot provides a representative example of WGBS and DyMe-Seq data for a specific locus (Fig.
2
c). Our assay covers more than one quarter of DMRs detectable by WGBS (Fig.
2
d) and captures the majority of the more meaningful DMRs that directly overlap with known regulatory features (Fig.
2
e, f), while sequencing only 3% of the genome. We also note a global change in methylation levels from hESC (cell culture, 74% global methylation) to primary CD8 cells (62% global methylation).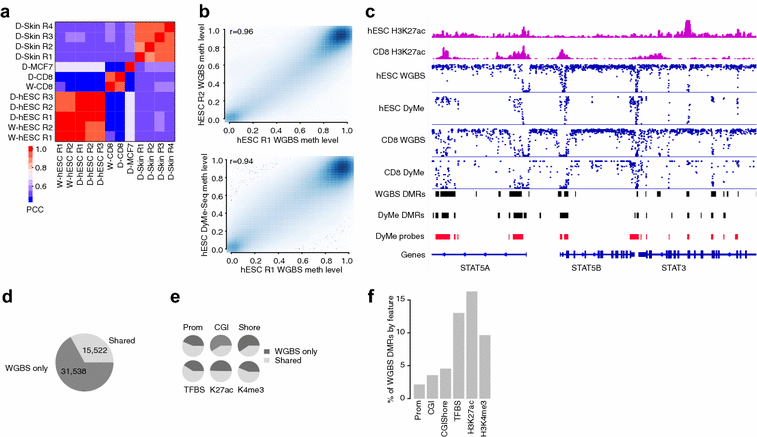 To further explore the utility of our assay, we profiled 25 human samples representing 18 different tissues from the genotype-tissue expression (GTEx) cohort [
14
] (Additional file
4
: Figure S3a) and found reliable quantification and identification of DMRs, recovering cell type and inter-individual variation (Fig.
3
a). Notably, and in contrast to WGBS data, a large fraction of the sequencing data (82% of 200 bp tiles with DyMe-Seq data) is informative and displays significant methylation differences (Fig.
3
b). A subset remains static as would be expected since the 25 samples did not cover all possible cell and tissue types. Adding for instance hESC data (not part of GTEx) will increase the proportion of dynamic 200-bp tiles by another ~2.8% (Additional file
4
: Figure S3b). We find a very high correlation between technical replicates (Skin nse [not sun exposed] R1 and R2) and also note the capacity to detect inter-individual variation (Fig.
3
c; see lung and skin samples). Lastly, DyMe-Seq captures a representative fraction of the biologically relevant DMR features: Gene set enrichment analysis of DMRs between GTEx heart and nerve tissue reveals a strong enrichment with a number of key pathways of heart and muscle development and function (Fig.
3
d). Furthermore, analysis of TFBS [
15
] within these DMRs identifies key heart (NKX, LMO, GATA) and neural TFs (SOX, GLI, FOXA), suggesting that our assay captures (by design) a representative fraction of the tissue-specific TFBS repertoire (Fig.
3
e).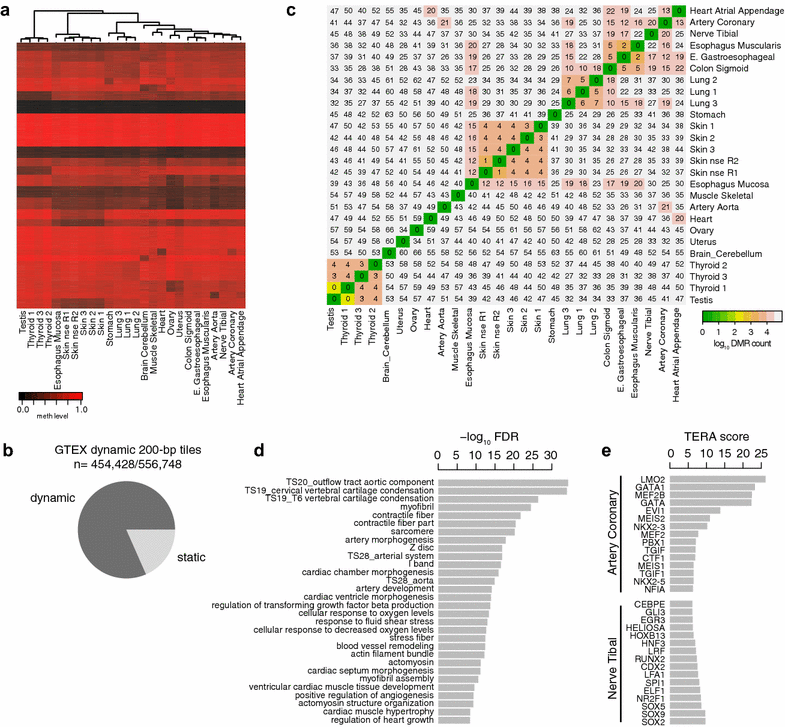 Discussion
To meet the continuously growing need for more efficient ways to capture DNA methylation information, we designed a hybrid selection target set for a carefully curated list of the most dynamically regulated CpGs (the set also captures 20.8 million CpAs, the predominant non-CpG methylation sites in selected cell types) and demonstrate its application across 20 distinct cell and tissue types. Our approach is substantially more economical than WGBS in terms of sequencing cost per sample, while providing higher coverage of many of the same, relevant regions. The savings in sequencing costs will often far outweigh the cost of performing the additional enrichment step which can be multiplexed by pooling barcoded libraries prior to hybrid selection [8]. However, the choice of the appropriate DNAme profiling assay will ultimately depend on the specific scientific question. If it is critical to detect as many DMRs as possible, high-coverage WGBS may be the only feasible solution.
Conclusions
Our cost-effective DyMe-Seq assay will be a valuable tool not only for the methylation and developmental biology community, but specifically for many areas of clinical research, including prognostic and biomarker discovery as well as the emerging field of epigenome wide association studies (EWAS) [16].
Abbreviations
DyMe-Seq:

dynamic methylation sequencing
WGBS:

whole genome bisulfite sequencing
DMR:

differentially methylated region
GTEx:

genotype-tissue expression
TFBS:

transcription factor binding site
Declarations
Authors' contributions
MZ and AM conceived the study. MZ performed region selection and all computational analysis. ES, HG and AG implemented the DyMe-Seq and performed all experiments. MZ, AG and AM wrote the paper. All authors read and approved the final manuscript.
Acknowledgements
We would like to thank all the members of the Meissner lab. A.M. is a New York Stem Cell Foundation Robertson Investigator.
Competing interests
The authors declare that they have no competing interests.
Funding
This work was funded by NHGRI (U01HG007610) and the New York Stem Cell Foundation.
Open AccessThis article is distributed under the terms of the Creative Commons Attribution 4.0 International License (http://creativecommons.org/licenses/by/4.0/), which permits unrestricted use, distribution, and reproduction in any medium, provided you give appropriate credit to the original author(s) and the source, provide a link to the Creative Commons license, and indicate if changes were made. The Creative Commons Public Domain Dedication waiver (http://creativecommons.org/publicdomain/zero/1.0/) applies to the data made available in this article, unless otherwise stated.
Authors' Affiliations
(1)
Max Planck Institute of Psychiatry, Munich, Germany
(2)
Broad Institute of MIT and Harvard, Cambridge, USA
(3)
Harvard Stem Cell Institute, Cambridge, USA
(4)
Department of Stem Cell and Regenerative Biology, Harvard University, Cambridge, USA
(5)
Max Planck Institute for Molecular Genetics, Berlin, Germany