Profiling genome-wide DNA methylation
Epigenetics & Chromatin
2016
9:26
Received: 27 February 2016
Accepted: 17 June 2016
Published: 29 June 2016
Abstract
DNA methylation is an epigenetic modification that plays an important role in regulating gene expression and therefore a broad range of biological processes and diseases. DNA methylation is tissue-specific, dynamic, sequence-context-dependent and trans-generationally heritable, and these complex patterns of methylation highlight the significance of profiling DNA methylation to answer biological questions. In this review, we surveyed major methylation assays, along with comparisons and biological examples, to provide an overview of DNA methylation profiling techniques. The advances in microarray and sequencing technologies make genome-wide profiling possible at a single-nucleotide or even a single-cell resolution. These profiling approaches vary in many aspects, such as DNA input, resolution, genomic region coverage, and bioinformatics analysis, and selecting a feasible method requires knowledge of these methods. We first introduce the biological background of DNA methylation and its pattern in plants, animals and fungi. We present an overview of major experimental approaches to profiling genome-wide DNA methylation and hydroxymethylation and then extend to the single-cell methylome. To evaluate these methods, we outline their strengths and weaknesses and perform comparisons across the different platforms. Due to the increasing need to compute high-throughput epigenomic data, we interrogate the computational pipeline for bisulfite sequencing data and also discuss the concept of identifying differentially methylated regions (DMRs). This review summarizes the experimental and computational concepts for profiling genome-wide DNA methylation, followed by biological examples. Overall, this review provides researchers useful guidance for the selection of a profiling method suited to specific research questions.
Keywords
DNA methylationBisulfite sequencingHydroxymethylationSingle-cellMethylomeWGBSRRBS
Background
DNA methylation, one of the most studied epigenetic modifications, involves the addition of a methyl group to the fifth carbon of cytosine (C), forming 5-methylcytosine (5mC), catalyzed by DNA methyltransferases (Dnmts) [1]. DNA methylation predominantly occurs in CpG dinucleotides (CpGs) but is also found less frequently in non-CpG contexts (e.g., CHG and CHH, where H = A, T or C). These contexts affect gene function and structure differently [2]. The de novo DNA methyltransferases Dnmt3a and Dnmt3b are responsible for catalyzing the methylation of Cs, and the maintenance methyltransferase Dnmt1 enables the propagation of DNA methylation patterns during cell division [3–5]. DNA methylation has been associated with numerous cellular processes, such as transcriptional repression, X chromosome inactivation, embryonic development, genomic imprinting, the alteration of chromatin structure and transposon inactivation [6, 7]. The methyl marks are heritable, that certain methylation patterns have transgenerational effects [8]. The patterns of these marks are also dynamically remodeled during distinct reprogramming phases throughout the life cycle of an organism [9]. DNA methylation does not occur exclusively on C residues; methylation can also present as N6-methyladenine (6mA) in Chlamydomonas reinhardtii (algae) [10], Caenorhabditis elegans (nematode) [11], Drosophila melanogaster (insect) [12] and vertebrates such as Xenopus laevis, mouse and human [13]. In addition to 5mC, 5-hydroxymethylcytosine (5hmC) is another epigenetic mark in the mammalian genome associated with DNA demethylation. 5hmC is produced via the oxidation of 5mC catalyzed by the ten-eleven translocation (TET) family of proteins, and subsequent oxidation results in the formation of 5-formylcytosine (5fC) and 5-carboxylcytosine (5caC) [14].
DNA methylation patterns vary across organisms. The mammalian genome is usually highly methylated; in human embryonic stem cells (hESCs), DNA methylation occurs in up to 80 % of CpGs, with the remaining unmethylated CpG residues enriched in CpG islands (CGI) located at gene promoters [15]. Extremely low methylation levels have been reported in invertebrates such as Drosophila [16] and Bombyx [17]. In plants, the methylation level varies in the CpG and non-CpG sites; the levels were found to be 24 % CpG, 7 % CHG and 2 % CHH in Arabidopsis [18] and 86 % CpG, 74 % CHG and 5 % CHH in unfertilized ears of maize [19]. Non-CpG methylation plays key roles in plants, in which this modification can silence exogenous DNA via an RNA-dependent DNA methylation pathway (RdDM) [20]. In fungi, the methylation in black truffle is found exclusively in transposons and is absent from genes [21].
Promoter methylation can potentially down-regulate gene expression by altering the chromatin structure and blocking transcription initiation [7]. For example, in mammals, most CGIs in promoters are unmethylated to facilitate binding between proteins and promoter DNA. Positive correlations between active transcription and gene body methylation have been observed in the active X chromosome [22, 23]. Gene body methylation may also function to silence repetitive DNA elements found within the gene body [24]. In addition, gene body methylation has been found to exhibit dramatic changes at intron–exon boundaries, suggesting an association with splicing [25]. Maunakea et al. found that DNA methylation modulates alternative splicing by recruiting methyl-CpG-binding protein MeCP2 to promote exon recognition [26]. In maize, CpG methylation in transcribed regions is positively correlated with transcription, whereas CHG methylation is negatively correlated [27]. Methylation changes at the intron–exon boundaries have also been observed, suggesting that maize DNA methylation is likely associated with alternative splicing [28].
These important findings regarding DNA methylation would not have been possible without the advancement of various profiling approaches, both experimental and computational. The accelerated development of array and sequencing technologies has significantly improved DNA methylation profiling, providing an unprecedentedly comprehensive view of the DNA methylation landscape. This review provides an overview of the major profiling approaches, with a focus on the recent and promising genome-wide methodologies (see Fig.
1
for a schematic of the major profiling methods).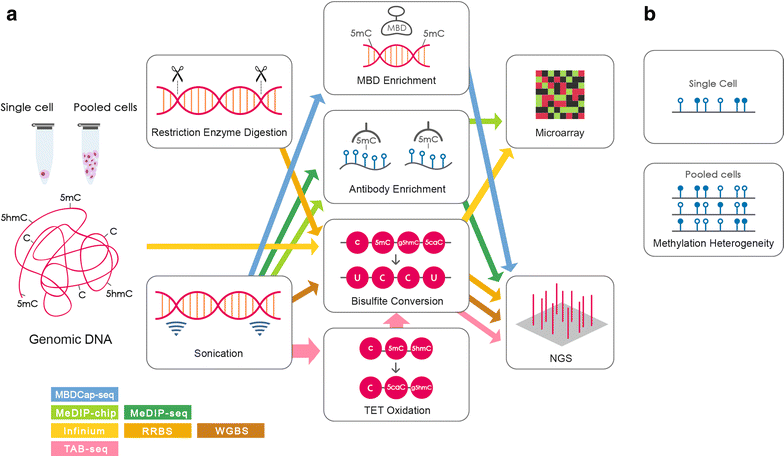 Experimental techniques for DNA methylation profiling
Early studies of DNA methylation focused on determining the methylation status of the genes of interest and quantifying the total amount of 5mC [
29
]. Due to the use of microarray hybridization technology, the study of DNA methylation was able to scale up to the genome-wide level. Next-generation sequencing platforms now allow the construction of genomic maps of DNA methylation at single-base resolution [
30
]. In the following review, we categorize these experimental approaches into
enzyme digestion, affinity enrichment
and
bisulfite conversion
and introduce the major methods with their advantages and disadvantages (see Table
1
). We also include corresponding biological examples for each method in Table
1
to help readers select suitable profiling methods. Figure
2
shows the workflow of the experimental pipelines with the DNA input requirements. Finally, we introduce the most recent development in the epigenomic profiling of a single-cell methylome, 5hmC and the use of third-generation sequencing in detecting DNA methylation in real time.
Table 1
Experimental approaches for profiling genome-wide DNA methylation
Experimental approach

Strength

Weakness

Resolution

Quantitative nature

Cost

Examples

References

CHARM

-Cost-effective

-Interrogate CpG sites genome-wide irrespective of proximity to genes or CpG islands

-Moderate resolution

-Limited to regions in proximity to enzymes' recognition sites

–

Abundance

Low

CGI shores show alteration DNA methylation in colon cancer [36]

[34]

MBDCap-Seq

-Cost-effective

-Allow the detection of DMRs within highly CpG-dense regions and regions with lower CpG density

-MBD proteins can discriminate 5mC from 5hmC

-No mutation introduced

-More sensitive than MeDIP in regions with higher CpG density

-Relatively low resolution

-Biased toward hypermethylated regions

~150 bp

Abundance

Moderate

Confirmed previous known differentially methylated sites and discovered new differentially methylated loci in 3 isogenic colon cancer cell lines [38]

[37]

MeDIP

-Cost-effective

-No mutation introduced

-Specific to 5mC/5hmC depending on the antibody specificity

-More sensitive in regions with low CpG density than MBDCap-Seq

-Biased toward hypermethylated regions

-Do not identify individual 5mC sites

-Inability to predict absolute methylation level

~100 bp

Abundance

Moderate

MBDCap-seq shows higher genomic coverage than MeDIP-seq along with twice as many DMRs between colon cancer and adjacent normal cells [45]

Illumina's Infinium Methylation assay

-Cost-effective

-Do not require a large amount of input DNA

-Human sample only

-Coverage is highly dependent on the array design

-Substantial DNA degradation after bisulfite treatment

Single base

Abundance

Low

DNA methylation as a signature to surrogate different cord blood cell types [49]

[47]

WGBS

Evaluate methylation state of almost every CpG sites

-High cost

-Substantial DNA degradation after bisulfite treatment

-Cannot discriminate between 5mC and 5hmC

Single base

Digital

High

Bulk methylation level of CpG/CHG/CHH of wild-type Arabidopsis and methyltransferase-deficient mutants [18]

Genome-wide methylation pattern and site-specific methylation [18]

Global demethylation in the endosperm compared to the embryo [55]

[52]

RRBS

-High CGI coverage

-High sensitivity

-Cost-effective comparing to WGBS

-May exhibit a lack of coverage at intergenic and distal regulatory elements

-Substantial DNA degradation after bisulfite treatment

-Limited to regions in proximity to enzymes' recognition sites

-Cannot discriminate between 5mC and 5hmC

Single base

Digital

Moderate

The EWAS study integrating DNA methylation, gene expression, proteomics, metabolomics and clinical traits in 90 mouse inbred strains [62]

scWGBS

Able to study methylome intra-population distribution

-Low sequencing efficiency (~20 million reads typically required per cell)

-Cannot discriminate between 5mC and 5hmC

Single base

Digital

High

Determining epigenomic cell-state dynamics in mouse pluripotent and differentiating cells [74]

scRRBS

-Highly sensitive

-Can detect target CpG sites at high coverage with relatively low number of sequence reads

-Substantial DNA degradation after bisulfite treatment

-Cannot discriminate between 5mC and 5hmC

-Provide relatively poor coverage for imprinting loci

Single base

Digital

High

Profiling epigenomic dynamics of 1 million CpG sites during early embryonic development in ESCs [70]

[70]

TAB-seq

Can distinguish 5hmC from 5mC

-Substantial DNA degradation after bisulfite treatment

-Tet enzyme with low efficiency might leave methylated residues unconverted

-High sequencing depth is required to detect 5hmC with low abundance

Single base

Digital

High

Profiling 5hmC distribution in 108 days human PGCs to reveal DNA demethylation [83]

[81]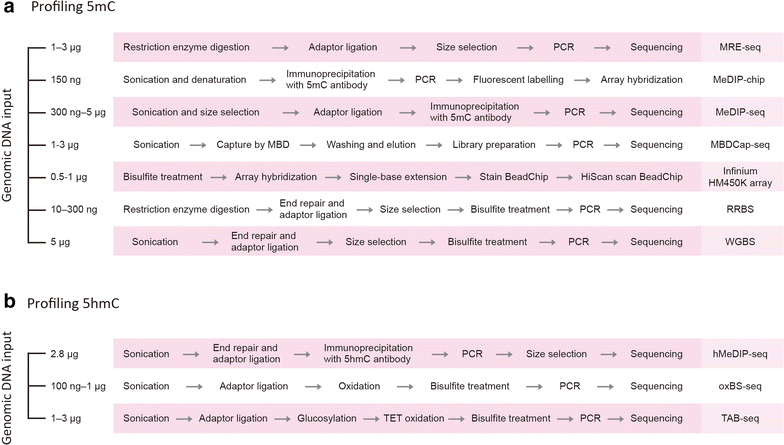 Bioinformatics analysis of WGBS and RRBS
The general workflow for the bioinformatics analysis of DNA methylation data includes data processing, the quantification of DNA methylation levels, general profiling, the identification of DMRs and the visualization of the methylome [
91
]. Array-based data, such as that from Illumina's HM450K, are fluorescence intensities that quantify the relative abundance of methylated and unmethylated loci. The data from other non-bisulfite-conversion methods, such as MRE-seq and MeDIP-seq, are usually analyzed by comparing the relative abundance of fragments. Bisulfite-converted data, such as those from WGBS and RRBS, involve methylation calling at individual Cs, and statistical testing is required to assess differential methylation. In this section, we focus on the bioinformatics analyses of bisulfite-converted data, in particular WGBS and RRBS (see Fig.
3
for a general bioinformatics pipeline).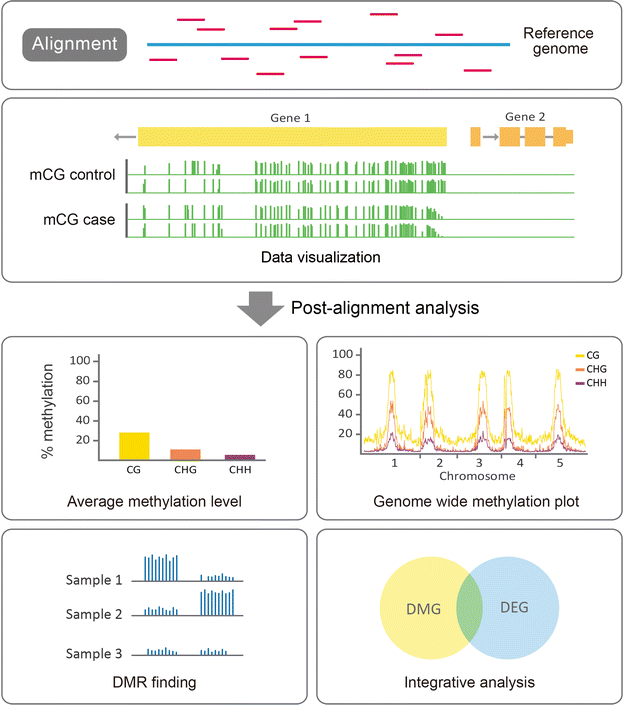 Conclusions
This review provides an overview of the current techniques for the assessment of genome-wide DNA methylation and the identification of DMRs. The commonly used techniques are primarily based on restriction enzyme digestion, affinity enrichment and bisulfite treatment, coupled with either microarray or sequencing technologies. Because each technique has its own advantages and disadvantages, we summarize in Table 1 a comprehensive evaluation of each technique. In Fig. 2, we provide an overview of these experimental pipelines and their required DNA input amounts. The selection of a technique strongly depends on the research questions, cost, amount of input DNA and the expected degree of methylation changes [118]. In Table 1, readers can also learn from the biological examples in which the profiling techniques were used to determine the experiments that best fit their research topic. For example, for mammalian studies with large-scale samples, one should consider a targeted approach, such as MeDIP or RRBS rather than WGBS, which would allow multiple sample comparisons with limited cost and provide sufficient information from CpG-rich regions. If the study aims to investigate the first methylome of an organism, then WGBS with deep sequencing would be a more suitable method to obtain detailed information in coding regions and intergenic regions. The input DNA amount should also be considered when rare cell types or tissues are studied. To reveal the methylation state of undifferentiated stem cells without heterogeneity, single-cell approaches would be the best choice. The sequencing depth is a key parameter in DMR discovery; the greater the depth, the more power to discover DMRs. However, for studies with a large sample size such as disease-centered research studies, the distribution of limited resources should be considered, e.g., sequencing a few samples deeply or more samples less deeply. A balance may be reached by considering the profiling technique coupling with the data analysis that would provide precise and accurate DMR prediction with low coverage requirements.
The discovery of various forms of C modifications, namely 5hmC, 5fC and 5caC, further expand the efforts to map and quantify these low-abundance bases in different cell and tissue types [76]. The emerging SMRT and nanopore sequencing technologies have enabled the direct reading of C modifications without the pre-treatment of DNA and amplification; however, the throughput and accuracy must be substantially improved before these techniques become contenders against second-generation sequencing technologies [14].
In addition to providing underlying biological insights, DNA methylation assays have great potential for application to different fields, particularly medicine and forensic sciences [119, 120]. In medicine, these methodologies aid in the identification of epigenetic-based biomarkers for cancer and other epigenetic-related diseases, which serve as measurable indicators of biological conditions for predicting the presence or severity of a disease state or treatment response and further contribute to the development of clinical treatments and personalized medicine throughout life [120–124]. DNA methylation has been applied to the discrimination of fetal and maternal DNA in circulating cell-free DNA to obtain more pure fetal DNA for downstream analyses, such as chromosomal abnormality [125]. With improvements in low-input bisulfite sequencing and single-cell techniques, methylomes at an early embryonic developmental stage during pregnancy could be obtained to identify an abnormal fetus. Regarding applications in forensic sciences, DNA methylation analysis may be useful in the verification of DNA samples, body fluid identification and the estimation of ages and phenotypic characteristics [119]. The ongoing advancements in technology allow the development of more accurate and affordable methods for methylation analysis, such as with the application of single-cell noninvasive prenatal tests, and further enhance our understanding of the roles of DNA methylation and its underlying mechanism in disease progression and the modulation of DNA methylation in response to different environmental cues in different cell and tissues types.
Abbreviations
5caC:

5-carboxylcytosine
5fC:

5-formylcytosine
5mC:

5-methylcytosine
5hmC:

5-hydroxymethylcytosine
6mA:

N6-methyladenine
CGI:

CpG island
DMR:

differentially methylated region
ESC:

embryonic stem cell
FDR:

false discovery rate
hESC:

human embryonic stem cell
hMeDIP:

hydroxymethylated DNA immunoprecipitation
MethylCap-seq:

methylated DNA capture by affinity purification sequencing
MRE:

methylation-sensitive restriction enzyme
MBD:

methyl-CpG-binding domain
MeDIP:

methylated DNA immunoprecipitation
OxBS-seq:

oxidative bisulfite sequencing
PGC:

primordial germ cell
RRBS:

reduced-representation bisulfite sequencing
SMRT:

single-molecule real-time sequencing
TAB-seq:

TET-assisted bisulfite sequencing
TE:

transposable element
TET:

ten-eleven translocation family
TSS:

transcription start site
WGBS:

whole-genome bisulfite sequencing
Declarations
Authors' contributions
WSY and FMH drafted the manuscript; PYC coordinated the study and edited the manuscript. All authors read and approved the final manuscript.
Acknowledgements
This work was supported by a grant obtained from Academia Sinica and grants obtained from MOST-103-2313-B-001-003-MY3, MOST-103-2633-B-001-002 and NHRI-EX104-10324SC. FMH is supported by the Todai scholarship. We thank Dr. Matteo Pellegrini and Dr. Tzung-Fu Hsieh for reviewing the manuscript.
Competing interests
The authors declare that they have no competing interests.
Open AccessThis article is distributed under the terms of the Creative Commons Attribution 4.0 International License (http://creativecommons.org/licenses/by/4.0/), which permits unrestricted use, distribution, and reproduction in any medium, provided you give appropriate credit to the original author(s) and the source, provide a link to the Creative Commons license, and indicate if changes were made. The Creative Commons Public Domain Dedication waiver (http://creativecommons.org/publicdomain/zero/1.0/) applies to the data made available in this article, unless otherwise stated.
Authors' Affiliations
(1)
Institute of Plant and Microbial Biology, Academia Sinica, Taipei, Taiwan, ROC
(2)
Graduate School of Frontier Sciences, The University of Tokyo, Chiba, Japan