Increased production of piRNAs from euchromatic clusters and genes in Anopheles gambiae compared with Drosophila melanogaster
Epigenetics & Chromatin
2015
8:50
Received: 17 August 2015
Accepted: 4 November 2015
Published: 27 November 2015
Abstract
Background
Specific genomic loci, termed Piwi-interacting RNA (piRNA) clusters, manufacture piRNAs that serve as guides for the inactivation of complementary transposable elements (TEs). The piRNA pathway has been accurately detailed in Drosophila melanogaster, while it remains poorly examined in other insects. This pathway is increasingly recognized as critical for germline development and reproduction. Understanding of the piRNA functions in mosquitoes could offer an opportunity for disease vector control by the reduction of their reproductive potential.
Results
To analyze the similarities and differences in this pathway between Drosophila and mosquito, we performed an in-depth analysis of the genomic loci producing piRNAs and their targets in the African malaria vector Anopheles gambiae. We identified 187 piRNA clusters in the An. gambiae genome and 155 piRNA clusters in the D. melanogaster genome. We demonstrate that many more piRNA clusters in the mosquito compared with the fruit fly are uni-directionally transcribed and are located outside pericentromeric heterochromatin. About 11 % of the An. gambiae piRNA population map to gene transcripts. This is a noticeable increase compared with the ~6 % of the piRNA population mapped to genes in D. melanogaster. A subset of the piRNA-enriched genes in An. gambiae has functions related to reproduction and development. At least 24 and 65 % of the mapped piRNAs correspond to genomic TE sequences in An. gambiae and D. melanogaster, respectively. DNA transposons and non-LTR retrotransposons are more abundant in An. gambiae, while LTR retrotransposons are more abundant in D. melanogaster. Yet, piRNAs predominantly target LTR retrotransposons in both species, which may point to a distinct feature of these elements compared to the other classes of TEs concerning their silencing by the piRNA pathway.
Conclusions
Here, we demonstrate that piRNA-producing loci have more ubiquitous distribution in the An. gambiae genome than in the genome of D. melanogaster. Also, protein-coding genes have an increased role in production of piRNAs in the germline of this mosquito. Genes involved in germline and embryonic development of An. gambiae generate a substantial portion of piRNAs, suggesting a role of the piRNA pathway in the epigenetic regulation of the reproductive processes in the African malaria vector.
Keywords
Anopheles gambiae Development Drosophila melanogaster EuchromatinGermlineHeterochromatinpiRNA clustersReproductionSmall RNAsTransposable element
Background
Piwi-interacting RNAs (piRNAs) are 24–30 nucleotide (nt) small RNAs that play an important role in silencing active transposable elements (TEs) through slicer-mediated cleavage of messenger RNA (mRNA) [1]. piRNAs are by far the most numerous among all types of coding and non-coding RNAs in any animal, mostly acting in the germline. piRNAs of different species share similar features, including a typical motif of predominant Uridine at position one (1U) of antisense TE-derived piRNAs and Adenine at position ten (10A) of sense strand TE-derived piRNAs [2]. Members of the PIWI clade, a subfamily of Argonaute, interact with piRNAs to effectively create an RNA-induced silencing complex (RISC) that can target and silence complementary TE mRNA sequences. A mutation of any of the three key PIWI proteins—Piwi, Aubergine (Aub), and Argonaute 3 (Ago3)—results in de-repression of TEs with mutagenic or disruptive consequences in the Drosophila melanogaster germline [3–5], indicating the necessity of these proteins in functional TE silencing. Two mechanisms for piRNA production have been identified in D. melanogaster [2]; both mechanisms stem from long single-stranded piRNA precursors that originate from vestigial TEs. In the first mechanism, single-stranded RNA transcripts are processed into primary piRNAs, which are loaded onto the Piwi protein. This process has been referred to as primary piRNA biogenesis [2]. Trimming of the piRNA to the 24–30 nt characteristic size of these small RNAs requires the cytoplasmic endonuclease Zucchini [6, 7]. In another mechanism, secondary piRNAs, responsible for a large portion of the total piRNA pool in the germline, are generated through an amplification loop referred to as the ping-pong cycle [2] and loaded onto Ago3. The Aub protein is posited to work within the ping-pong cycle by binding tertiary piRNAs that are generated through the amplification loop. A ten base-pair overlap can be seen between complementary primary and secondary piRNAs [2, 8]. Many piRNAs associating with the Aubergine and Piwi proteins are antisense to TEs and show a typical 1U feature, while piRNAs associated with Argonaute 3 are sense to the TE transcripts and show a 10A feature.
The piRNA pathway is a major epigenetic programming mechanism in higher eukaryotes and it has been increasingly implicated in germline development of eukaryotes. The Piwi protein is essential to fertility in D. melanogaster [9, 10], Caenorhabditis elegans [11, 12], Danio rerio [13], and Mus musculus [14]. Germline stem cell loss has also been documented in multiple organisms as a result of piRNA pathway mutation [9, 10, 14–17]. The PIWI proteins of the Asian malaria vector Anopheles stephensi are expressed at high levels in the germline cells of ovaries as expected and, importantly, their expression is further increased after a blood meal [18]. In addition to TE-derived piRNAs, a fraction of piRNAs map in the sense orientation to the 3′ untranslated regions (UTRs) of protein-coding transcripts [19–23]. piRNAs are produced by various protein-coding genes, including stellate, suppressor of stellate [24], and traffic jam [19, 25], that are important for the germline development in D. melanogaster. piRNAs from suppressor of stellate functionally silence stellate transcripts, and a deletion of suppressor of stellate leads to stellate overexpression and meiotic abnormalities in Drosophila testis [24]. Wolbachia can control the maternal transmission of endogenous gypsy retroviruses in D. melanogaster [26]. Knowledge of the mechanisms of how the piRNA pathway regulates reproduction in mosquitoes could be useful for both basic and applied science. Our increased understanding of reproductive processes in disease vectors will facilitate the identification of novel targets for vector control [27]. The piRNA pathway has also been linked to other epidemiologically important phenotypes in mosquitoes. For example, a role of piRNAs in antiviral immune responses in both Aedes aegypti and Ae. albopictus has been demonstrated [28, 29]. A recent study has shown that Wolbachia can manipulate the mosquito cell RNAi/miRNA/piRNA machinery by inducing or suppressing specific small RNAs [30].
The majority of piRNAs originate from clusters, genomic regions ranging in size from approximately 1–250 kb [
2
,
22
]. Produced piRNAs serve as guides for targeted inactivation of complementary TEs. piRNA clusters do not have an explicit strand bias; however, in some cases, they do exhibit high percentages of TEs in one orientation or the other [
2
,
31
,
32
]. In
D. melanogaster
, the piRNA clusters are almost exclusively located in heterochromatin—the pericentromeric and subtelomeric regions—regions with an abundance of TEs [
2
]. It is not clear if the predominant location of piRNA clusters in heterochromatin is specific to the fruit fly or is typical to Diptera. The African malaria mosquito,
Anopheles gambiae,
represents an intermediate in terms of the genome assembly size (273.1 Mb) [
33
] compared to other phylogenetically distant Dipterans with studied piRNA pathways
D. melanogaster
(143.9 Mb) [
34
] and
Ae. aegypti
(1311 Mb) [
35
] (Fig.
1
). Moreover the genomic distribution of TEs differs among the three species. Over 77 % of pericentromeric heterochromatin and only 7 % of euchromatin are occupied by TEs in
D. melanogaster
[
36
]. This difference is less dramatic in
An. gambiae
: 33.1 % of pericentromeric heterochromatin and 14.5 % of the rest of the genome are covered by TEs [
37
]. The large regions of intercalary heterochromatin present in
An. gambiae
are mainly responsible for the high peaks of TE coverage outside the pericentromeric regions. In an extreme case,
Ae. aegypti
has a homogeneously high coverage of TEs (~52 %) across pericentromeric heterochromatin and other chromosomal regions [
38
]. Do mosquito species with a more ubiquitous distribution of TEs reflectively have a redistribution of piRNA clusters from heterochromatic to euchromatic regions? Does the piRNA pathway have conserved functions in organisms with different genome sizes, chromatin landscapes, and predominant TE families? These questions can be addressed by mapping piRNAs to annotated features of chromosome-based genome assemblies.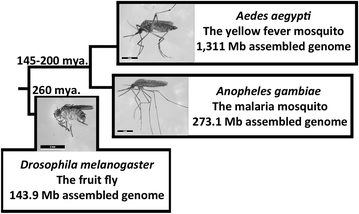 Here, we identified piRNAs from the ovarian tissue of An. gambiae females and characterized potential relationships between these small RNAs and the mosquito's genomic features. We compared chromosome location of piRNA clusters in three Dipteran species with remarkably different patterns of genomic organization: D. melanogaster, Ae. aegypti, and An. gambiae [39]. We discovered a noticeable shift in piRNA cluster location in An. gambiae compared with D. melanogaster; the 15 most productive piRNA clusters are less confined to the pericentromeric heterochromatin, but can also be found in intercalary heterochromatin and euchromatin. The Ae. aegypti top 15 piRNA clusters [22] are even more pervasive, occupying euchromatic genomic scaffolds that have been previously placed to chromosomes by physical and genetic mapping [38, 40]. There is an increase in gene-derived piRNAs in the malaria mosquito when compared with the fruit fly. Among the genes identified in An. gambiae as rich in piRNA mapping, a subset includes genes potentially critical to reproduction and germline development, including oskar (AGAP003545).
Results
The piRNA population in the ovarian tissue of An. gambiae
To accurately characterize the sequence and genomic location of piRNAs produced by the African malaria vector, we isolated and sequenced small RNAs from blood-fed ovaries of the Mali strain (the M form) of
An. gambiae
using the Illumina Small RNA TruSeq technology. The generated library of small RNAs, which we have named the non-collapsed non-unique (NCNU) library—reads including any duplicates (referred to as non-collapsed or NC) that map to one or more locations in the genome (referred to as non-unique or NU)—showed a bi-modal length distribution with two peaks (Additional file
1
: Figure S1). The definition and sizes of each library are shown in Additional file
2
: Table S1. The first peak occurred at a size of 22 nt, which we attributed to microRNAs (miRNA). The second broad peak spanning 24–29 nt with an apex at 27 nt represented the potential piRNA pool. The 27 nt peak has also been reported for the G3 strain (the S form) of
An. gambiae
[
21
,
23
]. We noted that it differs from the 26 nt peak of
D. melanogaster
and 28 nt peak of
Ae. aegypti
(Fig.
2
a, c, e). However, the total small RNA size range is in close concordance with
Ae. aegypti
(24–31 nt) [
22
],
D. melanogaster
(23–29 nt) [
2
],
Bombyx mori
(26–31 nt) [
41
], and
Danio rerio
(24–30 nt) [
13
].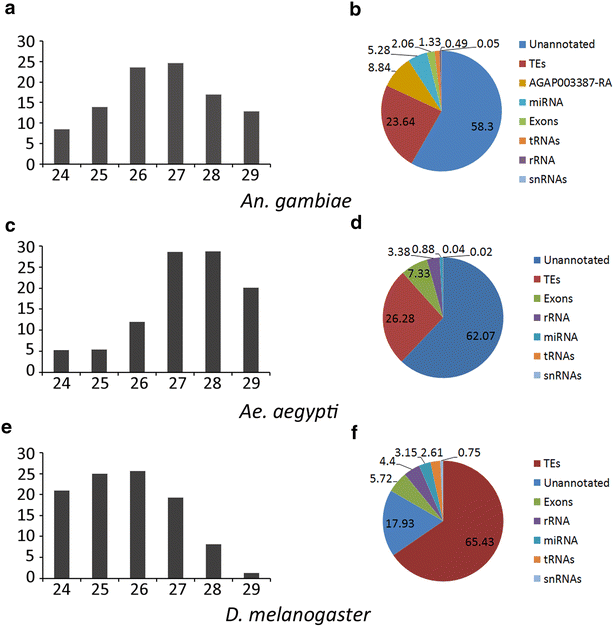 A majority of piRNAs target TEs (predominantly LTR retrotransposons) in both An. gambiae and D. melanogaster
To accurately characterize TE-derived piRNAs, 24–29 nt sequences from the NCNU library were mapped to the 7080 annotated Hexapoda TEs from RepBase [42]. The An. gambiae TE library is not nearly as extensive as the D. melanogaster TE library; therefore, we used all identified TE sequences from the subphylum Hexapoda to bolster the reference library used for piRNA mapping and to help mitigate potential non-annotated ancestral TEs. It is generally believed that the percentage of reported TE-matching piRNAs is an underestimation of the real percentage because of incomplete annotation of TEs in insect genomes [43]. Two approaches were taken to identify piRNAs derived from TEs: "consensus" mapping and "overlap" mapping. The first approach used traditional read mapping with Bowtie2, aligning the piRNAs to consensus TE sequences with up to three mismatches. This method relies on the assumption that three mismatches would be sufficient to identify TEs degraded from their original consensus sequences. Using this methodology, approximately 23.6 % of the total piRNA library was identified as being derived from TE sequences (Fig. 2b). We applied the same method to other Dipteran species with characterized piRNAs [22, 44] and found that this proportion of TE-mapped piRNAs is similar to that of Ae. aegypti (26.3 %) (Fig. 2d) but is much smaller than the 65.4 % identified in D. melanogaster (Fig. 2f). Some of this difference may be attributed to the larger proportion of unannotated sequences in An. gambiae, where at least 58.3 % of piRNAs are mapped to the unannotated part of the genome. This number is similar to that in Ae. aegypti, but is much larger than the 17.9 % identified in D. melanogaster.
The second approach of identifying TE-derived piRNAs sought to overcome limitations caused by a possible incomplete annotation of TE libraries and by severe sequence divergence from consensus TE sequences. Many of the TEs residing within a genome, especially within the heterochromatin, have been mutated to the point that they are quite different from their initial consensus sequences. By using up to three mismatches when mapping to consensus TE sequences, a substantial portion of low-identity TE sequences may be missed. We designed an "overlap" method that incorporated repeat masking data generated using the RepeatMasker platform [45] to identify genomic positions of the same 7080 annotated Hexapoda TEs sequences from RepBase [42]. Genomic piRNA positions were concurrently identified by short-read mapping the small RNAs to the organism's reference genome assembly. The two position lists were overlapped to identify common genomic sequences that we considered TE-derived piRNA originators (see "Methods"). This second method resulted in 39.4 % of the piRNA pool that may be derived from TE sequences in the mapped portion of the An. gambiae genome (Additional file 3: Table S2). We tested the "overlap" approach for identifying TE-derived piRNAs on D. melanogaster. To do this, a w 1118 ovarian piRNA library [44] was mapped to the D. melanogaster genome (version R6.04) with no mismatches. We used the same Hexapoda TEs from RepBase [42] to be consistent with our An. gambiae analysis. We found 81.6 % (2,149,899 of 2,634,680 RNAs) of the total sequenced piRNAs mapped to TEs in D. melanogaster, which is still much higher than the 39.4 % (8,890,061 of 22,569,568 RNAs) of TE-mapped piRNA identified in An. gambiae (Additional file 3: Table S2).
Although the two approaches for identifying TE-derived piRNAs result in considerably different predictions in respect to the percentage of piRNAs derived from TEs in
An. gambiae
, they still agree on the families of TEs with the highest abundance of mapped piRNAs (Fig.
3
a–d). TE classes with the highest piRNA representation are LTR retrotransposons (59 % of piRNAs) followed by non-LTR retrotransposons (28 %) and DNA transposons (12 %), as determined by the "overlap" method. However, classes and families most abundant in piRNA mapping do not correspond to the TE classes and families most prevalent in the
An. gambiae
genome (Fig.
3
e, f). For example, LTR retrotransposons represent the most abundant class of TEs enriched in piRNAs (Fig.
3
b, d). Yet, non-LTR retrotransposons are more abundant in the
An. gambiae
genome than are LTR retrotransposons (34 vs. 29 %, respectively, Fig.
3
f). Moreover, 37 % of all TE sequences in the
An. gambiae
genome are represented by DNA transposons, while DNA transposons generate only 12 % of piRNAs (Fig.
3
d).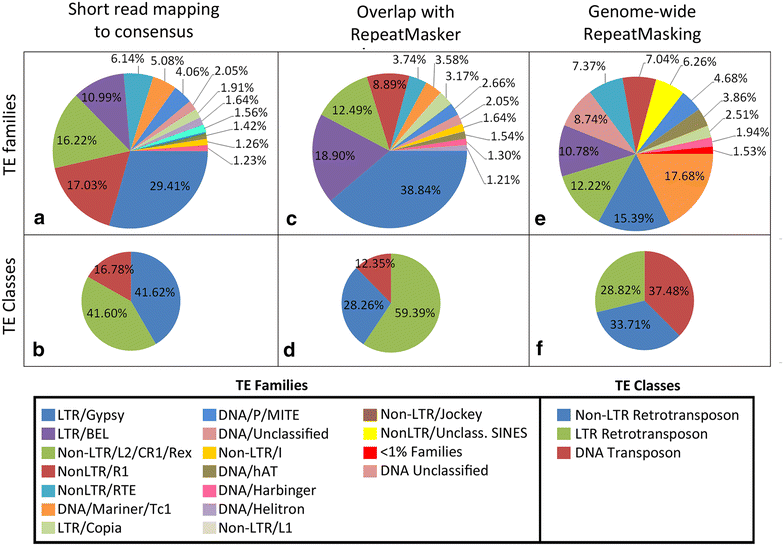 TE mapping data provide evidence of an active ping-pong amplification cycle in An. gambiae ovaries
In the ping-pong amplification cycle, antisense piRNAs are considered to be almost exclusively derived from piRNA clusters and are proposed to be primarily responsible for TE silencing through the piRNA pathway [2]. In the An. gambiae dataset, we identify a strong bias toward antisense piRNAs. About 69 % of the piRNAs identified as TE-derived were found in the opposite orientation with regard to TEs identified by the "overlap" method. This finding holds consistent across each of the arms and to an extent within the unknown (UNKN) chromosome, which consists of unmapped genomic scaffolds (Additional file 4: Figure S2).
In addition, the ping-pong amplification loop promotes the generation of both sense and antisense RNAs that help to guide piRNA complexes toward transposon mRNAs for their subsequent processing. The RNAs generated from this amplification loop typically exhibit two motifs. Both motifs, a precise 10 nucleotide overlap between overlapping piRNAs and positional biases with Uridine at position 1 and Adenine at position 10 [2, 8, 22], stem from the way in which the ping-pong amplification generates piRNAs. In D. melanogaster, Piwi and Aubergine proteins have a noted preference toward piRNAs that are antisense to mRNAs encoded by TEs with a Uridine at the 5′ end [2]. As the PIWI-mediated cleavage is now known to occur between positions 10 and 11 of the RNA complementary to the guide strand, the resulting secondary, sense piRNA is expected to contain an Adenine at the tenth nucleotide. Ago3 proteins have a preference toward piRNAs sense to TE mRNAs. This targeted cleavage results in an amplified piRNA pool capable of targeting both sense and antisense transposon transcripts.
From a total of 22,569,568 small RNAs ranging from 24 to 29 nt and constituting the potential piRNA pool in
An. gambiae
, we further examined this population for piRNA signatures and for sequences from which these piRNAs might be derived. We identified 79.1 % of the 24–29 nt bona fide reads (excluding miRNA, rRNA, tRNA, snRNA) as having a U at position 1 and 28.4 % as having an A at position 10 (Fig.
4
a). We also analyzed TE-mapping piRNAs separately, allowing 0–3 mismatches. Using the NCNU library, the sense reads for TEs show a 60.9 % bias of 1U and a 54.0 % bias of 10A, while antisense reads show a 84.3 % bias of 1U and a 27.8 % bias of 10A. The values obtained from the collapsed NU library are very similar (Fig.
4
a), indicating that 1U and 10A biases are not due to multiplicity of many piRNA reads. These percentages are very close to the corresponding percentages in
D. melanogaster
(Fig.
4
b). We detected a strong 10 nt overlap bias (Fig.
4
c) with 1U and 10A signatures (Fig.
4
d) in the 24–29 nt subgroup from
An. gambiae
. In accordance with previous studies [
21
,
23
], the presence of these signatures suggests that a mechanism similar to the established ping-pong amplification loop in
D. melanogaster
exists in the ovarian tissue of
An. gambiae
, functioning with Ago3 and Aub orthologs, which load preferentially sense and antisense piRNAs, respectively.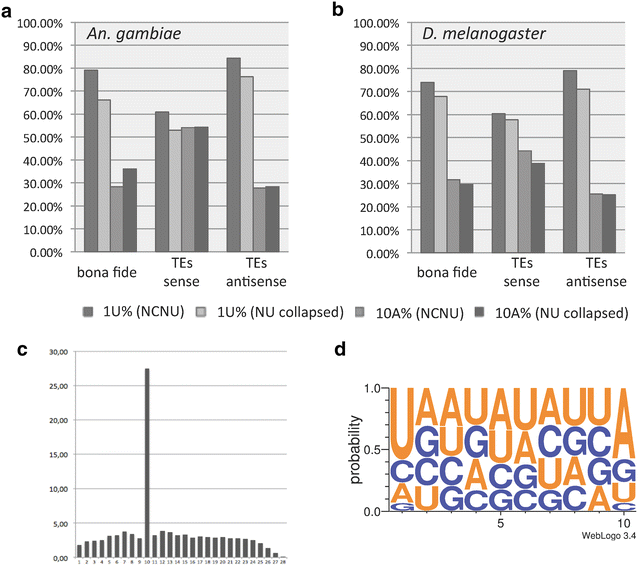 187 piRNA clusters are identified in the genome of An. gambiae
The An. gambiae PEST genome is chromosomally assembled [33, 46], allowing for the spatial identification of chromosomal positions associated with piRNA enrichment. The reference PEST strain has haplotypes of both S and M forms of An. gambiae segregating in different regions of the genome [33]. Overall, the M form genome is slightly more similar to the PEST genome than is the S form genome [47], which gave us an advantage in mapping the Mali strain (the M form) reads to the reference genome. piRNA clusters in An. gambiae were identified using a strategy that incorporated the methods used previously in both D. melanogaster [2] and Ae. aegypti [22] (see "Methods"). A total of 120 piRNA clusters in An. gambiae were found on the assembled chromosomes, with 18 clusters being identified on chromosome X, 35 clusters on 2R, 27 on 2L, 18 on 3R, and 22 on 3L (Additional file 5: Table S3). Chromosome UNKN, being made up of variously sized scaffolds sorted in decreasing order by length, provides approximately 40 % of the mapped piRNA sequences. The abundance of small, artificially concatenated scaffolds in the UNKN chromosome made it difficult to determine the boundaries of piRNA clusters when working with 5-kb windows, so we limited our analyses to the first 10 Mb. Scaffolds at the 10-Mb region of chromosome UNKN were at least ~50 kb in length. We identified 67 extra clusters present in the first 10 Mb of chromosome UNKN. The total 187 clusters span in size from 10 to 1.29 Mb, which is a departure from the smaller clusters (2–242 kb, 6–184 kb, respectively) identified in previous studies in D. melanogaster [2] and Ae. aegypti [22]. We ran our piRNA cluster analysis pipeline using the w 1118 piRNA library [44] on the Dmel_R6.04 release of the D. melanogaster [34] genome assembly using the same methodology as for An. gambiae in an effort to compare genomic location of piRNA clusters in the different species (see "Methods"). We identified 155 clusters in D. melanogaster ranging in size from 10 to 1.13 Mb (Additional file 5: Table S3).
Discussion
A role of the piRNA pathway in the TE mobilization control and in germline development has been demonstrated for D. melanogaster [1]. Anopheles gambiae and D. melanogaster delineated approximately 260 million years ago (Fig. 1), and the degree of conservation of piRNA functions between these two species is an open question. Moreover, Dipteran species vary greatly in genome size and the pattern of genomic distribution of TEs: from a highly compartmentalized, small genome (144 Mb) in D. melanogaster with TEs concentrated in pericentromeric heterochromatin [34], to an intermediate genome size (273 Mb) in An. gambiae [33], to a large genome (1310 Mb) in Ae. aegypti with homogeneously high TE coverage [35, 38]. How does the organization of the piRNA pathway change with varying genome size and repeat landscape? By studying piRNAs in An. gambiae, we uncovered conserved and diverse features of the piRNA pathway across Dipteran species and gained new insights into its role in the regulation of the reproductive processes in the African malaria vector.
The An. gambiae piRNA pathway chiefly defends against mobilization of transposable elements
Employing the "overlap" method (see above), we found that almost 40 % of the piRNAs mapped to TEs in An. gambiae, which is almost twice higher than 23.6 % determined by the traditional "consensus" method, but still twice less than the 81 % of piRNAs mapped to TEs by the "overlap" approach in D. melanogaster. This difference may also suggest that the mosquito has a larger proportion of non-transposon-derived piRNAs than the fruit fly. Alternatively, due to the different relative abundance of TE classes, the secondary quantity of LTR retrotransposons in An. gambiae may, at least partially, explain the lower percentage of TE-mapping piRNAs.
We show that TE families with the largest number of derived piRNAs do not correspond to the most prevalent TE families in the mosquito genome. DNA transposons and non-LTR retrotransposons are the most abundant subclasses of TEs in An. gambiae (Fig. 3b, d), yet LTR retrotransposons are responsible for the origin of 60 % of the TE-derived piRNAs identified by the "overlap" method (Fig. 3f). A study of An. gambiae TEs concluded that elements from the major families of LTR elements (BEL/Pao, copia, and gypsy) correspond to putatively active elements [63]. Many of the DNA transposons are highly degraded, with only Mariner, P elements, and MITEs showing full-length sequences that can be associated with recent transposition [64]. Although some elements may be prevalent within the genome, increased activity within the ping-pong amplification loop, TE mRNA transcript abundance, and presence within clusters have all been found to be important in determining piRNA abundance [65]. Moreover, as in Drosophila [65], the most transpositionally active TE families may not be necessarily the TEs that give the most abundant piRNAs. The preference toward specific classes of TEs may help to explain how other classes of TEs (DNA transposons) have become more pervasive in the mosquito genome.
Peculiar aspects of genomic distribution and organization of piRNA clusters in An. gambiae
In D. melanogaster, the piRNA clusters are predominantly heterochromatic, and found within pericentromeric regions [2]. Prior to this study, it was unclear if piRNA clusters are mainly located in pericentromeric heterochromatin in other Dipteran species. Using an approach that was standardized between D. melanogaster and An. gambiae, we identified clear differences in the genomic location and composition of the piRNA clusters among Dipteran species. piRNA clusters were concentrated in the pericentromeric heterochromatin of D. melanogaster, while an increasing number of clusters were found in the intercalary heterochromatin and euchromatin of An. gambiae. Aedes aegypti serves as the most extreme example of piRNA cluster shifting, having major clusters mainly located in euchromatic loci. The fact that we find no identified piRNA clusters in the compact intercalary heterochromatin of An. gambiae influences the overall findings from this study. Our data suggest that a genomic locus being a region of heterochromatin, i.e., low abundance of genes and high repeat content, is not sufficient for containing piRNA clusters, at least in An. gambiae.
We hypothesize that as the genome size decreases in insects, the heterochromatin location becomes more restricted to the pericentromeric regions, and TEs, concordantly, become concentrated within the heterochromatin. Similarly, as the genome size increases, heterochromatin and TEs spread into new chromosomal regions. The expansion of piRNA cluster location from pericentromeric regions follows the shift in TE location from pericentromeric heterochromatin to intercalary heterochromatin and to euchromatin. This shifting genomic distribution results in piRNA clusters with attributes more closely resembling euchromatin than heterochromatin. Change in cluster composition may change the pattern of TE and gene regulation [66]. In the D. melanogaster genome with well-compartmentalized TE locations, loci in pericentromeric heterochromatin are responsible for production of 41.6 % of piRNAs (Additional file 9: Table S4). piRNA clusters require the H3K9me3 repressive histone mark to be transcribed and to silence TEs in fruit flies [67]. It has been proposed that Piwi binds to heterochromatin protein 1 (HP1), which in turn recruits Su(var)3-9 to add the H3K9me3 marks [68]. Such a positive feedback loop creates conditions for piRNA cluster transcription and for stabilizing the heterochromatin. Whereas in the An. gambiae genome with a high TE density not confined to pericentromeric regions, only 25 % of piRNAs are produced by pericentromeric heterochromatin. We propose that the organization of the majority of piRNA clusters in the malaria mosquito is more similar to that in silkworm than in fruit fly. The total estimated genome size of Bombyx mori is 428.7 Mb [69], which is 3.6 and 1.54 times larger than that of fruit fly and malaria mosquito, respectively. Silkworm telomeres have telomere-specific transposons and large piRNA clusters marked with heterochromatin histone marks H3K9me2 and H3K9me3. However, 965 piRNA clusters, which are located outside the telomeres, lack the heterochromatin marks, but have euchromatin marks H3K4me2, H3K4me3, and H3K9ac [70].
Heterochromatic piRNA clusters in D. melanogaster are enriched in the HP1 homolog Rhino that co-localizes with UAP56, which binds to piRNA precursors [48, 71]. An. gambiae lacks the Rhino ortholog (according to FlyBase [72], http://flybase.org/reports/FBgn0004400.html) and has a higher abundance of unidirectional euchromatic piRNA clusters (~55 %) than does D. melanogaster, where a majority of piRNA clusters (~78 %) are bidirectional (Fig. 5). Future studies are needed to understand the nature of the majority of piRNA clusters in the mosquito. The dispersal of piRNA clusters in euchromatin may lead to more potential cases of cis-regulation, in which a TE or gene is regulated by a cluster located nearby, instead of trans-regulation, where the regulation is provided by a pericentromeric heterochromatic cluster. Finally, manipulating the piRNA function in species with spread out clusters is likely more challenging because of the greater decentralization of the piRNA pathway.
Novel insights from An. gambiae genes enriched in sense piRNAs
We identified a large proportion of sequenced piRNAs (11 %) that is associated with protein-coding genes in An. gambiae. In addition, 58.3 % of piRNAs are mapped to unannotated sequences, a portion of which may represent novel protein-coding genes, TEs, or long non-coding RNA genes (Fig. 2b). A majority of the piRNAs that mapped to protein-coding genes in An. gambiae was found in the sense orientation with respect to the transcript. Recent studies provide insights into how these genic piRNAs might be produced. Artificial insertion of a sequence within the 3′ UTR of a piRNA-producing gene resulted in the formation of piRNAs derived from the novel sequence [73]. Genes with TE sequences, considered "trigger piRNAs" within the transcript, can initiate secondary 3′-directed piRNA biogenesis that result in "responder" piRNAs that are in the same orientation as the genic mRNA [74–76]. These piRNAs lack partner piRNAs, and they are most likely generated outside of the ping-pong amplification loop, unless they target other, yet undiscovered genes. For example, piRNAs produced by traffic jam are loaded onto Piwi to silence specific target gene fasciclin 3 in D. melanogaster [19].
Can the sense strand bias give us a clue about a possible mechanism of gene regulation via piRNAs? For example, the An. gambiae oskar had 398 genome-unique sense reads and no antisense reads (24–29 nt, zero mismatches), meaning that all these piRNAs derive from the oskar primary transcript or mRNA. Could a high level of piRNA production lead to a depletion of mRNAs and, thus, to reduced levels of the protein? This would be possible if the piRNA and mRNA production pathways compete with each other by using the same primary transcripts as a source for either piRNAs or mRNAs. This also would be possible if piRNAs are produced from mRNAs. Because the levels of piRNA production are likely regulated by the PIWI proteins, we investigated expression profiles of genes involved in the piRNA pathway in An. gambiae blood feeding and embryonic development experiments. Indeed, we found a good correspondence between the patterns of expression of genes from the "reproduction and development" cluster and genes from the piRNA pathway (Fig. 9). A possible reason for these parallel trends of expression is that the piRNA machinery processes primary gene transcripts or mRNAs into piRNAs. For example, when up-regulation of "reproduction and development" genes creates a high abundance of transcripts, the parallel up-regulation of the PIWI genes would process some of these gene transcripts into piRNAs, thus reducing the amount of mRNA. Otherwise, these reproductive genes and piRNA pathway genes could be regulated by the same factors. The idea that piRNAs can be produced from primary transcripts or from mRNAs is supported by a correlation analysis, which found that more piRNAs are produced by more highly expressed genic transcripts [77]. Nevertheless, many highly expressed transcripts do not produce piRNAs, suggesting restricted access of substrates to the piRNA biogenesis machinery. Furthermore, it has been shown that the protein level of the traffic jam, whose 3′ UTR generates abundant sense piRNAs, is upregulated in Drosophila piwi mutants [20]. Studying the functional role of these piRNAs would require knocking down the piRNA production from all these specific genes without changing their protein expression.
If piRNAs do indeed play a role in regulation of mRNA abundance, it may be to aid in the transition from maternally deposited mRNA to zygotically transcribed mRNA levels. Many of the genes from the "reproduction and development" cluster and from the piRNA pathway exhibited a pronounced decline in expression between 2 and 6 h of embryonic development (Fig. 9). As described earlier, zygotic transcription occurs as early as 2–3 h into embryogenesis [78]. Prior to this, large quantities of mRNAs are maternally deposited into the embryo. Since we see such a marked decrease in the abundance of mRNAs within this cluster of reproductive development genes, it may be possible that the processing of mRNAs into piRNAs is an underlying cause of the decline of maternally deposited mRNAs.
Another gene regulation mechanism is transcript suppression, which occurs in many D. melanogaster piRNA clusters that exhibit heterochromatic characteristics, including the epigenetic marks H3K9me3 and HP1 [67, 79]. In D. melanogaster, maternally deposited embryonic piRNAs are replaced by TE-derived siRNAs [80], which are posited to aid in the spread of heterochromatin formation through a shift in recruitment of HP1 and related proteins, contributing to gene silencing. If similar epigenetic modifications occur in regions typically devoid of heterochromatin marks, it is possible that the recruitment of heterochromatic proteins in or near these euchromatic regions containing protein-coding genes results in repressed transcription through heterochromatinization. It is unclear if the chromatin state itself is what allows piRNA production [48]. Given the nuclear localization of Piwi, it is conceivable that the Piwi-piRNA complex could associate with the piRNA-producing genes, providing an epigenetic transcriptional regulation through histone modification [43].
Conclusion
Our study demonstrates that the distribution and organization of piRNA clusters observed in fruit flies may not be conserved in other Dipteran species. The more decentralized genomic location of piRNA clusters in An. gambiae and Ae. aegypti compared with D. melanogaster could potentially cause the generation of a larger proportion of non-TE-derived piRNAs. The large number of piRNAs that originate from regions other than pericentromeric heterochromatin suggests that their roles may be more diverse in mosquitoes than in D. melanogaster. Moreover, An. gambiae has a higher abundance of unidirectional euchromatic piRNA clusters than D. melanogaster does, which points to important differences between the piRNA machineries of the two species. Identification of the large pool of piRNAs produced by genes involved in reproduction and development indicates that the piRNA pathway may play a role in reproductive processes in the malaria vector. Future research will lead to understanding the epigenetic mechanisms of how these piRNAs regulate gene expression and affect germline and embryonic development. Our study also suggests that LTR retrotransposons have a distinct capacity to produce piRNAs that may be linked to higher transcription rate, higher frequency of insertion into piRNA clusters and/or higher capacity to enter the ping-pong amplification cycle. The study of piRNA production from various classes of TEs may offer understanding of the potential ability of some TEs to escape piRNA repression.
Availability of supporting data
The BioProject PRJNA278159 files are available from the NCBI SRA database (accession number: SRX966734).
Abbreviations
Ago3:

Argonaute 3
Aub:

Aubergine
FAT:

functional annotation terms
GO:

gene ontology
H3K9me2:

dimethylated histone H3 lysine 9
H3K9me3:

trimethylated histone H3 lysine 9
H3K4me2:

dimethylated histone H3 lysine 4
H3K4me3:

trimethylated histone H3 lysine 4
H3K9ac:

acetylated histone H3 lysine 9
HP1:

heterochromatin protein 1
LINE:

long interspersed nuclear element
LTR:

long terminal repeat
miRNA:

microRNAs
MITE:

miniature inverted-repeat transposable element
MR4:

Malaria Research and Reference Reagent Resource Center
mRNA:

messenger RNA
NC:

non-collapsed
NU:

non-unique
NCNU:

non-collapsed non-unique
nt:

nucleotide
piRNA:

Piwi-interacting RNA
rRNA:

ribosomal RNA
RISC:

RNA-induced silencing complex
RPM:

reads per million
SINE:

short interspersed nuclear element
snRNA:

small nuclear RNA
SuUR:

Suppressor of Under Replication
Su(var):

Suppressor of variegation
TEs:

transposable elements
tRNA:

transport RNA
UNKN:

unknown
UTRs:

untranslated regions
Declarations
Authors' contributions
Performed the experiments: PG, SJ, IVS; analyzed the data: PG, SJ, RP, JL, YX, EB, CV, IVS; contributed reagents/materials/analysis tools: RP, JL, YX, CV, IVS; contributed to the writing of the manuscript: PG, SJ, CV, IVS. All authors read and approved the final manuscript.
Acknowledgements
This work is supported by the Fralin Life Science Institute, the USDA National Institute of Food and Agriculture Hatch project 223822, by NIH grant R21AI094289 to IVS and Ligue Nationale contre le cancer to CV. PG received the Chateaubriand Fellowship from the French Embassy in the USA. We thank Melissa Wade for editing the manuscript.
Competing interests
The authors declares that they have no competing interest.
Open AccessThis article is distributed under the terms of the Creative Commons Attribution 4.0 International License (http://creativecommons.org/licenses/by/4.0/), which permits unrestricted use, distribution, and reproduction in any medium, provided you give appropriate credit to the original author(s) and the source, provide a link to the Creative Commons license, and indicate if changes were made. The Creative Commons Public Domain Dedication waiver (http://creativecommons.org/publicdomain/zero/1.0/) applies to the data made available in this article, unless otherwise stated.
Authors' Affiliations
(1)
Department of Entomology, Virginia Polytechnic Institute and State University, Blacksburg, USA
(2)
Laboratoire Génétique, Reproduction, et Développement, Clermont Université, Université d'Auvergne, Clermont-Ferrand, France
(3)
Institut National de la Santé et de la Recherche Médicale, U 1103, Clermont-Ferrand, France
(4)
Centre National de Recherche Scientifique, UMR 6293, Clermont-Ferrand, France
(5)
The PhD Program in Genomics Bioinformatics and Computational Biology, Virginia Polytechnic Institute and State University, Blacksburg, USA