Tissue-specific regulation of Igf2r/Airn imprinting during gastrulation
Epigenetics & Chromatin
2015
8:10
Received: 21 November 2014
Accepted: 13 February 2015
Published: 14 March 2015
Abstract
Background
Appropriate epigenetic regulation of gene expression during lineage allocation and tissue differentiation is required for normal development. One example is genomic imprinting, which is defined as parent-of-origin mono-allelic gene expression. Imprinting is established largely due to epigenetic differences arriving in the zygote from sperm and egg haploid genomes. In the mouse, there are approximately 150 known imprinted genes, many of which occur in imprinted gene clusters that are regulated together. One imprinted cluster includes the maternally expressed Igf2r, Slc22a2, and Slc22a3 genes and the paternally expressed long non-coding RNA (lncRNA) Airn. Although it is known that Igf2r and Airn are reciprocally imprinted, the timing of imprinted expression and accompanying epigenetic changes have not been well characterized in vivo.
Results
Here we show lineage- and temporal-specific regulation of DNA methylation and histone modifications at the Igf2r/Airn locus correlating with differential establishment of imprinted expression during gastrulation. Our results show that Igf2r is expressed from both alleles in the E6.5 epiblast. After gastrulation commences, the locus becomes imprinted in the embryonic lineage with the lncRNA Airn expressed from the paternal allele and Igf2r restricted to maternal allele expression. We document differentially enriched allele-specific histone modifications in extraembryonic and embryonic tissues. We also document for the first time allele-specific spreading of DNA methylation during gastrulation concurrent with establishment of imprinted expression of Igf2r. Importantly, we show that imprinted expression does not change in the extraembryonic lineage even though maternal DMR2 methylation spreading does occur, suggesting distinct mechanisms at play in embryonic and extraembryonic lineages.
Conclusions
These results indicate that similar to preimplantation, gastrulation represents a window of dynamic lineage-specific epigenetic regulation in vivo.
Keywords
Imprint GeneBisulfite SequencingPaternal AlleleImprint LocusIgf2r Expression
Background
Genomic imprinting is an epigenetic phenomenon that results in mono-allelic gene expression in a parent-of-origin manner. Imprinted expression has been identified at approximately 150 mouse genes, which often occurs in clusters containing multiple imprinted transcripts [1,2]. Expression of imprinted genes is thought to be established in cis by allele-specific DNA methylation established at imprinting control regions (ICRs) in the gametes, thus arriving in the zygote as maternal and paternal specific information. A regulatory theme has emerged at many imprinted clusters in which a single long non-coding RNA (lncRNA) is thought to repressively regulate genes in cis through direct transcriptional blocking and/or recruitment of repressive chromatin remodeling complexes such as G9a and PRC2, resulting in differential allele-specific histone modifications [3,4].
One cluster on mouse chromosome 17 includes the maternally expressed Igf2r, Slc22a2, and Slc22a3 genes and the paternally expressed lncRNA Airn [5], and several non-imprinted genes (Slc22a1, Mas, and Plg). The Airn promoter lies in the second intron of Igf2r, and Airn transcription occurs from the opposite strand overlapping Igf2r exons 1 and 2 [5-7]. Paternal Airn expression may participate in imprinting of the maternally expressed genes by blocking access of the transcriptional machinery to the Igf2r start site [8], and transcription of Airn has been shown to be required for silencing of Igf2r [8,9]. Paternal allele silencing of the other imprinted genes in the cluster only occurs in extraembryonic lineages and may be a result of Airn recruitment of repressive complexes such as G9a to their promoters [4]. Biallelic expression of Igf2r is observed in ES cells and only becomes imprinted upon differentiation in vitro [4]. Although the expression of Igf2r and Airn has been documented in preimplantation and late stage embryos [10-12], lineage-specific expression dynamics have not been observed during gastrulation. Recent studies have focused on mechanisms in ES cell models [4,8,13], but the precise timing and mechanisms responsible for imprinting at Igf2r/Airn in vivo remain unknown. Here we characterize tissue-specific dynamics of expression and epigenetic modifications that occur at Igf2r/Airn during normal gastrulation. We show that significant epigenetic regulation occurs at imprinted loci during epiblast differentiation in vivo.
Conclusions
Our results indicate lineage-specific regulation of
Igf2r/Airn
imprinted expression during gastrulation. We identify the precise ICR boundary as well as spreading of DNA methylation at
Igf2r
DMR2 during gastrulation (summarized in Figure
5
). At E6.5, both EPI and VE lineages maintain maternal ICR methylation. However, the epiblast expresses biallelic
Igf2r
and no
Airn.
In contrast, both genes are imprinted in visceral endoderm of the same embryos. Therefore, there must exist mechanistic distinctions that result in imprinted expression in VE but not in EPI at E6.5 - possibly lineage-specific expression of chromatin binding/modifying genes established during preimplantation inner cell mass/trophectoderm differentiation. Our data also show locus-specific methylation spreading occurs during gastrulation in both lineages. While spreading of ICR methylation is known to occur during preimplantation, it has not been previously shown during gastrulation at imprinted loci, indicating that DNMTs are targeted to the locus specifically during these stages. The lineage differences in imprinted expression documented herein are remarkably similar to patterns of X-inactivation. Imprinted X-inactivation is established in extraembryonic cells during preimplantation, while stochastic X-inactivation occurs in the embryo only after gastrulation commences. Furthermore, non-coding RNAs help induce silencing in
cis
of the inactive X chromosome (reviewed in [
24
]) suggesting that
Airn
may function in a similar fashion at the
Igf2r
locus. The results presented here support the possibility that regulation of
Igf2r/Airn
(and other imprinted loci) and X-inactivation may utilize a common mechanism. Identification of the lineage-specific machinery that enables epigenetic changes specifically in the embryo will lead to a more complete understanding of the events underlying normal gastrulation and epigenetic reprogramming.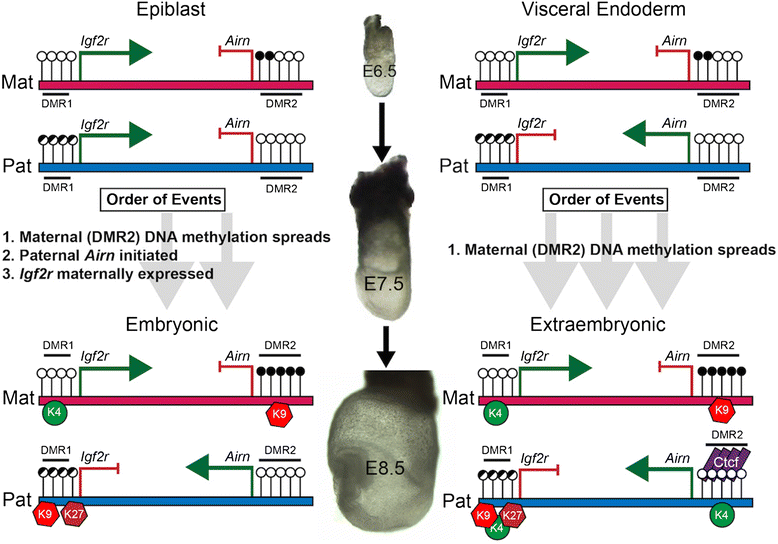 Abbreviations
ChIP:

chromatin immunoprecipitation
DMR:

differentially methylated region
DNMT:

DNA methyltransferase
EM:

embryonic
EPI:

epiblast
ES cells:

embryonic stem cells
EX:

extraembryonic
H3K27me3:

histone H3 lysine 27 tri-methylation
H3K4me3:

histone H3 lysine 4 tri-methylation
H3K9me3:

histone H3 lysine 9 tri-methylation
HMODs:

histone modifications
ICM:

inner cell mass
ICR:

imprinting control region
lncRNA:

long non-coding RNA
PRC2:

Polycomb Repressive Complex 2
RFLP:

restriction fragment length polymorphism
SSCP:

single-strand conformation polymorphism
TE:

trophectoderm
VE:

visceral endoderm
Xi:

X-inactivation
Declarations
Acknowledgements
CM was supported by ICE-NSF-IGERT (Grant DGE-0654128). The work was supported in part by NSF RCN grant 1049849 and March of Dimes Grant 6-FY11-367 to JM.
Authors' Affiliations
(1)
Department of Veterinary and Animal Sciences, University of Massachusetts at Amherst, Amherst, USA
Copyright
© Marcho et al.; licensee BioMed Central. 2015
This is an Open Access article distributed under the terms of the Creative Commons Attribution License (http://creativecommons.org/licenses/by/4.0), which permits unrestricted use, distribution, and reproduction in any medium, provided the original work is properly credited. The Creative Commons Public Domain Dedication waiver (http://creativecommons.org/publicdomain/zero/1.0/) applies to the data made available in this article, unless otherwise stated.