Constitutive heterochromatin formation and transcription in mammals
Epigenetics & Chromatin
2015
8:3
Received: 28 October 2014
Accepted: 16 December 2014
Published: 15 January 2015
Abstract
Constitutive heterochromatin, mainly formed at the gene-poor regions of pericentromeres, is believed to ensure a condensed and transcriptionally inert chromatin conformation. Pericentromeres consist of repetitive tandem satellite repeats and are crucial chromosomal elements that are responsible for accurate chromosome segregation in mitosis. The repeat sequences are not conserved and can greatly vary between different organisms, suggesting that pericentromeric functions might be controlled epigenetically. In this review, we will discuss how constitutive heterochromatin is formed and maintained at pericentromeres in order to ensure their integrity. We will describe the biogenesis and the function of main epigenetic pathways that are involved and how they are interconnected. Interestingly, recent findings suggest that alternative pathways could substitute for well-established pathways when disrupted, suggesting that constitutive heterochromatin harbors much more plasticity than previously assumed. In addition, despite of the heterochromatic nature of pericentromeres, there is increasing evidence for active and regulated transcription at these loci, in a multitude of organisms and under various biological contexts. Thus, in the second part of this review, we will address this relatively new aspect and discuss putative functions of pericentromeric expression.
Keywords
epigenetic factorsheterochromatinhistone modifying enzymespericentromeretranscription
Review
The observation of differential chromosomal staining by Heitz in 1928 forms the basis of the categorization of eukaryotic genomes into two major functional states. Euchromatin corresponds to a rather open and transcriptionally active conformation, while heterochromatin designates a condensed and transcriptionally inert conformation. A major function of heterochromatin is to protect the underlying DNA from being accessed by dedicated machineries and, thus, used for transcription or for other DNA-based transactions, such as repair. Heterochromatin has been further categorized into facultative and constitutive heterochromatin. Facultative heterochromatin refers to a type that may form at various chromosomal regions, which usually contain genes that must be kept silent upon developmental cues. In contrast, constitutive heterochromatin is believed to occur at the same genomic regions in every cell type and these regions usually do not contain genes. Hence, constitutive heterochromatin is often viewed as a more static structure than facultative heterochromatin. In most organisms, the bulk of constitutive heterochromatin forms at pericentromeric regions and at telomeres, and these gene-poor areas are usually made of tandem repetitions, also named satellites, that vary in size from 5 bp to a few hundred bp (reviewed in [1, 2]).
The biochemical and early genetic characterizations of players acting to promote or counteract heterochromatin formation are at the foundation of modern epigenetics. Heterochromatin is characterized by typical post-translational modification profiles on histones. The combination of these marks is 'read' and translated into biological outputs by dedicated protein machineries. The most prominent histone feature in heterochromatin is global hypoacetylation, which leads to chromatin fiber compaction. In addition, specific methylation marks are also enriched. A typical mark of constitutive heterochromatin is the trimethylation of histone H3 on lysine 9 (H3K9me3), while H3K27me3 is usually enriched on facultative heterochromatin. As discussed in this review, both marks recruit distinct protein machineries and may underlie distinct biological features, although the consequence is chromatin compaction in both cases.
In most metazoans, telomeres are constituted by a repeated short conserved DNA motif (5′-TTAGGG-3′) and harbor enrichment in H3K9me3. Telomeres are bound by conserved protein machineries acting to protect chromosomal ends from being recognized as double-strand breaks. The conservation of both DNA sequences and bound machineries suggests that major telomeric functions might not critically rely on epigenetic mechanisms. Thus, while undoubtedly playing a role, heterochromatic activities at telomeres will not be detailed in this review.
The bulk of constitutive heterochromatin forms at pericentromeric regions (Figure
1
A). In contrast with telomeres, the repeat sequences making pericentromeres and their organization can greatly vary between organisms, or even between chromosomes of the same species (Figure
1
B). This suggests that pericentromeric functions might not depend on a specific DNA motif recognized by sequence-specific DNA binding machineries. This also suggests that pericentromeric functions could be epigenetically regulated, as is the case for centromeres. Unlike the critical need for telomeres, the importance of pericentromeric regions is unclear in metazoans, and their presence or abundance may not confer any benefit. The genetic ablation of these loci, while technically challenging, would be key to assigning a function for these elements. Nonetheless, these loci must remain under control because in various abnormal situations, like cancer, defective heterochromatic activities can result in chromosomal rearrangements involving pericentromeric regions [
3
]. It is therefore important to understand how heterochromatin regulates this region.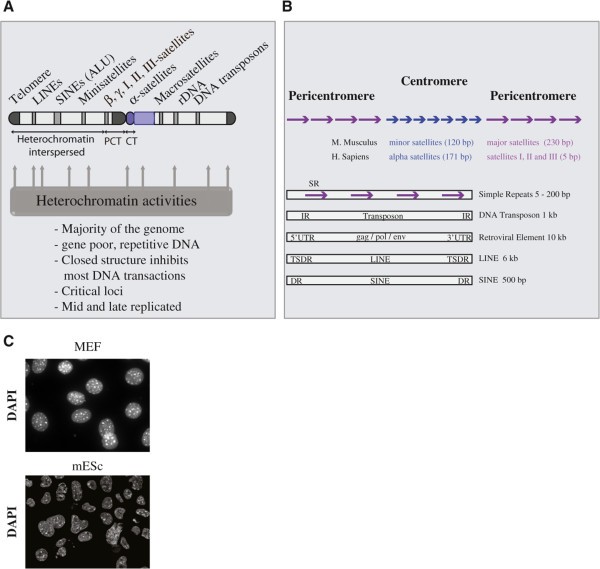 Historically, pericentromeric heterochromatin has been viewed as an unvarying and static structure, in which only few regulatory processes occur. However, progresses in the analysis of histone modifications, proteomics, and transcriptomics, are changing this view. In fact during development or in disease, distinct protein complexes are recruited to pericentromeric heterochromatin, reflecting unexpected plasticity. Moreover, there is increasing evidence that pericentromeric satellite repeats are expressed in a multitude of organisms, in various biological contexts, and, possibly, in a controlled strand-specific manner. These data suggest that the regulation and the formation of constitutive heterochromatin domains may be more dynamic than anticipated.
Therefore, understanding the biogenesis and the function of heterochromatin at pericentromeric regions is of fundamental interest, and could shed light on the epigenetic regulation of other chromosomal processes. In the first part of this review, we will give an overview on the formation and maintenance of constitutive heterochromatin, with a focus on epigenetic marks, their putative functions, and their responsible enzymes or complexes. The second part of the review will describe and discuss putative functions of pericentromeric transcription and RNA species. Finally, we will discuss research directions that we think should be taken in order to understand the function of this large part of the genome.
Conclusion
With the central question of how heterochromatin is established in the first place in mammals, another remaining issue is how transcription can happen inside constitutive heterochromatin, a highly condensed conformation that was believed to be transcriptionally inert. Interestingly, several transcription factors were found to bind into heterochromatic repeat sequences across diverse species. As mentioned already, upon cellular stress, the transcription factors HSF1 and tonEBP were reported to bind to SatIII repeats, as well as the splicing factors SF2/ASF [90, 111–116]. Additionally, factors like GFI1B [133], TRIM28 [134], and SALL1 [135] were shown to bind to the mouse pericentromere region. It is plausible that those transcription factors interplay with RNA polymerase for the expression of pericentromeric satellite repeats within constitutive heterochromatin. It is also unclear how oriented transcription is regulated in the context of promiscuous transcription factor binding. Moreover, the putative function of the transcription process or their resulting transcripts remains elusive. The interactome of satellite transcripts should be investigated, although such approaches may not be insightful: for instance, the identification of factors interacting with noncoding RNA produced at telomeres did not reveal specific functions [136]. Interestingly, pericentromeric transcription has been reported under various conditions (differentiation, cancer, early development, or stress). Thus, the transcriptional regulation can be achieved by distinct pathways for different purposes.
It has been suggested that pericentromeric satellite overexpression could be a driving force in malignant transformation. We speculate that in a large number of diseases, including cancer, the aberrant upregulation of pericentromere transcription correlates with reduced DNA methylation levels at these loci. In addition, decondensation of these loci could also favor DNA breaks and genomic rearrangements, genomic events often observed in cancer.
However, physiological pericentromeric transcription in yeast and even in higher mammals was suggested to be involved in heterochromatin formation and maintenance, therefore ensuring genomic stability. This suggests that these loci stay condensed and in an overall closed chromatin state. If the only function of heterochromatin at pericentromeres is to act as a boundary for centromeres, the oncogenic deregulation of heterochromatin may explain why there is an observed expansion of CENP-A in cancer cells [137].
However, we hypothesize that also the resulting transcripts could be directly involved in the manifestation of the disease, as suggested earlier. Finally, few genes lie within constitutive heterochromatin at pericentromeres, like TPTE, POTE, BAGE, and their aberrant expression could also account for transformation. Additional experiments will be required to shine more light on this aspect.
Abbreviations
ATRX:

α-thalassemia/mental retardation syndrome X-linked protein
BRCA1:

breast cancer 1
DAXX:

death domain-associated protein
DNMT:

DNA (cytosine-5)-methyltransferase
dpc:

days post coitum
ECC:

extrachromosomal circular
H3K9me3:

trimethylated histone 3 at lysine 9
H3K27me:

methylated histone 3 at lysine 27
H4K20me3:

trimethylated histone 4 at lysine 20
HDAC:

histone deacetylase
HELLS:

human helicase lymphoid specific
HP1:

heterochromatin protein 1
ICF:

immunodeficiency, centromere instability, and facial anomalies syndrome
ISWI:

imitation switch
KDM:

lysine demethylase
KMT:

lysine methyltransferase
LSH:

lymphoid specific helicase
ncRNA:

noncoding RNA
NoRC:

nucleolar remodeling complex
nSBs:

nuclear stress bodies
NuRD:

nucleosome remodeling and histone deacetylase
ORC:

origin of replication complex
PDAC:

pancreatic ductal adenocarcinoma
PRC2:

Polycomb group repressive complex 2
PRC1:

Polycomb group repressive complex 1
RITS:

RNA-induced initiation of transcriptional silencing
RNAi:

RNA interference
RNAPII:

RNA Polymerase II
SFN2h:

sucrose nonfermenting-2 homolog
siRNA:

short interfering RNA
SSRP1:

structure-specific recognition protein
SUV39H:

suppressor of variegation 3-9 homolog
WDHD1:

WD repeat and HMG-box DNA binding protein 1.
Declarations
Acknowledgements
JD's laboratory is funded by the European Research Commission (Starting Grant) and the AVENIR program from INSERM.
Authors' Affiliations
(1)
INSERM AVENIR Team, Institute of Human Genetics, Montpellier, France
Copyright
© Saksouk et al.; licensee BioMed Central. 2015
This article is published under license to BioMed Central Ltd. This is an Open Access article distributed under the terms of the Creative Commons Attribution License (http://creativecommons.org/licenses/by/4.0), which permits unrestricted use, distribution, and reproduction in any medium, provided the original work is properly credited. The Creative Commons Public Domain Dedication waiver (http://creativecommons.org/publicdomain/zero/1.0/) applies to the data made available in this article, unless otherwise stated.