Two ways to fold the genome during the cell cycle: insights obtained with chromosome conformation capture
Epigenetics & Chromatin
2014
7:25
Received: 7 May 2014
Accepted: 15 October 2014
Published: 25 November 2014
Abstract
Genetic and epigenetic inheritance through mitosis is critical for dividing cells to maintain their state. This process occurs in the context of large-scale re-organization of chromosome conformation during prophase leading to the formation of mitotic chromosomes, and during the reformation of the interphase nucleus during telophase and early G1. This review highlights how recent studies over the last 5 years employing chromosome conformation capture combined with classical models of chromosome organization based on decades of microscopic observations, are providing new insights into the three-dimensional organization of chromatin inside the interphase nucleus and within mitotic chromosomes. One striking observation is that interphase genome organization displays cell type-specific features that are related to cell type-specific gene expression, whereas mitotic chromosome folding appears universal and tissue invariant. This raises the question of whether or not there is a need for an epigenetic memory for genome folding. Herein, the two different folding states of mammalian genomes are reviewed and then models are discussed wherein instructions for cell type-specific genome folding are locally encoded in the linear genome and transmitted through mitosis, e.g., as open chromatin sites with or without continuous binding of transcription factors. In the next cell cycle these instructions are used to re-assemble protein complexes on regulatory elements which then drive three-dimensional folding of the genome from the bottom up through local action and self-assembly into higher order levels of cell type-specific organization. In this model, no explicit epigenetic memory for cell type-specific chromosome folding is required.
Keywords
Chromatin loopingChromosome conformation captureChromosome foldingEpigenetic inheritanceMitotic chromosomeNucleus
Review
Chromosome organization and nuclear organization have been studied for many years using microscopic and, more recently, molecular approaches [1–8]. Understanding how cells organize their genome inside the cell nucleus is important given its relation to genomic activities including gene regulation [5, 9–11], DNA repair [12–14], and transmission of chromosomes to daughter cells [15–18]. It has long been recognized that nuclear and chromosome organization, i.e., where genes are spatially located with respect to each other and with respect to nuclear landmarks such as the nuclear envelope, is related to gene activity and chromatin status and is often cell type-specific (e.g., [2]). Further, ever since chromosomes were first observed in the late 19th century, it is known that they change their appearance during the cell cycle, from a decondensed state in interphase to a highly condensed and reproducible structure during mitosis [19]. Major questions in the field are what structural principles underlie these different chromosome organizations, which features are cell type-specific, and how these structures are contributing to cell type-specific gene regulation. Understanding how chromosomes are organized in different cells and across the cell cycle is interesting by itself, but it may also shed light on a basic question at the heart of epigenetics, which is whether and how information regarding cell types and gene expression patterns can be stably transmitted through mitosis and whether any cell type-specific chromosome organizational features are, or need to be, inherited.
Cell type is to a large extent reflected in, and driven by, the set of genes that a cell expresses. Gene expression patterns are determined by the activity of proximal gene promoters and distal elements such as enhancers. The activity of promoters and enhancers is in turn reflected in the cell type-specific locations of open chromatin regions where transcription factors bind and that are further marked by local and regional patterns of a wide array of histone modifications [20, 21]. As a result, cell type is closely correlated to chromatin state throughout the genome [22–25].
Enhancers influence expression of genes over large genomic distances (up to hundreds of kb). One mechanism for such long-range gene regulation involves direct physical interactions between promoters and distal regulatory elements [
26
–
30
]. Thus, chromatin folds in three-dimensional (3D) structures to enable and control enhancer-promoter communication. Given that promoter and enhancer activity is cell type-specific, many (but not all) aspects of how chromosomes fold are also likely to be highly cell type-specific. For cycling cells to maintain their pattern of gene expression they need to ensure that their daughter cells will continue to express the same set of genes. This requires cells to somehow "remember" which genes and regulatory elements were active and spatially interacting in the previous cell cycle [
31
]. This memory process must be able to withstand dissociation of transcription factors and RNA polymerase II from many (but not all) sites throughout the genome [
32
–
35
] and a dramatic spatial re-organization and condensation of chromosomes during mitosis (Figure
1
).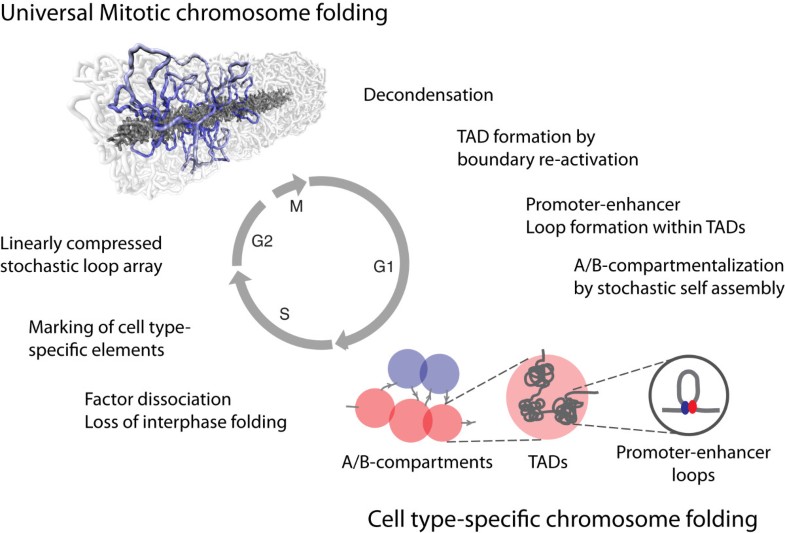 This review will focus on mammalian chromosomes and their spatial organization during the cell cycle. The organization of chromosomes, both in the interphase nucleus and during mitosis, has been studied for many years, and many of the seminal findings in this area have been obtained by microscopic studies during the last several decades. A comprehensive overview of all the important work performed in this area is beyond the scope of this article. Many excellent review articles have been written that cover these studies and the insights and models they provided (e.g., [1–5, 7, 8, 36–38]). Here, the focus will be specifically on recent findings over the last 5 years, obtained by chromosome conformation capture (3C), and these findings will be discussed in the context of earlier studies. The 3C-based methods themselves are not described in detail as they have been covered by several recent reviews [39–41]. After outlining current ideas of how interphase and mitotic chromosomes are organized, it is argued that an understanding of what epigenetic information is stored, and how, inside mitotic chromosomes will not only provide insights into how cells maintain their differentiated state and gene expression profile but will also reveal the set of instructions cells require and the mechanisms they employ to fold their chromosomes in three-dimensions during the subsequent interphase.
Conclusions
This article reviewed the many studies performed over the years focusing specifically on the contributions of chromosome conformation capture that have led to important insights into the two ways cells fold their genome during the cell cycle. A model for mitotic transmission of folding instructions was then presented. The model implies that looping interactions between promoters and enhancers only require locally bound complexes, and that TADs are important for limiting which promoter-enhancer pairings occur. Finally, the self-assembly model for nuclear organization and the resultant high cell-to-cell variability at the scale of compartments suggest that these higher order structures are not involved in determining robust cell type-specific gene expression in all cells in the population. This proposal makes clear predictions related to the order of events in early G1 and the roles of specific DNA elements and protein machineries that can now be tested by using synchronous cell cultures, chromatin interaction, and imaging methods, as well as more recently developed genome engineering approaches.
Abbreviations
3D:

Three-dimensional
3C:

Chromosome conformation capture
4C:

Circularized chromosome conformation capture or Chromosome conformation capture-on-Chip
5C:

Chromosome conformation capture carbon copy
CD:

Chromosomal domains
FISH:

Fluorescence In Situ Hybridization
SAR:

Scaffold attachment region
TAD:

Topologically associating domain.
Declarations
Acknowledgements
I thank members of my lab and my collaborators, notably Leonid Mirny, Edith Heard and Nancy Kleckner, for contributing many ideas. I thank Bill Earnshaw for critical reading of the manuscript. Work in the Dekker lab is supported by the National Human Genome Research Institute (grants HG003143, HG007010) and the Human Frontier Science Project Organization.
Authors' Affiliations
(1)
Program in Systems Biology, Department of Biochemistry and Molecular Pharmacology, University of Massachusetts Medical School, Worcester, USA
Copyright
© Dekker; licensee BioMed Central Ltd. 2014
This article is published under license to BioMed Central Ltd. This is an Open Access article distributed under the terms of the Creative Commons Attribution License (http://creativecommons.org/licenses/by/4.0), which permits unrestricted use, distribution, and reproduction in any medium, provided the original work is properly credited. The Creative Commons Public Domain Dedication waiver (http://creativecommons.org/publicdomain/zero/1.0/) applies to the data made available in this article, unless otherwise stated.