UpSETing chromatin during non-coding RNA production
Epigenetics & Chromatin
2013
6:16
Received: 27 February 2013
Accepted: 10 May 2013
Published: 5 June 2013
Abstract
The packaging of eukaryotic DNA into nucleosomal arrays permits cells to tightly regulate and fine-tune gene expression. The ordered disassembly and reassembly of these nucleosomes allows RNA polymerase II (RNAPII) conditional access to the underlying DNA sequences. Disruption of nucleosome reassembly following RNAPII passage results in spurious transcription initiation events, leading to the production of non-coding RNA (ncRNA). We review the molecular mechanisms involved in the suppression of these cryptic initiation events and discuss the role played by ncRNAs in regulating gene expression.
Keywords
ChromatinNucleosomal organizationCryptic transcription
Introduction
Transcription of genomic regions in eukaryotes is a complex phenomenon generating a variety of RNAs, only a subset of which is derived from protein coding genes (mRNAs). The non-coding transcriptome includes numerous RNA species involved in the regulation of translation (tRNAs and rRNAs), but more recent studies have indicated the presence of several types of RNA molecules that have the potential to regulate gene expression [
1
,
2
]. Newly developed techniques employed in the analysis of the eukaryotic transcriptome such as RNA-Seq (reviewed in [
1
]) suggested widespread transcription of up to 85% of the yeast genome [
3
] and 75% of the human genome [
4
]. Apart from transcription of coding regions, pervasive transcription results from the use of multiple transcription start sites (TSS) [
5
], resulting in overlapping transcripts (Figure
1
A). Alternatively, transcription may be initiated from the ends of genes, thus giving rise to antisense [
6
] and intergenic transcripts [
7
] (Figure
1
A). In addition, start sites hidden within the transcribed region of genes are accessed by the RNAPII under certain conditions, resulting in cryptic transcription in both the sense and antisense directions (Figure
1
A) [
8
–
10
]. One characteristic feature of pervasive transcription is its tight regulation. Expression of ncRNAs is observed only in particular growth conditions, and usually to a lower extent when compared to the mRNA levels of protein-coding genes [
4
,
11
,
12
], suggesting a regulatory role for these molecules.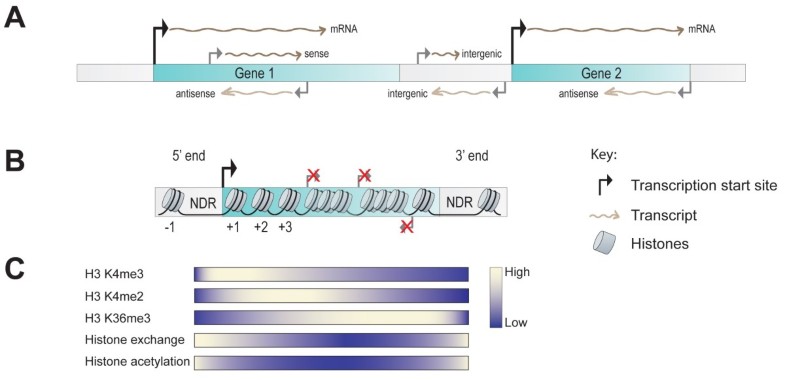 Eukaryotic organisms use the ordered packaging of genomes into chromatin as a means of regulating gene expression (reviewed in [13, 14]). Indeed, nucleosome occupancy across transcription regulatory regions in yeast is indicative of the rate of transcription from coding regions [15, 16]. In addition, several transcription elongation factors that have been found to control transcriptional output from a given gene, have also been shown to possess the ability to either directly or indirectly influence nucleosome stability [8, 17–19]. Consequently, a number of these elongation factors also play a role in the regulation of cryptic transcription [20, 21]. We discuss how the maintenance of the underlying chromatin structure is necessary for the controlled expression of non-coding RNA molecules.
Finally, the stability of RNA molecules is a consequence of the balance between transcriptional output and the degradation mechanisms that ensure RNA destruction. Recent publications have investigated different RNA degradation pathways that play a role in the production of ncRNA and provide one means of classifying different types of ncRNAs [7, 22–24].
Conclusions
Transcription of non-coding RNAs is a tightly regulated process. Recent studies have identified some of the underlying mechanisms involved that rely on maintaining highly organized chromatin structure throughout transcription. This results in adequate masking of potential cryptic promoters by nucleosomes and thus ensures that they are not available for recruitment of the transcriptional machinery. Perturbations of this system by affecting nucleosome stability, occupancy or histone dynamics all result in wide-spread spurious transcription.
While this review focuses on mechanisms regulating non-coding transcription in yeast, many of the fundamental mechanisms are also expected to apply to higher eukaryotes. Pervasive transcription of ncRNAs has been identified in higher eukaryotes where they act both as repressors as well as activators of gene expression and perform such regulatory roles in cis as well as in trans[2].
Cis- acting ncRNAs may act through transcriptional interference as has been postulated for the repression of the paternally imprinted Igf2r gene by the Airn ncRNA [91]. Alternatively, ncRNAs, such as HOTTIP, promote the local recruitment of the H3K4 trimethylase MLL to the HOXA gene cluster and together are thought to control HOXA gene activation [92]. In contrast, trans- acting ncRNAs may function as scaffolds for protein complexes. For example, HOTAIR is transcribed from the HOXC locus and complexes with the Polycomb Repressive Complex 2 (PRC2) and KDM1 demethylase in order to localize to and silence the HOXD locus in humans [93–95]. Drosophila roX RNAs work in combination with the Male Specific Lethal (MSL) complex to up-regulate expression of X-chromosome linked genes in trans during dosage compensation in male flies [96].
Non-coding RNAs can also influence mRNA processing, such as alternative splicing, for example, through the direct interaction of the MALAT1 ncRNA with splicing factors [97]. Furthermore, the levels of splice isoforms for a number of mRNAs, such as the α-thyroid hormone receptor gene erbAα, correlate with the amount of overlapping antisense transcripts [81]. In this context it is interesting to note that alternative splicing has been linked to both nucleosomal organization in general and H3 K36 methylation in particular, both of which are affected by the process of antisense transcription. Exons are enriched for nucleosomes, and constitutively transcribed exons show particularly high levels of H3 K36me3 compared to alternative exons [98, 99]. H3 K36 trimethylation is not the only histone modification to affect splicing. Hence, it will be interesting to determine the involvement of H3K36 methylation in histone dynamics and thus its impact on alternative splicing in higher eukaryotes and to determine to what extent the molecular mechanisms are conserved from yeast to man.
Abbreviations
Airn:

Antisense to Igf2r RNA non-coding
Asf:

Anti-silencing factor
ChIP-Chip:

Chromatin immunoprecipation on microarray
ChIP-seq:

Chromatin immunoprecipitation sequencing
CTD:

C-terminal domain
Ctk:

C-terminal kinase
CUT:

Cryptic unstable transcripts
Chd:

Chromodomain-helicase-DNA binding
DNA:

Deoxyribonucleic acid
Eaf:

Essential SAS2-related Acetyltransferase 1 (ESA1) associated factor
FACT:

Facilitates chromatin transcription
GAL:

Galactose metabolism
H2A:

Histone 2A
H2B:

Histone 2B
H3:

Histone 3
H4:

Histone 4
Hda:

Histone deacetylase
Hos:

: Hda One Similar
HOTAIR:

HOX antisense intergenic RNA
HOTTIP:

HOXA distal tip transcript antisense RNA
HOX:

Homeobox
Hst:

Homolog of SIR2
IME:

Inducer of meiosis
Isw:

Imitation Switch
K:

Lysine
KDAC:

Lysine deacetylases
KDM:

Lysine demethylase 1
KMT:

Lysine methyl transferase
MALAT1:

Metastasis-associated lung adenocarcinoma transcript 1
Me:

Methylated
me3:

Trimethylated
MLL:

Mixed-lineage leukemia
MNase:

Micrococcal nuclease
MSL:

Male Specific Lethal
NDR:

Nucleosome depleted region
Poly(dA:dT):

Polymer of deoxy-adenylic and deoxy-thymidylic acids
PHD:

Plant-Homeodomain
PHO:

Phosphate metabolism
PRC2:

Polycomb repressive complex 2
PWWP:

Proline-tryptophan-tryptophan-proline motif
Rme1:

Regulator of Meiosis 1
RNA:

Ribonucleic acid
RNAPII:

RNA Polymerase II
RNA-seq:

Ribonucleic acid sequencing
mRNA:

Messenger ribonucleic acid
ncRNA:

Non-coding RNA
rRNA:

Ribosomal ribonucleic acid
tRNA:

Transfer ribonucleic acid
roX:

RNA on the X
Rpb:

RNA Polymerase B
Rpd3S:

Reduced potassium dependency 3 (Rpd3) containing complex Small
RSC:

Remodels Structure of Chromatin
Ser:

Serine
SER:

Serine requiring
Set:

Suv39H E(z), Trithorax domain containing
Set3C:

Set3-containing complex
Sin:

Switch independent
Spt:

Suppressor of Ty1 transposon
SRG:

SER3 regulatory gene
SRI:

Set2-Rpb1 interaction domain
SSU72:

Suppressor of SUa7 gene 2
SUT:

Stable unannotated transcript
TSS:

Transcription start site
Ume:

Unscheduled meiotic gene expression.
Declarations
Acknowledgements
This work is supported by NIH grant R01GM047867 to JLW and the Stowers Institute for Medical Research.
Authors' Affiliations
(1)
Stowers Institute for Medical Research, Kansas City, USA
Copyright
© Venkatesh et al.; licensee BioMed Central Ltd. 2013
This article is published under license to BioMed Central Ltd. This is an Open Access article distributed under the terms of the Creative Commons Attribution License (http://creativecommons.org/licenses/by/2.0), which permits unrestricted use, distribution, and reproduction in any medium, provided the original work is properly cited.